A few people have been in touch to say they've received emails claiming to be from us, coming from a number of different email addresses. The emails use our template but are really badly written.
These emails haven't come from us – don't click any of the links or open any of the attachments.
In fact, the best thing to do would be to delete them.
Here's an example of one of the emails we've seen: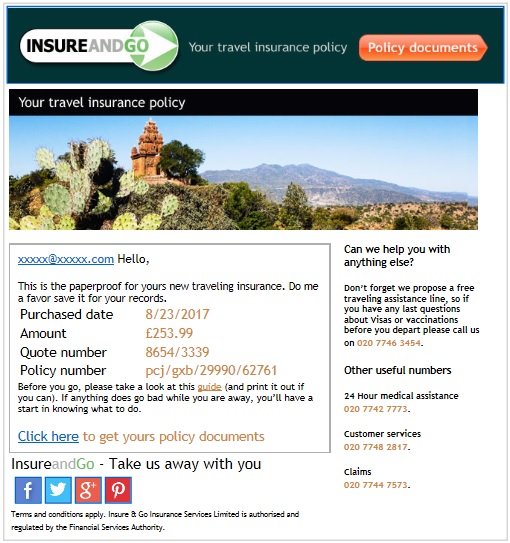 Unfortunately, there isn't anything we can do about the emails themselves – we're not sending them and there's no reason to believe any of our customer data has been compromised. For one thing, the emails are being sent to many people who have never been insured with us.
Just make sure you don't follow any links or open any attachments in the emails and you'll be fine.
If you have clicked on the links or opened the attachments, you should still be OK – but it's a good idea to run an antivirus scan just in case. You can find out how to do that here.
How to check an email's come from us
We only ever send emails from @insureandgo.com or @campaign.insureandgo.com addresses. You can usually find out what address an email's been sent from by tapping or hovering your mouse over the sender's name in your email app.