There are now only a few weeks left until this year's London Marathon so, if you haven't picked out a costume yet, you'd better get started. When the event began in 1981 there were fewer than 7,000 entrants, but the race has become so popular that, in 2013, there were almost 35,000 runners (which means almost 70,000 blisters).
If, for some reason, running 26 miles through London's rainy streets doesn't appeal to you (or if you've applied to take part but haven't won a spot in the inexplicably popular race) then maybe you'll need to travel a bit further to find the right competition. Around the world there are races to suit every taste so, whether you like stairs, drinking, or running around with no pants on, there's bound to be an event for you:
If you decide to do one of these "fun" runs, make sure it's covered on your travel insurance.
Nakukymppi | Finland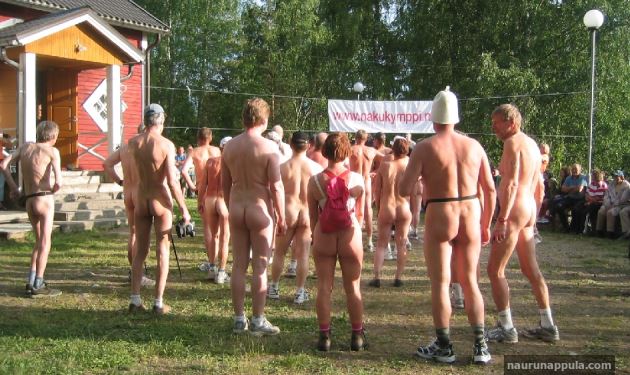 It may have a funny-looking, unpronounceable name, but there's nothing funny about Nakukymppi – a 10km race through a Finnish forest. It's true that all the participants have to be nude, but if you think there's anything rude or amusing about the naked human body, running about in the cold, over uneven ground, then you must be very childish indeed. The runners are allowed to wear shoes and socks to protect their feet, but other than that everyone is completely bare (except for their hats).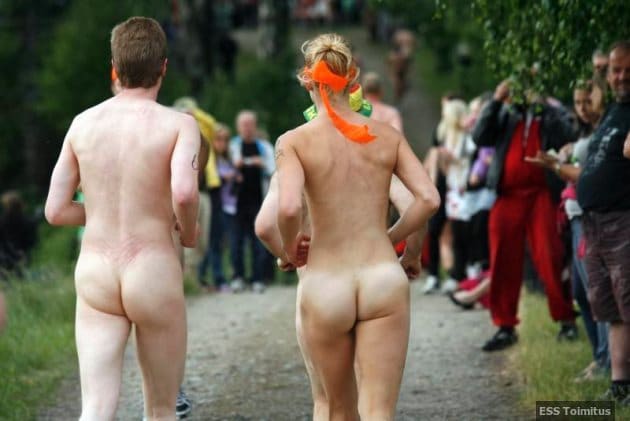 If you'd like to take part in 2014's Nakukymppi, but are concerned about what effect the Nordic weather might have on your extremities, don't worry too much – the race is in June so it won't be too cold, there'll just be a lot of mosquitoes. And, if you make it to the Finnish finish line, there's free coffee and a sauna anyway, so you'll warm up much quicker than you would with that strange foil sheet they wrap you in at the end of the London Marathon.
Empire State Building Run-up | New York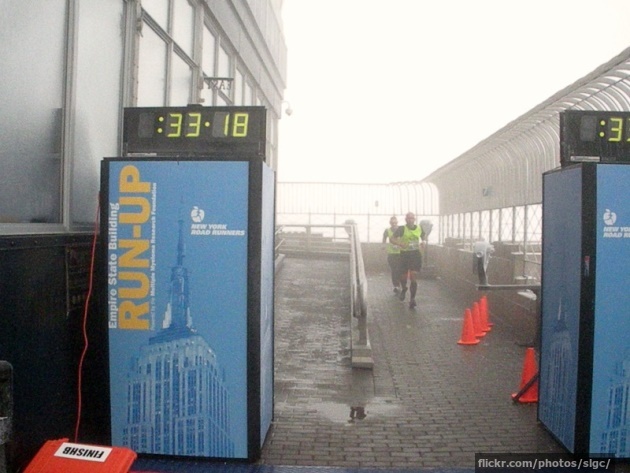 Even for someone who hates exercise of any kind (like me), covering a distance of 320 metres in under ten minutes sounds just about doable. However, the annual Empire State Building Run-up features the (rather unfair) obstacle that these metres are vertical – from the ground to the skyscraper's 86th floor observation deck.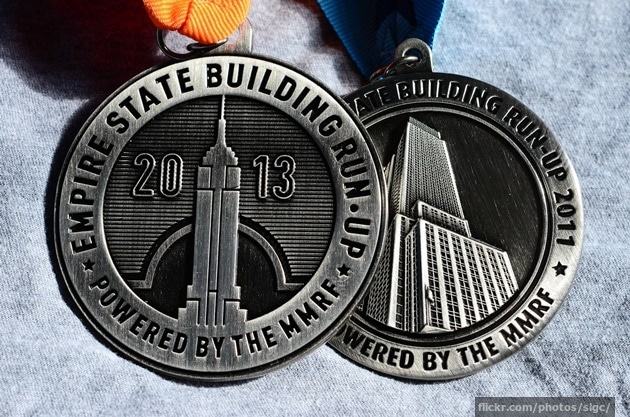 Only someone who works in an office building with unreliable lifts (like me, again) can truly understand the challenge of stairs. Sometimes, after lunch, it's almost impossible to walk all the way back up, so I can only imagine how painful it must be to run up over 1,500 of the things. The record time for the race is just nine minutes 33 seconds, which was presumably achieved in a vest and shorts rather than a business suit (and probably wouldn't have included rest breaks every couple of floors).
Man versus Horse | Wales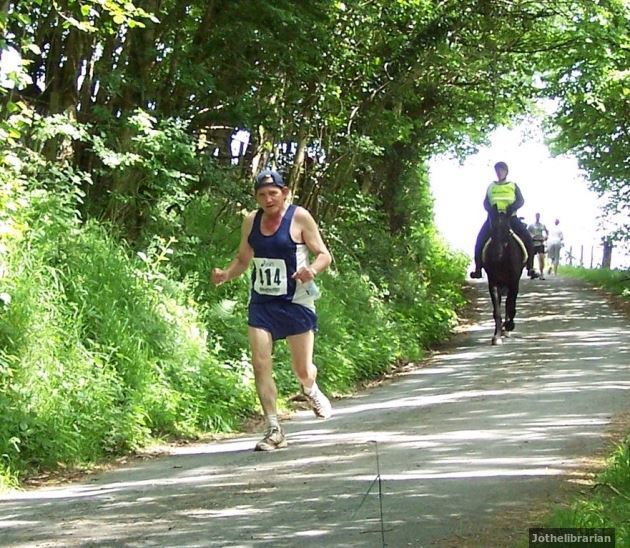 If you think that running a marathon against other people is a bit too easy, then why not go interspecies? The Welsh town of Llanwrtyd Wells holds a 22 mile race every June where competitors can test their running skills against athletes from the animal kingdom (specifically, horses).
It may seem obvious that a horse would beat a man, so the race organisers have done their best to skew the odds in the humans' favour. Roughly 10 times as many people take part as horses, giving them a much better chance of winning, and the horses all have someone sitting on their back (a handicap that doesn't apply to the human competitors). Despite these advantages, the race was run 25 times before a man finally came first.
Marathon du Medoc | France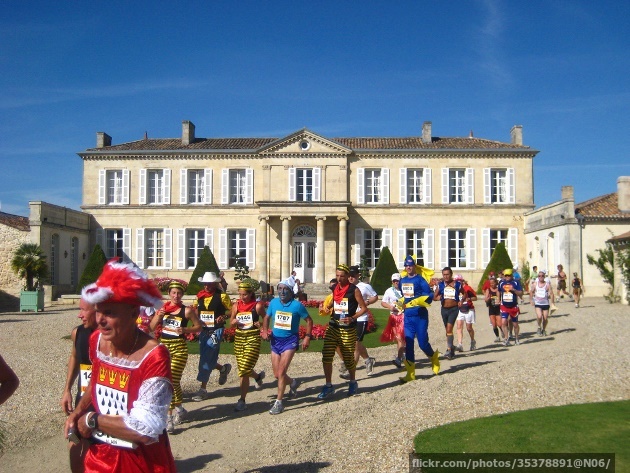 As an adult, there are only really two occasions when it's necessary to run – one is to catch a bus, the other is to get to the pub at 5pm. I don't know if there's a race based around desperately trying to catch public transport (if not, there should be), but there is one that seems to have embraced the concept of needing a drink – the Bordeaux region's Marathon du Medoc.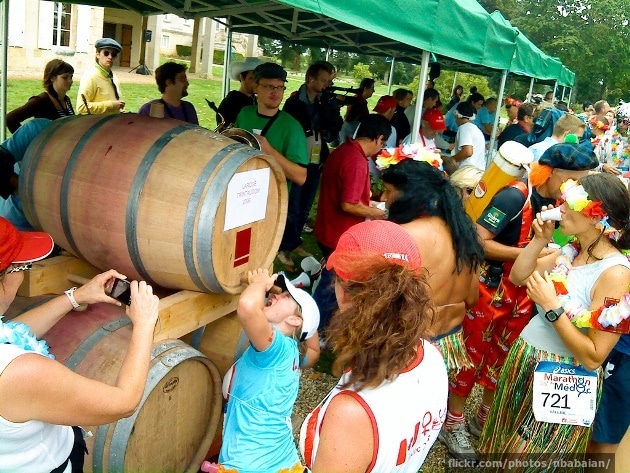 Medoc's (full length) marathon course is lined with wine tasting opportunities, making the race seem more like an accelerated pub crawl than an athletic event. There are also stalls offering the competitors speciality cheeses and other local delicacies to go with the booze. While it can't be easy running 26 miles with a stomach full of wine and cheese, these stalls must provide strong motivation to continue (certainly more motivation than the stalls at the London Marathon, which I think just offer you a cup of water and a banana).
Strangely, the winning times for the Marathon du Medoc aren't that much slower than those for London's race – around two and a half hours – suggesting that some of the runners might be missing the whole point of the event. If you'd like to take part in this year's marathon, or just wander slowly around the course, you can register now – the "race" is on September 13th, so plenty of time to get your legs (and liver) in shape.