Defaqto star ratings for our travel insurance
We're chuffed to say that Defaqto have given a 5 Star Rating to some of our travel insurance policies. But why is that even important? And what is Defaqto?
Well, there are many travel insurance products and providers in the market. Knowing which one to choose can be bewildering, as quality and service can vary considerably from company to company. Whilst there are some sites that allow you to compare prices, there are very few that make comparisons on quality – which is an important consideration when deciding which product to buy.
Defaqto lets you find out more about the quality of a financial product, such as insurance. They're an independent organisation, unaffiliated with any financial company – and their services help you to decide when purchasing financial products online. They have been rating financial companies since 2000 (rather them than us), and they now cover over 60 different financial services.
First, here are the star ratings for our policies
Black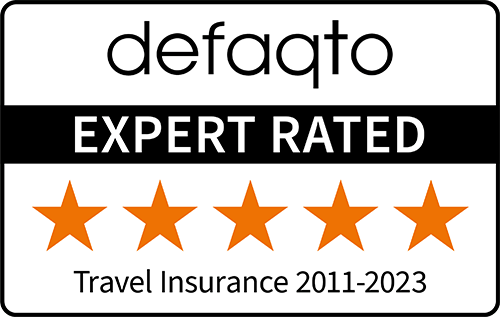 Gold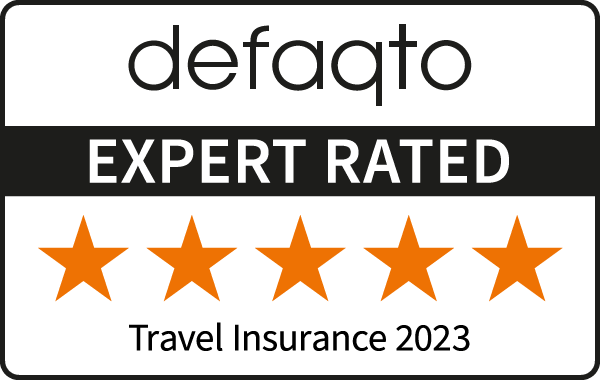 Silver
Our mid-level insurance range. Up to £5,000 for cancellation, £2,000 for baggage and £10 million for medical expenses.
Visit Defaqto to check the Defaqto Star Rating for this policy.
Budget
For the price-conscious. Up to £1,000 for cancellation, £1,000 for baggage and £5 million for medical expenses.
Visit Defaqto to check the Defaqto Star Rating for this policy.
How Defaqto works
Defaqto use a Star Rating system – which indicates the level of features and benefits on offer to you. Policies with just one or two stars are unlikely to offer the range of benefits that a 5 Star rated policy can provide, and a 5 Star Rating indicates that the policy in question is one of the best products in the market.
The system is deliberately simple, enabling you to view results at a glance; and the unbiased rating is designed to help you to make wiser choices when purchasing financial products online.
How are the stars awarded?
Star Ratings are generated using a scoring system, which Defaqto calls "DNA" – or data numerical analysis. It's an in-depth form of assessment, which reviews between 40 to 100 features and benefits for each policy – with each one generating a score from one to five.
Once the individual scores are ascertained, they're added up, which produces an overall score. It's this score that decides what Star Rating the policy in question will be awarded. Additionally, scores are constantly reviewed and updated, ensuring that results remain as relevant as possible for the consumer.
What are the criteria?
Defaqto don't disclose their criteria (just think of it as their secret recipe) but they're based on "which features are likely to be important" in helping you make a decision. Every member of the Defaqto team has extensive experience in the financial services sector, which provides them with the necessary knowledge to determine suitable ratings.
Independent ratings
Defaqto emphasise that they operate completely impartially, with no bias to any particular product or company. They aren't affiliated with any financial companies or related third parties, and their ratings are completely independent.
This ensures that their star rating system can be trusted when you're making a decision about what financial product to choose.
Why does it matter?
Having impartial guidance when buying insurance is important. Generally speaking, when you buy insurance, you're investing in a policy for up to 12 months, which is a long-standing commitment – and it's a decision you want to get right.
It's easy to find the cheapest priced product, but harder to establish which product is best for your needs. Whilst price is inevitably a factor when deciding – it certainly shouldn't be the only consideration!
The unbiased Defaqto Star Rating enables you to easily identify which products are superior in the market. When buying a policy with a high Defaqto Star Rating, you know you're buying a high-quality product.
Just remember that all Defaqto 5 Star Ratings are an assessment of the product as a whole. This includes all optional "add-on" benefits. If you choose to buy a more basic version of the product in question, this would offer different benefits.
Is a low star rating a bad thing?
The ratings don't consider value for money, so if you're price conscious and only want to buy a barebones budget policy then you're going to get less cover and fewer features; this kind of policy will have a lower star rating, and there's nothing inherently bad with that. However, if you're buying a premium product at a higher cost than others, but this product has a low rating then there's clearly something wrong.
InsureandGo's star rating
We're proud to say we have 5 Star Ratings from Defaqto for some of our policies. These ratings establish us firmly as a provider of high-quality, reliable travel insurance services – a reputation we work hard to keep.
All our travel insurance policies have been carefully designed to offer maximum benefit to you, and are continually reviewed, to ensure we continue to offer the best products possible.