Travel insurance cover isn't the most exciting thing about your holiday, but it is very important. That's why we want to make choosing it as simple as we possibly can.
What is Travel Insurance?
Travel insurance is insurance that covers you if something happens while you're on holiday or before you travel. This could include the costs of cancelling your holiday if you become ill and can't go, or if your baggage is lost or damaged during your journey.
You'll also be covered for medical expenses if you need emergency treatment abroad and, in extreme cases, the cost of returning you to the UK. These costs can be very high, so it's important to make sure you have enough cover before you travel.
All our holiday insurance policies include:
Medical and hospital expenses
24/7 emergency medical helpline
Holiday cancellation cover
Cover for travel delay or abandoning your trip
Lost or delayed baggage
Holiday activity cover for over 100 sports and activities
And lot's more!
Read our policy wordings for full details of the cover and what else is included.
We also offer medical travel insurance and a range of optional extras.
What's included in travel insurance?
Whether you are buying a single trip or an annual multi-trip policy, you'll have a choice between four levels of cover – Budget, Silver, Gold and Black. However, while the exact cover limits and the price you pay may vary, there are some elements of cover that are so important that they'll be included in your policy as standard. These include:
Medical and repatriation expenses
Possibly the most important part of travel insurance is medical expenses cover. This should cover you for emergency medical bills, emergency dental treatment and, in extreme cases, bringing you back to the UK.
If you're travelling in Europe, experts recommend you take out at least £1 million of cover, while if you are travelling outside Europe, at least £2 million. We offer a minimum of £5 million, with higher limits available.
Cancellation and curtailment
Cancellation is one of the most basic costs that your travel insurance can protect you against. This pays up to the amount specified on your policy if you need to cancel or curtail (cut short) your holiday.
Cancellation cover can range from £250 to £10,000, so it's important to check that your chosen policy covers the cost of your trip. Our cheapest, Budget, offers £1,000 of cancellation cover per person, with more available on Silver, Gold and Black level policies.
Delayed departure
With this type of cover, you may be able to receive a benefit payment for each full 12-hour period you're delayed, as long as you eventually go on the trip.
If a major delay of over 24 hours forces you to abandon your holiday, where the delay has been caused by strike action, poor weather or mechanical failure, you may receive a payment for your unused travel and accommodation expenses up to the amount in our policy wording.
Baggage and belongings cover
This covers you if your baggage or personal effects are lost, stolen or damaged. Wear and tear is taken into account.
Baggage cover should be enough to cover your luggage, and even our Budget travel insurance covers up to £1,000 of belongings per person, with the option to add extra cover for valuables.
Sports and activities
All of our policies cover over 100 sports and activities, so from golf to go-karting, cycling to surfing, you'll be covered.
If you're planning on doing some extreme sports, you can add on our 'extreme sports cover'. This will cover a whole host of activities that are a little more risky; like shark diving, skydiving or even ostrich racing!
Personal liability cover
Personal liability covers you if you're legally liable for accidentally injuring someone, or damaging or losing their property, while abroad.
If you injure someone, or damage their personal property, they could make a claim for compensation against you. It's therefore a good idea to choose an insurer such as InsureandGo – we provide you with personal liability cover of at least £1 million.
Which is the best travel insurance for you?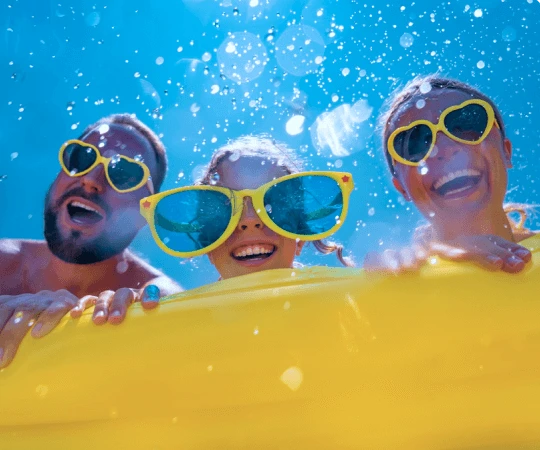 Annual multi-trip cover
Covering all of your trips whenever you want to travel in the next 12 months
Cover for an unlimited number of trips

365 days cover

Flexibility to travel wherever you want

in the United Kingdom, Europe or Worldwide
We've been around since 2000
So we know our stuff, and because travel insurance is our only product we can focus on it full time.
Over 27 million travellers insured
If you insure with us, you can be one of the 27 million people who have trusted us to look after them on their travels.
Defaqto rate our Gold and Black policies as 5 Star, and our service is rated Excellent by over 31,000 customers on Trustpilot.
So wherever you are in the world, there will always be someone here to take your call and offer assistance if you need it while you're away.
No upper age limit and all medical conditions considered
We believe holiday insurance should be available to everyone, so we always try to provide as much cover as we can.
We want to make claiming as easy as buying a policy, so if something happens you can claim online in just a few simple steps.
Travelling with pre-existing medical conditions
At InsureandGo, we'll consider all pre-existing medical conditions and try to tailor a policy that best suits your requirements.
When you get a travel insurance quote, we'll ask you some questions about your medical conditions. If you have a condition, you'll need to declare it. You can do this over the phone or by using our simple medical screening process
We can cover many medical conditions at no extra charge. However, for others, there may be an additional premium to pay
For more information, visit our page on travel insurance for medical conditions or contact us.
Compare cheap travel insurance
The type of insurance you choose will depend on what you need for your trip. When offering you a price we consider many factors. These include where you're going, how long you'll be staying and whether you have any medical conditions. Get a quote today and compare our policies to see what we can offer you.
The cheap travel insurance policies you can buy aren't all equal when it comes to what they cover and do what levels of cover they offer. So, as well as comparing the prices, you should also make a comparison between the things that are covered and levels of cover on offer.
So what's the difference between our Budget and other policies?
At InsureandGo, we pride ourselves on offering comprehensive holiday insurance that doesn't cost too much – in fact, when you buy our cheap travel insurance policy (Budget cover), you can rest assured knowing you're covered for a wide variety of activities on your holiday, as well as cancellation and medical expenses.
If you'd like to add on winter sports insurance, travel disruption cover, additional valuables insurance or cover for adventure sports not covered by our Budget travel insurance policy, there are a range of upgrades you can buy.
These are the main benefits you'll find in our Budget, Silver, Gold and Black policies:
| Benefits | Budget | Silver, Gold & Black |
| --- | --- | --- |
| Holiday cancellation | ✔ | ✔ |
| Medical & hospital expenses | ✔ | ✔ |
| Personal accident cover | ✔ | ✔ |
| Pre-existing medical cover | ❌ | ✔ |
| Medical screening | ❌ | ✔ |
| Belongings & baggage cover | ✔ | ✔ |
| Personal money cover | ✔ | ✔ |
| Passport & travel documents cover | ✔ | ✔ |
| Delayed departure cover | ✔ | ✔ |
| Missed departure cover | ❌ | ✔ |
| Personal liability | ✔ | ✔ |
| Legal expenses | ✔ | ✔ |
| Accommodation cover | ✔ | ✔ |
| Hijacking cover | ❌ | ✔ |
| Pet care | ❌ | ✔ |
| Business cover | ❌ | Optional upgrade |
| Golf cover | ❌ | Optional upgrade |
| Winter sports cover | Optional upgrade | Optional upgrade |
| Hazardous activities | Optional upgrade | Optional upgrade |
Top tips for cheap travel insurance
What are you taking?
The best thing to do before looking at holiday insurance options is to think about what you'll need cover for. If you're planning on taking your MacBook or tablet abroad, then going for the cheapest cover from a comparison website might be less than useless when you realise it's only covered your valuables up to £50.
So:
Make a list of important items that you'll be taking with you
How much do you need these items covered for in total and individually
Lastly, check your contents insurance as they may be covered away from your home already
Medical
Sometimes cheap travel insurance just doesn't cover what it should. Which? suggest your travel policy should include at least £2 million emergency medical cover in Europe, and £5 million for worldwide cover. We cover medical expenses up to £5 million as standard, with higher levels available too.
How many times are you going abroad?
Getting cheaper travel insurance for multiple holidays can often be a better option than getting last minute cover for each holiday individually. If you're planning on travelling several times throughout the year, you can save even more money by taking out annual multi-trip travel insurance, instead of getting single trip insurance each time you travel. Our Budget annual policy covers you for multiple trips of up to 31 days at a time.