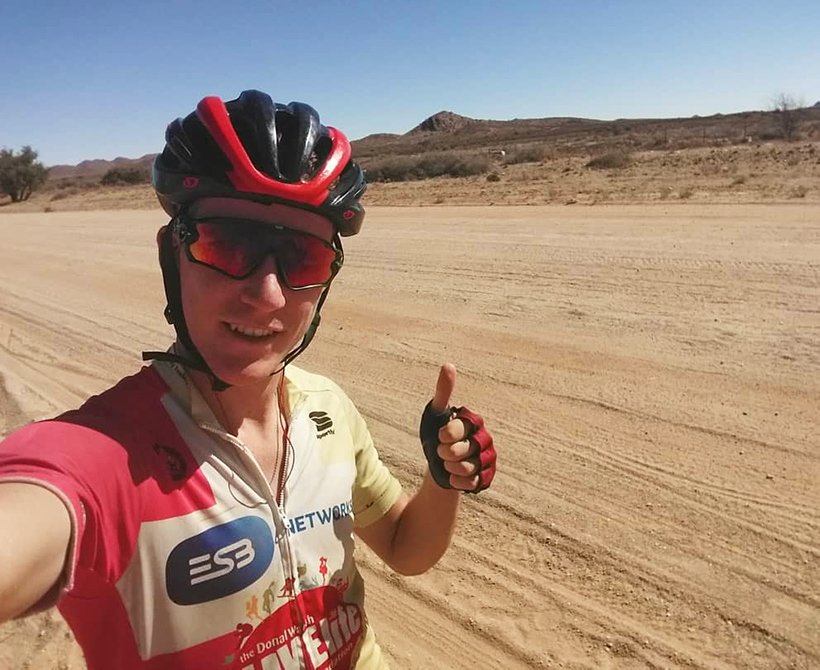 All about Tomás Mac an t-Saoir
Tomás Mac an t-Saoir is a 25-year-old barman from Kerry, Ireland. He has a passion for cycling and has previously cycled across America, coast to coast, racking up over 3,000 miles. This was only the beginning of his adventures on a bike and inspired him on to take on a much bigger challenge, the length of Africa.
Though I cycled as a kid, like most kids do, my love for cycling didn't develop until I was about 17 years old. When I was 17, I began cycling to football training out of necessity, which was a round journey of about 12 kilometres. I was always fit from playing football, which I liked, but as soon as I started cycling, I realised I loved it. I could go wherever I wanted, whenever I wanted and as fast or slow as I wanted. It was my escape from the world. I would take off for hours, just me and my bike. From there, cycling took over me.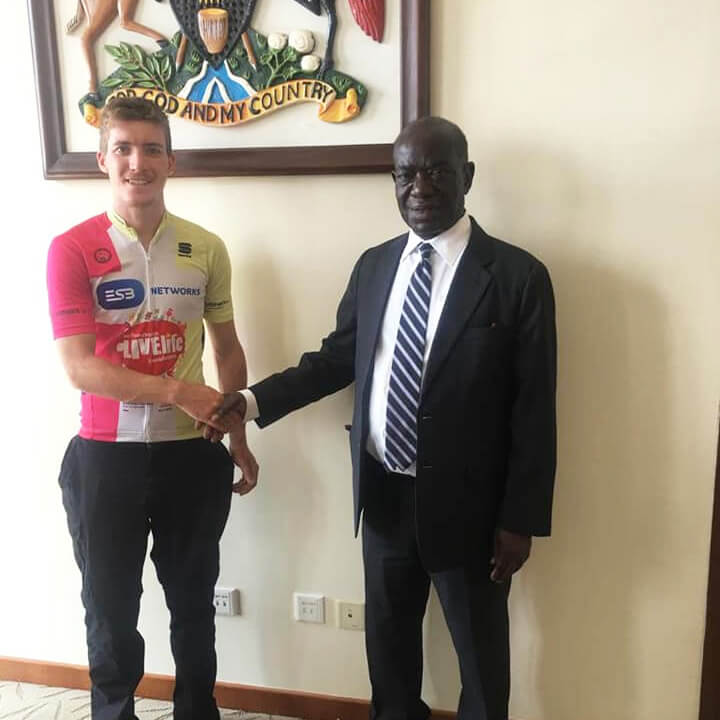 When I turned 18, I moved to Galway to study at university. While I was studying, I continued to cycle. There were some charity cycles I participated in, one being the Giro d'Galway in 2015. This charity cycle was a two day, 370km jaunt around County Galway. Fast forward a year, following my graduation from university, I decided to take a gap year. My gap year involved cycling solo and unsupported across the USA, a country I had never previously visited. That didn't deter me. 3000 miles, all by myself? No problem! And what better way to see the country than to cycle it from coast to coast. For seven weeks I was a careless 22-year-old, on a trip of a lifetime, just doing what I loved doing – cycling and making new friends. All good things must come to an end and so did this trip when I reached St Augustine in Florida. But I knew when I finished that this was only the beginning of my travels around the world on a bicycle.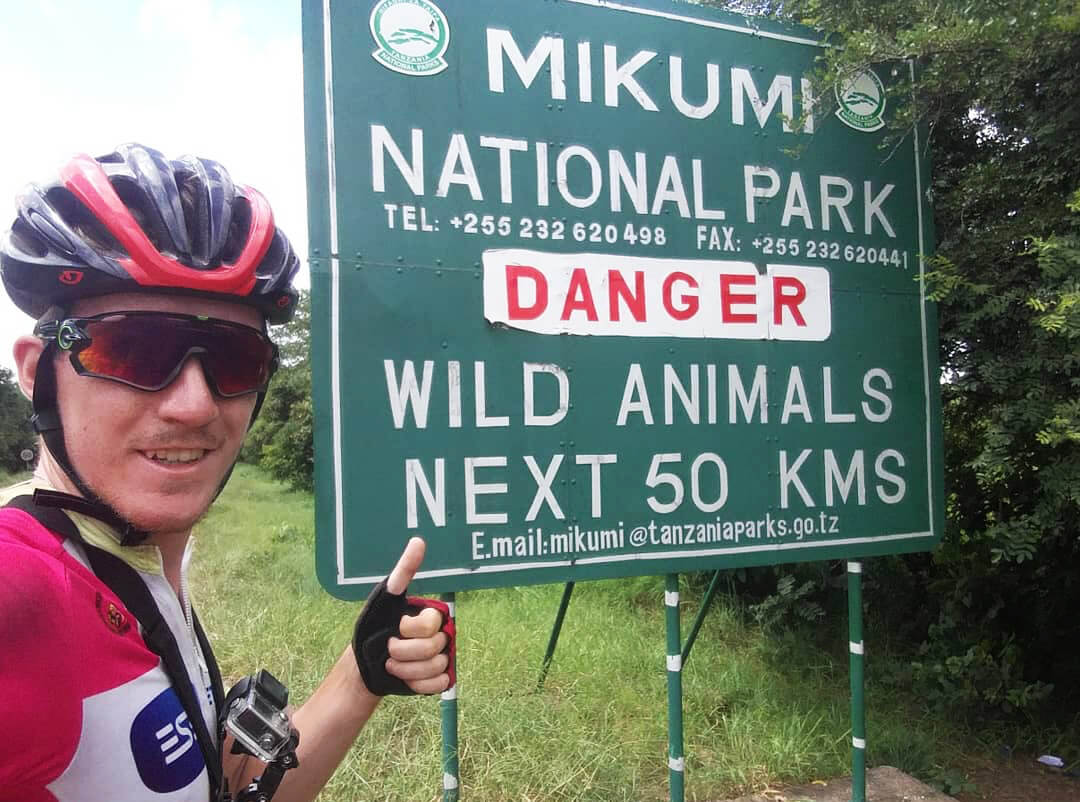 Stepping outside my comfort zone
Returning home, I found myself heading back to university to study and become a school teacher. However, there was a burning desire in me. America wasn't enough. I needed something bigger, something better, something dangerous that would put my life at risk, something that would take me out of my comfort zone, something that could potentially crack me but something that would add years to my life if I could pull it off. I decided against college and instead looked at a map of the world. Africa immediately jumped out at me. I couldn't settle on cycling around a couple of countries. Nope, that wouldn't be good enough for me. If I was going to cycle in Africa, then I was going to cycle all of it. I was going to cycle from the top of Africa (Egypt) to the bottom (South Africa). I wouldn't settle for anything less. It was the whole damn thing or nothing at all.
At this stage in my life everything was set up for Africa – I was 24, careless, adventurous, in need of something crazy and had no personal commitments. Who knows what sort of life I will have when I'm older? I needed to do it now, something that would hopefully benefit me for the rest of my life. I also have a number one life rule – the most important being no regrets. I knew if I let this chance go by, I would regret it for the rest of my life and that would be something that would eat into me every day. The 'what if's'. I don't want these 'what if's' to plague me throughout my life. Africa was a moment of now or never, no time for waiting. It was something that would challenge me and take me outside of my comfort like nothing I had done before.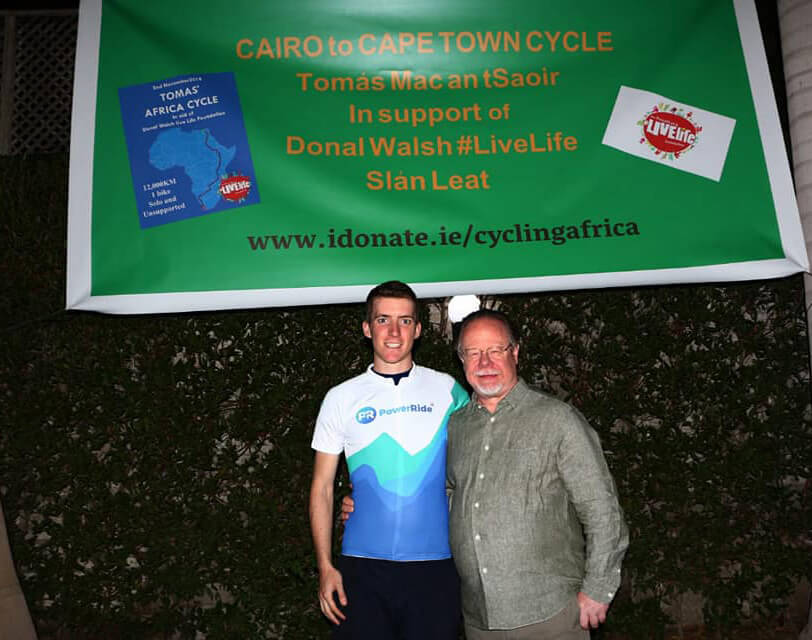 I was driven off the road due to dangerous driving, had a water bottle thrown at me and narrowly avoided a kid trying to whack me with a cow whip.
There were many challenges I faced in Africa. Ethiopia was a nightmare due to the some of the aggression I experienced from some of the locals. Quite regularly, I would have stones thrown at me from the kids and on rare occasions, adults. The locals would constantly shout at me and the begging was incredible. Kids at the side of the road would scream "money, money, money" at the top of their lungs as you cycled past. I was driven off the road due to dangerous driving, had a water bottle thrown at me and narrowly avoided a kid trying to whack me with a cow whip. On another occasion I had the misfortune of crossing paths with about 50 kids who had just finished school and decided to throw stones at me as I attempted to cycle up a steep hill. Also, in Ethiopia, I had to cycle through areas with ethnic conflict. In total, there are 94 different ethnic groups in Ethiopia and as I crossed the Sudanese/Ethiopian border, I was told that there was some conflict in the region between some of these groups. After a couple of days of cycling past men armed with AK47s, the army eventually stopped me and said it was too dangerous to continue cycling. I spent the night at their army base and I travelled in their convoy the next day to escape the conflict zone.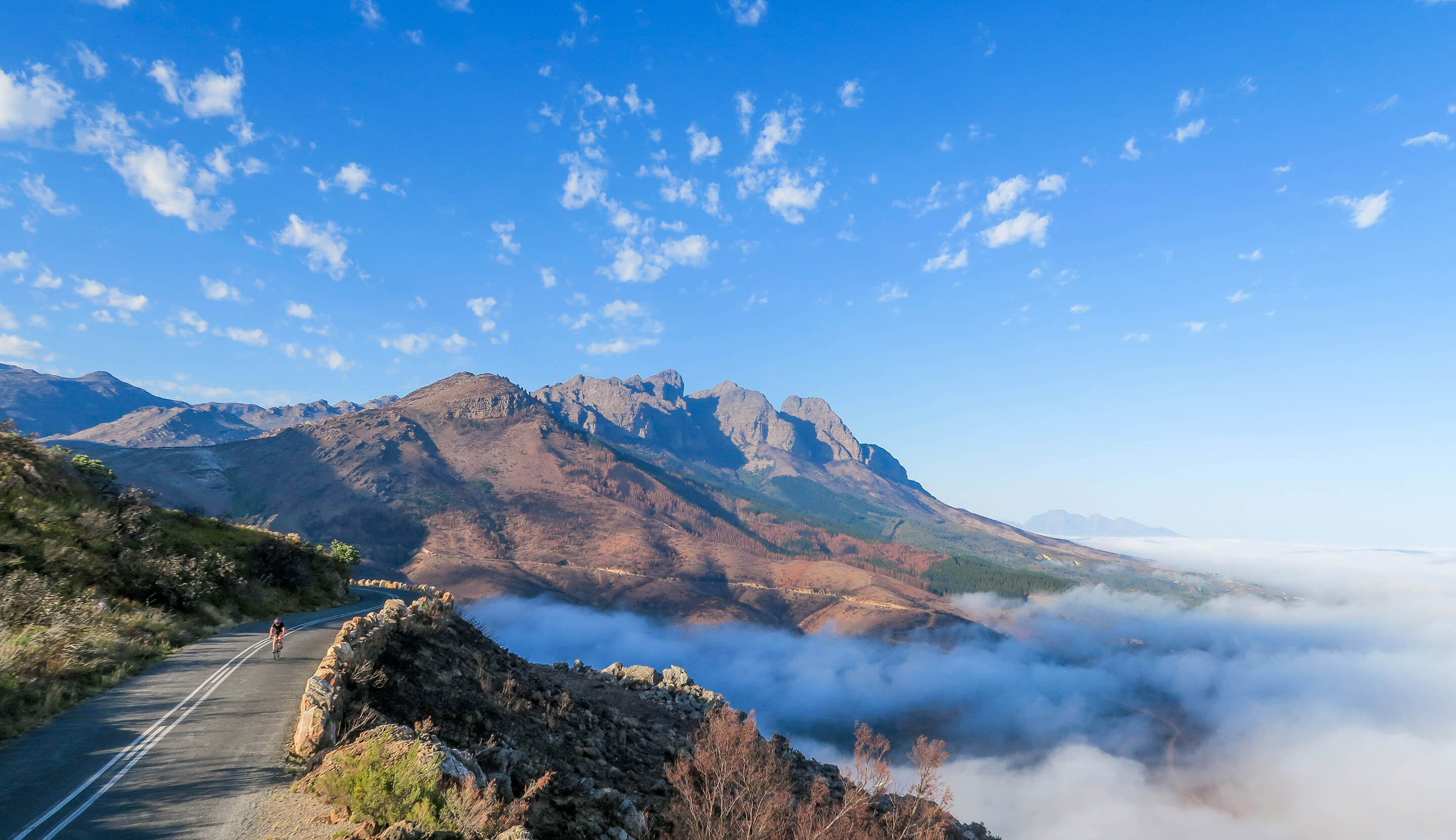 Other challenges
Other challenges I encountered included aggressive drivers and extreme weather. The drivers in Kenya were particularly bad. They all seemed to be on a suicide mission. The weather for the majority of the trip was extremely hot. I baked as I cycled through the Sahara Desert. The hills of Ethiopia were also uncomfortably hot and the heat became unbearable as I pedalled through Tanzania as temperatures hit 40 Celsius with the humidity at about 60%. Incredibly tough heat to cycle in. Then there was the culture shock. For example, the locals in some countries don't do personal space. As soon as I cycled into a village I was immediately surrounded by the people. They would watch my every movement. They would even watch as I ate and drank. But not once did I feel threatened – they were just curious. But there were times when I was tired or just hungry and some personal space would have been appreciated.
In the 'Western World', personal space is the norm, so it took some time to adjust in Africa to not having any personal space at all. In Egypt I was followed intensively by the police for my own protection. They are extremely paranoid about tourists. Cycling through Egypt & Sudan was incredibly interesting as they're both Muslim countries. Sudan have Sharia Law in place. Quite often, while staying in different towns, you would be woken by first prayers at 4am through blaring loudspeakers. Not overly pleasant when I struggled to sleep due to the heat and the phantom itch I was getting from my Malaria tablets.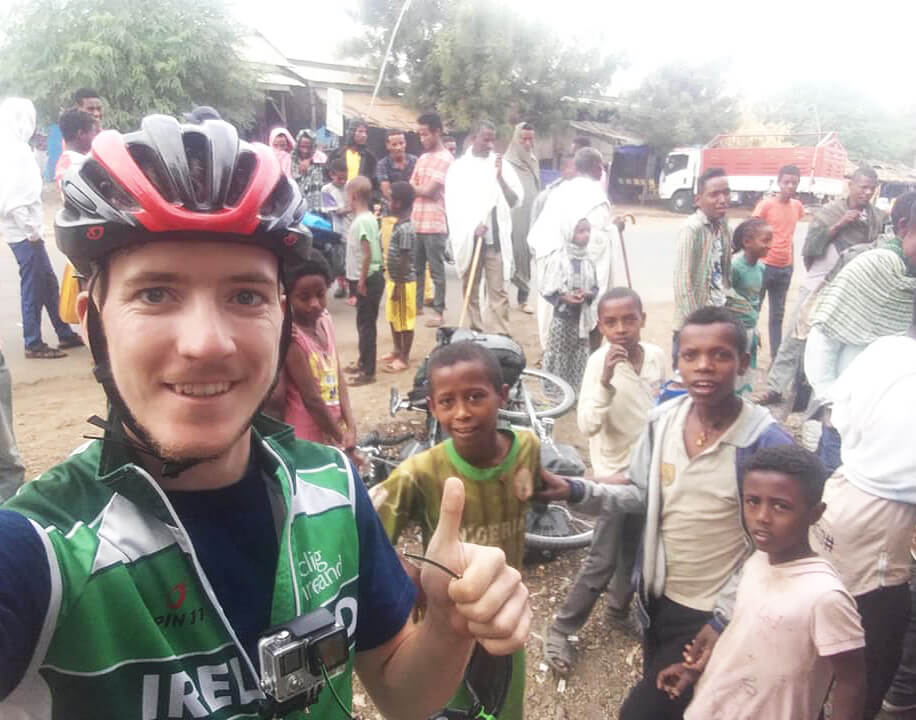 All in all, Africa was an incredible experience. People often ask how much the trip cost financially, but to me the trip was priceless. Travelling is the best form of education and Africa cemented that fact for me. Starting off in Egypt, I really wasn't sure of what to expect. So much can happen, but it was important for me not to dwell on the 'what if's'. Instead, I adapted a more positive approach and that's a mindset I can use when I face future life challenges. I'll be better equipped to deal with whatever life throws at me because of the challenges I faced in Africa. I can take huge pride in reaching Cape Town, especially after hitting rock bottom in Zambia. Sometimes you need to hit rock bottom just to realise the potential and inner strength you have. Africa tested me like nothing before. I learnt that giving up wasn't an option. You must keep fighting. In a way, Africa wasn't just a cycle, it was a life lesson. Africa also taught me that a smile can go a long way. Never ever underestimate the power of love and respect.
Apart from my experience in Ethiopia, anytime I encountered locals they would constantly be smiling. I would be cycling along the road and the locals would be smiling and waving at me, asking how I was or wondering where I was going. Again, they were extremely curious to see the 'mzungu' on a fully loaded bicycle. The locals would always ask me if I needed help or advice and their knowledge would prove to be extremely vital at times. The craze of social media hasn't caught on in the African countryside. Very, very rarely would you see people sat around, ignoring one another as they stare like zombies on their phones. Rather it was the opposite. Groups of people would be sitting together, deep in conversation. The beauty, history, culture and people of Africa absolutely made my cycle from Egypt to South Africa worthwhile. As they say, once Africa is in your blood then it never goes away.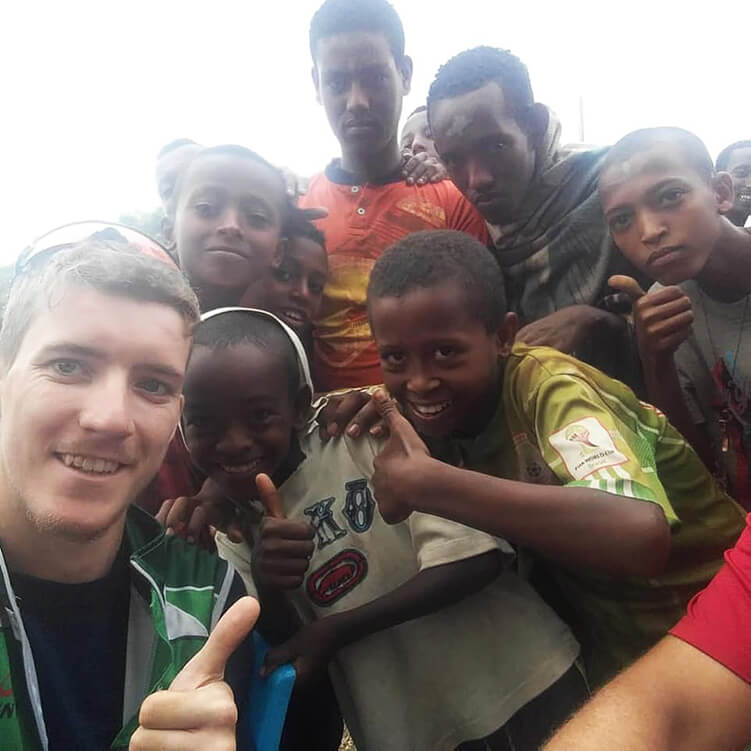 The toughest mental challenge
The toughest mental challenge of cycling Africa, that I experienced, was the loneliness. This affected me at different times throughout the trip. It began while I was cycling through the Sahara Desert. I had read a lot about this vast and huge desert, but when I began to cycle through it, I realised how irrelevant and small I was in the world's largest desert. I'd spend hours and hours each day cycling on my own with nothing but vast amounts of sand stretching miles and miles in front of me, as far as the naked eye could see, in every direction. There was no escaping it. During the first half of the desert I cried multiple times, on a daily basis. But I rode on, knowing that if I could ride through the desert and through the mental anguish then nothing would prevent me from reaching Cape Town.
Some other countries threw up some isolated cycling stretches too – Tanzania, Zambia, Botswana & Namibia. All these I found challenging, especially East Zambia as I had been going through a bad spell that didn't seem like it would end. Here I found myself at my most vulnerable. A rut I couldn't wiggle out of. On one day in particular, I spent the first hour of my cycle crying as I climbed up a hill and I couldn't stop. As soon as I hit the top of the hill, I had a break down, the biggest breakdown of the trip. I was crying uncontrollably. I knew I couldn't continue like this. I had to recompose myself and sort my head out, or else my tour was over. The mental turmoil I had suffered during the previous six weeks was too much to bear. I had cracked. My options were to either quit or take my spoonful of cement, toughen up, sort my head out and continue this trip of a lifetime. Fortunately, I chose the latter and I ploughed on to finish in Cape Town a couple of months later.