Taryn Simpson
Taryn Simpson is a 33-year-old mountain climber from Snohomish, Washington. 8 years ago, she was diagnosed with Rheumatoid Arthritis and learnt to rehabilitate her body and control the pain in order to fulfil her love of sports. Taryn is always looking to defy her diagnosis and in 2017 she prophesied that she would one day tackle the tallest mountain in Washington state. In 2019 she made that climb.
After being diagnosed with Rheumatoid Arthritis, Taryn was told she may never be able to enjoy an active lifestyle ever again. She was determined to prove her doctors wrong and in doing so, fell in love with mountain climbing. Taryn talks about how this disease has affected her life from an early age and how she set her sights on the biggest mountain in Washington to push herself further than she's ever gone before.
I was very active from a young age. Gymnastics, dance, soccer, snowboarding, running; I did it all. Although I was fit and appeared healthy, I started experiencing unexplained injuries and joint issues when I turned 12 years old. I downplayed these injuries, justifying them as normal side effects of the high-impact sports I loved playing.
As I progressed into high school and beyond, I stopped most of the sports I had previously enjoyed due to the pain or weakness caused by dysfunctional joints. Only snowboarding and running remained regular activities. These remaining sports still caused knee pain and dysfunction, but I tolerated it because of the enjoyment they brought, and I still thought what I was experiencing was normal.
By my early 20s I had given up snowboarding and almost all running. Weightlifting and cycling were the only sports I could still participate in without being too limited by pain. I was taking anti-inflammatory medication but still experiencing significant joint pain and swelling. I had resigned myself to the fact that I would never get to enjoy all the activities I had previously, and I gave up hope on ever finding a cause of my pain or a solution for relief.
Then, in 2011, at the age of 25, I was diagnosed with rheumatoid arthritis (RA). Rheumatoid arthritis is a genetic disorder in which the immune system does not recognise the synovial fluid (the fluid that lines and lubricates joints) as part of the body and attacks it as though it were a foreign invader (like it would a bacterial or viral infection). Symptoms include pain, swelling and weakness of the joints. If left untreated it leads to joint and bone degeneration, deformation, and destruction. Long-term damage is most easily prevented through effective management of symptoms; joint degeneration cannot be reversed so early diagnosis and treatment are key components to extended quality of life. Think of it as your immune system being constantly at war with your own body.
I began controlling my symptoms through an anti-inflammatory diet and I felt better than I had in years. Diet alone worked to control my symptoms for about a year until I experienced my first RA flare and my doctor decided that medication was my best option. After an adjustment period, the combination of diet and medication began to show promising results. I still experienced occasional pain and discomfort, but nowhere near the level I once lived with every day. With this progress, I began to explore new athletic activities for the first time in nearly a decade.
2015 adventures
In 2015, I went bouldering for the first time and immediately fell in love. The powerful movements, balance and flexibility required were reminiscent of gymnastics. Although initially cautious, I found that regular bouldering helped reduce the symptoms in my hands as I gained more muscle and joint stability. Trusting that my hands could tolerate more, I made the transition to roped wall climbing and found myself drawn to it even more than I was to bouldering.
The following spring, I began hiking on local trails in my home state of Washington and I was awestruck by the beauty in my own backyard. My love for hiking progressed along a similar trajectory as bouldering, although without the same symptom-reducing benefits that climbing brought. Instead, I found hiking to be demanding on my joints and often left my knees in severe pain. I frequently found myself limping down descents and having to spend several days recovering. Finding a way to control my symptoms became my main priority. I was curious just what I was capable of if I could get my body as healthy as possible, so I set out to learn how far I could push my body without injuring it.
2017 expeditions
In May 2017, I climbed my first Washington volcano, Mount Saint Helens. At 8,363 feet, the route is generally non-technical but as a newbie it was the hardest trip I had completed up to that point and I was hooked. Never in my life did I think I could have climbed a volcano of that size and the realisation that I could, shifted my thoughts to what else I could accomplish if I dedicated the time and effort to it. On this trip I also met an experienced mountaineer, Stacia Glenn, who not only became a mentor but also a dear friend to me. Her guidance helped fuel my transition into mountaineering as well as the change of mindset that allowed me to pursue an active lifestyle that brought challenge, joy, and fulfillment despite the constraints from RA.
I found hiking to be demanding on my joints and often left my knees in severe pain. I frequently found myself limping down descents and having to spend several days recovering. Finding a way to control my symptoms became my main priority.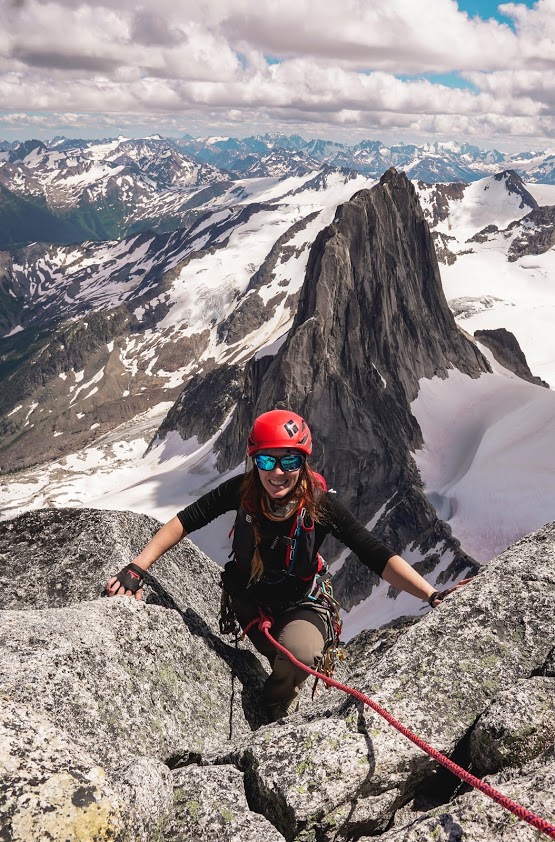 As I started to take more pride in my accomplishments in the mountains, I dedicated myself to not squandering whatever years of my health I had left. I made a promise to myself: on July 14, 2017, I wrote "By 2020 I will summit Mount Rainier. Hold me to this." Setting my sights on the highest peak in Washington state was no small undertaking, but for the first time I thought it was possible.
The transition to outdoor rock climbing
Over the next year I committed myself to hiking, backpacking, running, and climbing as much as possible to improving my technical skills in the mountains. One year after struggling my way up Mount Saint Helens, I returned to lead a group of friends to the summit of that same peak. I transitioned to outdoor rock climbing and completed my first alpine climbing trip to Bugaboo Provincial Park in British Columbia, Canada, including a successful summit of Bugaboo Spire at 10,512 feet. I finally felt home. This was what I was meant to do. The challenge, the physical and emotional demands, the problem solving and the sheer vastness of the mountains. It was humbling and inspiring at the same time and I wanted more. As I pushed my body to do more, it adapted, and my RA symptoms continued to diminish. I was feeling better and better every day.
After taking a short break for school and work, 2019 saw a returned dedication to training for the upcoming season's mountaineering endeavors. Setting my eyes back on my goal of Mount Rainier, I doubled down on training and I sought out more challenging hiking trails. In June I completed a solo day trip up to Camp Muir, one of two 10,000-foot camps on Mount Rainier. Two weeks later I climbed Mount Hood, a 11,249-foot volcano in nearby Oregon state and then the following week I attempted a solo summit of Washington state's Mount Adams, a 12,181-foot volcano.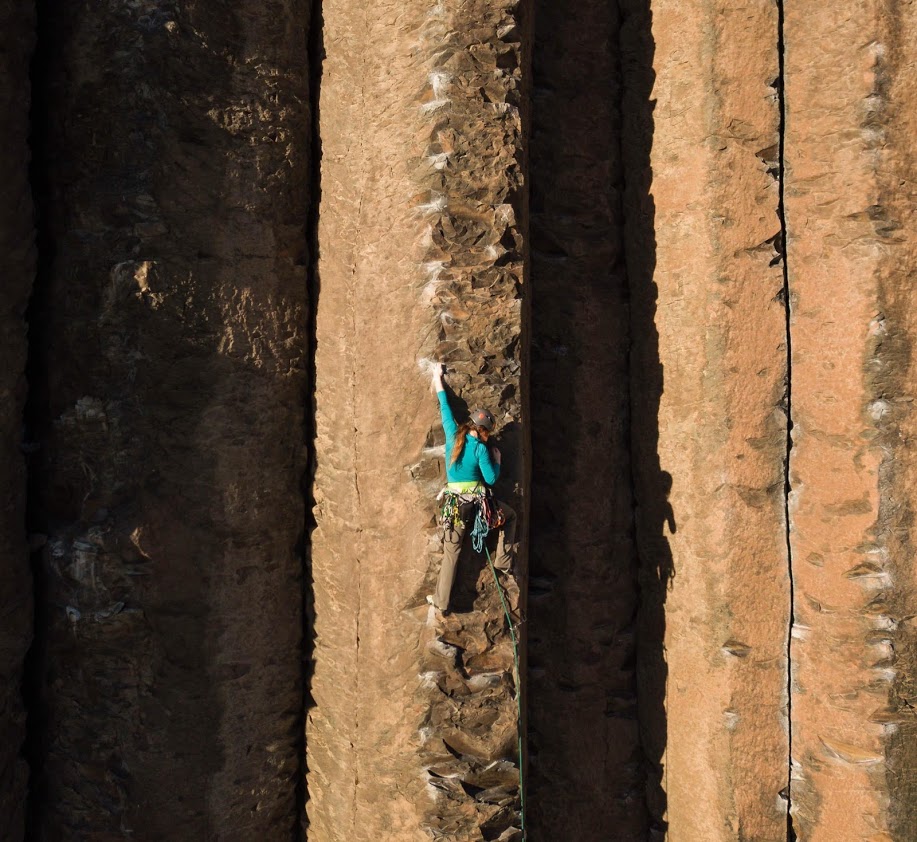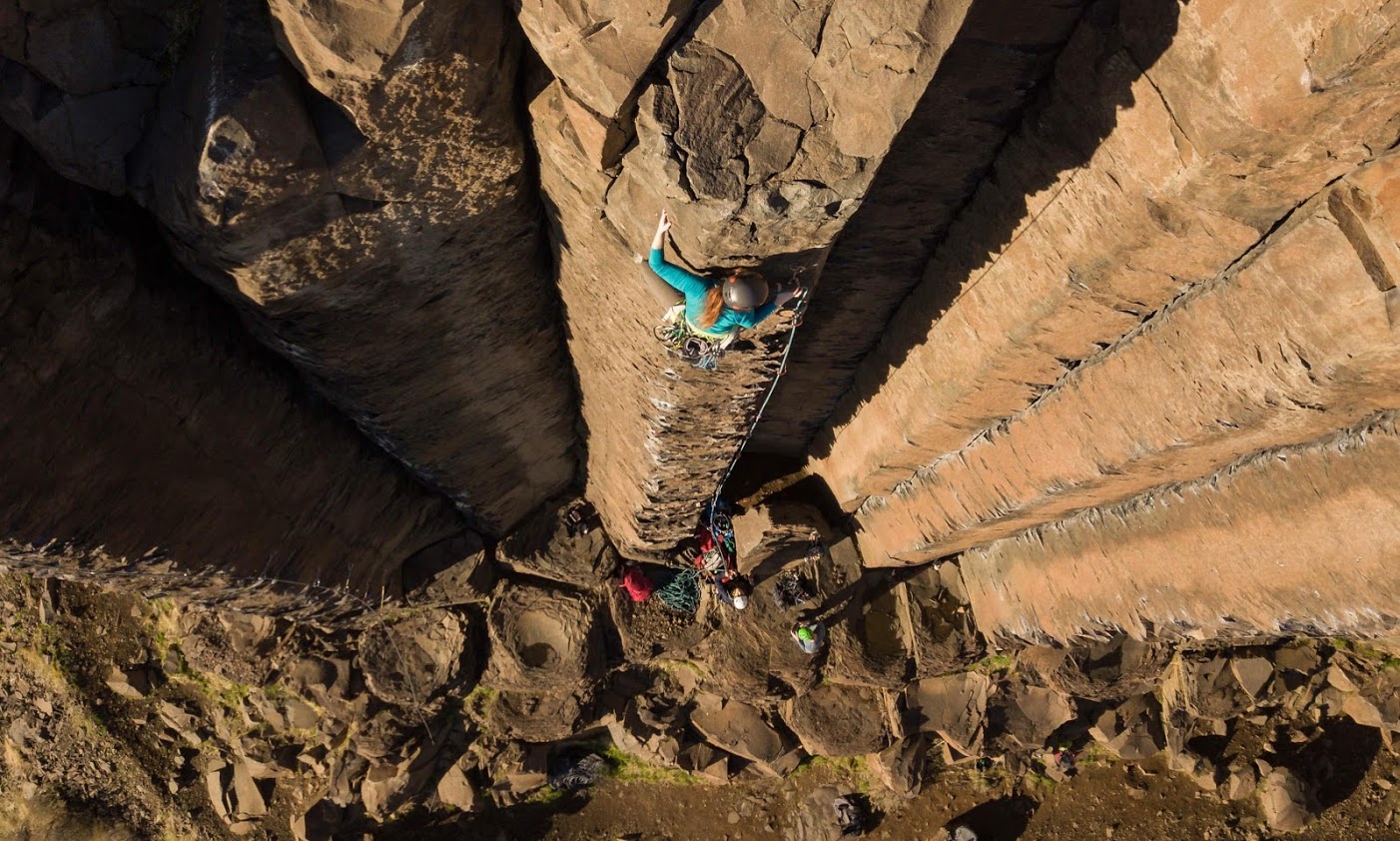 As I completed each climb, I felt more and more confident about tackling Mount Rainier. Over the course of May and June, our Rainier group planned several attempts, but had to make last-minute schedule decisions to weather conditions on the mountain. Standing over 14,000 feet, Rainier creates unique weather patterns with snow, ice, limited visibility, violent winds, and below-freezing temperatures even mid-summer.
Mount Rainier
After multiple reschedules, we finally got a window of clear weather. On the 19th of July, I packed up my gear, secured a climbing permit for our group and headed toward Mount Rainier. The following morning, we hiked under glaring sun with heavily laden packs up a glacial moraine and onto the beginning of what would be approximately 7,000 vertical feet of glacier. Hiking through the afternoon, we arrived at Camp Schurman (the second 10,000-foot camp on the mountain) and set up camp. At 9,440 feet, the camp consists of a tent set on a dugout snow platform atop a glacier. Thinner air and stronger solar radiation make sleep hard to come by, as laying in a tent feels more like laying inside a convection oven.
I felt like I had just barely fallen asleep when my alarm went off and I found myself chilled inside my now-freezing sleeping bag. I quickly realised I had fallen asleep before getting to drink almost any water, and my muscles felt tired and fatigued. I hurried to hydrate as much as possible and ate a quick breakfast to calm the nausea that was growing. Within about 30 minutes, we were roped up and heading out across the glacier by the light of our headlamps beneath an inky sky that glittered with stars. The mountain loomed above us, massive and daunting.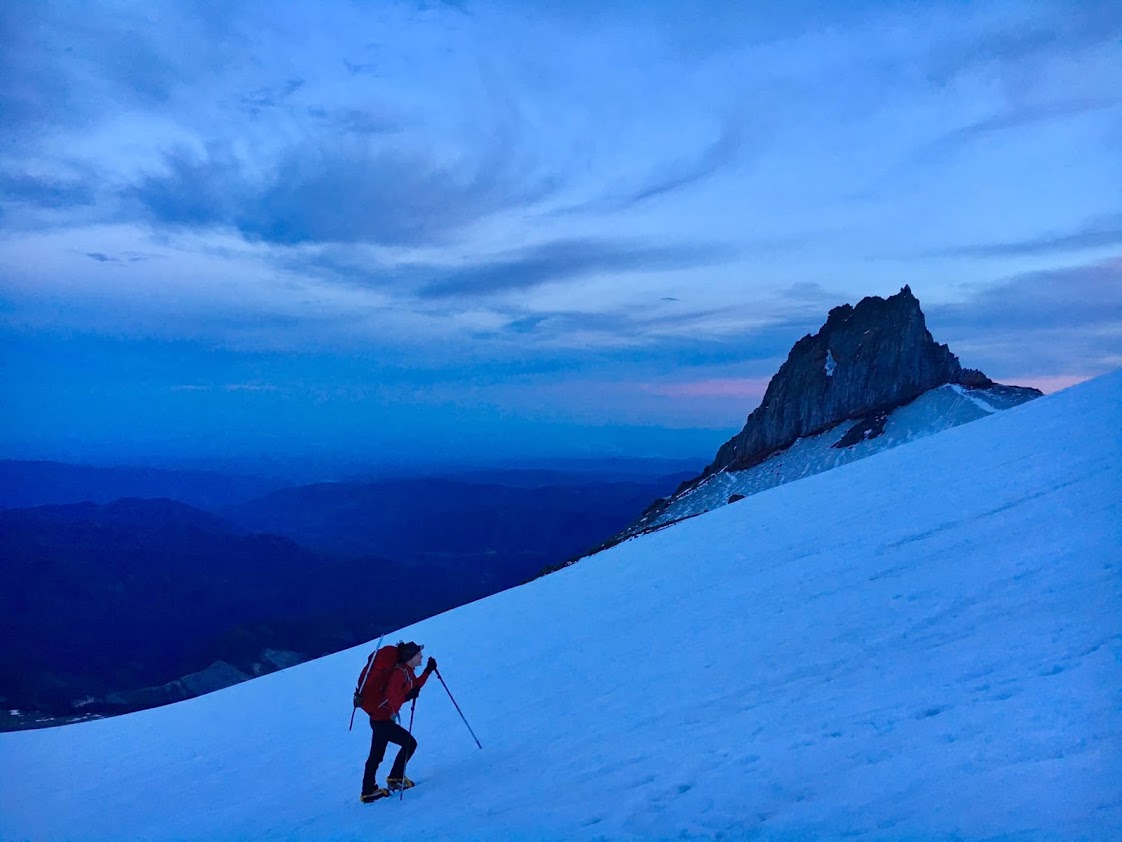 Almost immediately after leaving camp, we crossed our first crevasse. Just feet away from the climbing path, the snow dropped away to reveal a dark, vertical cavern with no apparent bottom. Sheer walls of blue ice were a sharp reminder that this peak claims lives every year, and this was no time for any lapse in attention or diligence. Stepping delicately as we crossed the snow bridge spanning the massive crevasse, we continued up the Emmons glacier. I noted small cracks and fissures in the ice underfoot and adjusted my path accordingly. At this elevation, the progress was slow. My muscles were already reminding me that I was a few liters of water behind in hydration and maybe I should have put a little more focus on my cardio training in the last few months.
Our clear weather window brought cloudless skies, but still threw wind our way with gusts that threatened to knock me off-balance in my fatigued state. Struggling against nausea and knowing I had a long, demanding day ahead, I forced down sips of water and little bits of chocolate, energy chews, and fruity candies – the only food I could manage to keep down. I started to grow concerned that I would run out of energy and strength too early in the day based on the rate I was going and how quickly I felt like my condition was degrading. As the sun rises and warms the snow, stable slopes become loose and footing more precarious; thin snow bridges that cover crevasses can widen or collapse; and fatigue can turn minor missteps into dangerous mistakes. As we crossed a crevasse on a lip of ice wide enough for only one boot at a time, a sheer ice cavern dropping into the abyss on the right, and a nearly vertical frozen-solid wall of snow rising immediately on the left.
I would be lying if I said I was certain I could do it, but stubbornness and dedication kept me going. I had been here before. The nausea, the weakness, the unstable footing. I let my team know my concerns but forced myself to keep going. I knew this was likely to be the most physically and mentally challenging thing I had ever done, and if I turned around without giving it everything, I knew I would later regret it. Great accomplishments aren't meant to be easy; the worth comes from the challenge that we endure and subsequent growth and pride we achieve.
The final 1,000 feet were brutal. My lungs burned with the lack of oxygen and I felt like my breathing was struggling to keep up with the oxygen demands of my muscles. After hours of fighting to keep food down, the caloric deficit had left my muscles feeling utterly exhausted and painful to the touch. I crunched through uneven icy flakes that added to the fatigue, while my team leader called back words of encouragement. As I came within meters of the final crest, tears welled up in my eyes. I thought "I'm actually going to do this" and began to cry, which isn't the best idea when you're already struggling to breathe. The tears quickly turned into sheer pride and elation. We worked our way through gusting winds to the true summit at 14,441 feet and hugged in celebration. I had gone from believing just a few years before that I would never run or hike again, to summiting the highest peak in the state. This crown jewel that stands stoically on the horizon for hundreds of miles would now forever hold a new place in my heart, simply because I dared to challenge myself and question just how much I could endure.
Cursing cripplingly painful knees and throbbing feet under loaded packs, I felt overwhelming pride and gratitude to have been able to experience such an amazing adventure. It's time to see how much more this broken little body can endure in the name of adventure and a full-value life.
Gallery