In the Face of Destruction
By Claire Shefchik
The tip of Great Camanoe Island came into sight, and a frisson of hope went through the crew on Jim Proctor's Moorings 51, Blue Tide. We were in the middle of the annual Round Tortola race at the 47th annual British Virgin Islands Spring Regatta & Sailing Festival, the first and largest sailing event since the most powerful hurricane in the Atlantic decimated the British Virgin Isles (BVI) in September 2017. The bareboat class had started at 10:10, and we all knew we'd scratch if we weren't back at Nanny Cay by 3pm.
It was now 2:15.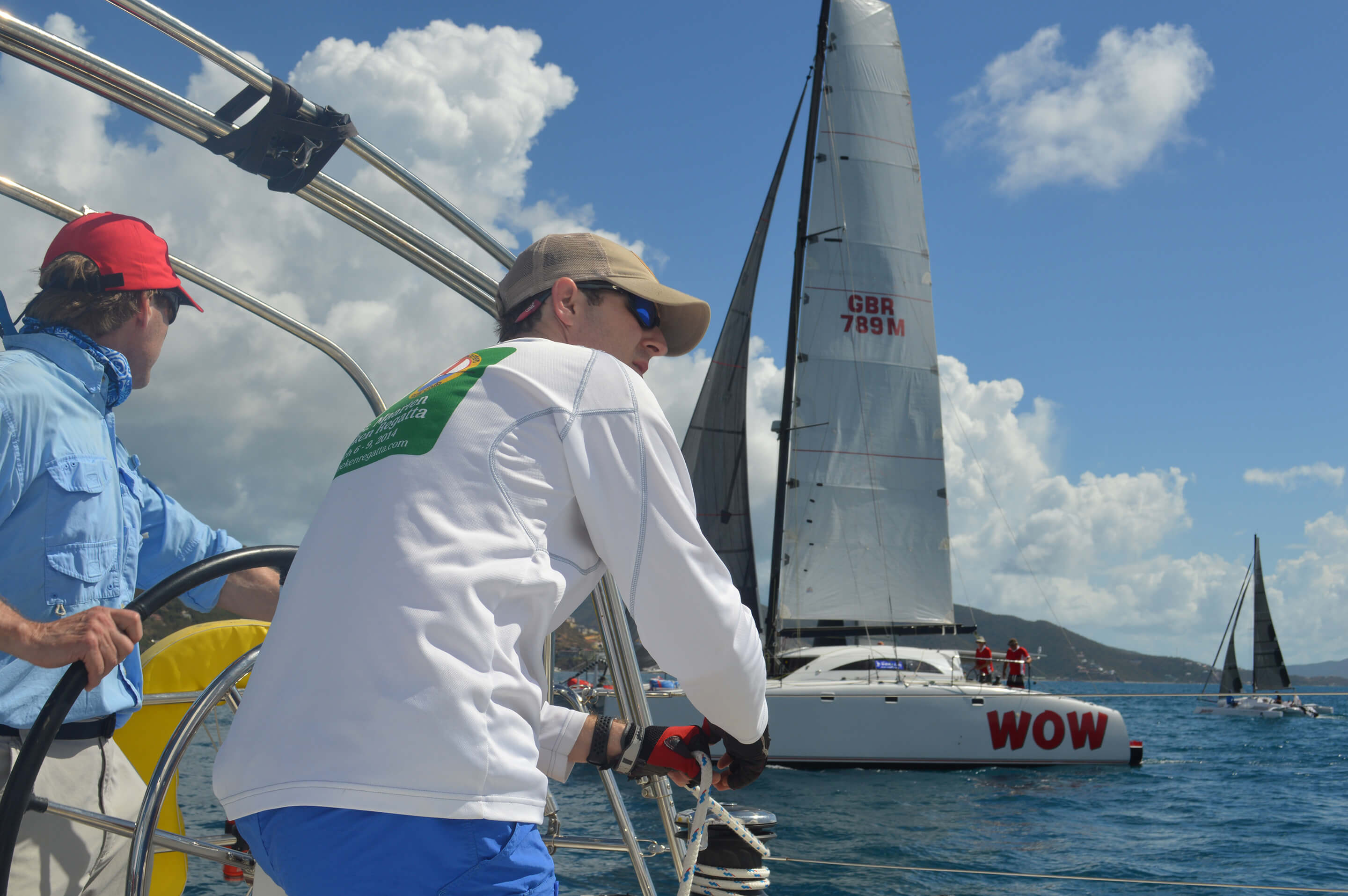 This would all be heartbreaking, if it weren't for the fact that six months ago, Blue Tide had been lying half-sunk and covered in algae at The Moorings' base at Wickham's Cay.
"This is the only boat I know of in the race that was actually in Tortola when the hurricane hit. We didn't think it had a chance," said Proctor, an affable lawyer from Birmingham, Alabama who's been hauling his friends and co-workers down to compete in the bareboat class for the past five years. As for me, I'd lived in Tortola for six months, but hadn't sailed much since the move. Instead, I'd been consumed with writing storm-recovery stories for the local newspaper.
In its sheer destructiveness, Irma made history: it was the first storm to sustain winds over 185 miles an hour for over a day, killing over 100 people and causing over $1 billion worth of damage throughout the entire Caribbean. By this point though, I had grown accustomed to destruction. The blue tarps covering my neighbours' roofs, the crumbling cement walls on the corner store I passed on my drive home, the broken masts on the multimillion-dollar yachts piled up like scrapwood in the marinas. The island's once-towering green hills were only beginning to bloom again after being stripped bare by Irma's winds. I had only been on the island a mere two weeks before Irma hit, and I had almost forgotten what that looked like before.
Jost Van Dyke's battered landscape. (Image courtesy of Flickr)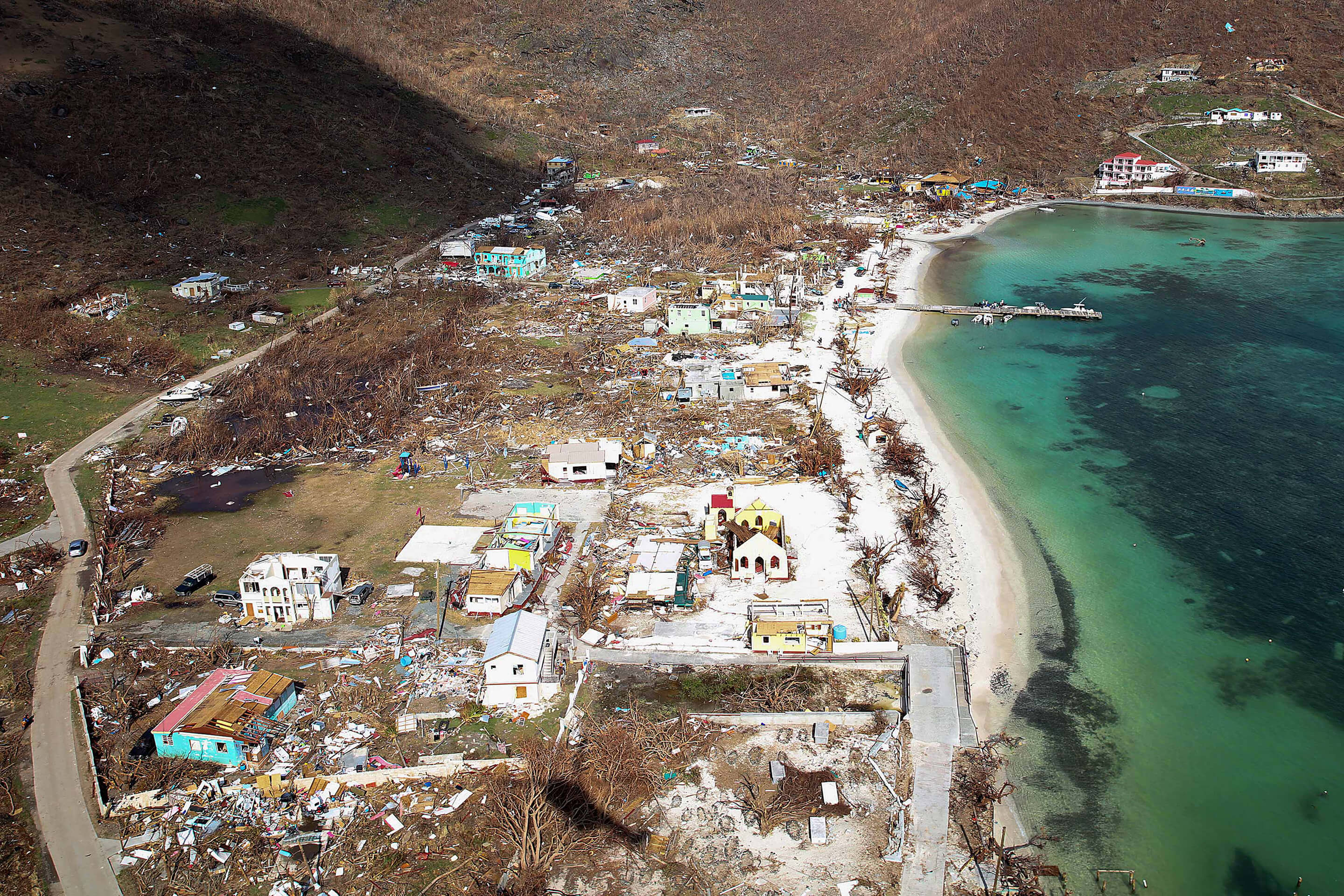 But Proctor and his crew weren't used to it at all.
They still remembered the BVI as the friendly, carefree tropical paradise it had been before the storm.
As a writer, I had become privy to the darker corners of the islands. The BVIslanders, generally friendly people, seemed to be coiled springs. Fights were breaking out in supermarkets and in the streets over petty gripes; a friend's landlord had made death threats to him merely for dumping water over his balcony.
Meanwhile, a former magazine editor I knew was now working on lines with the electricity company because it was the only gig available. Another friend, former owner of a fleet of charter yachts, was working as a construction foreman.
Politicians were bickering over the $300 million loan guarantee they'd received from the United Kingdom, the parent country. There were regulations and hoops to jump through to get it, and yet nobody seemed to be able to think up any other way to get the money desperately needed to rebuild. Life in the BVI was limping along, and people were used to it.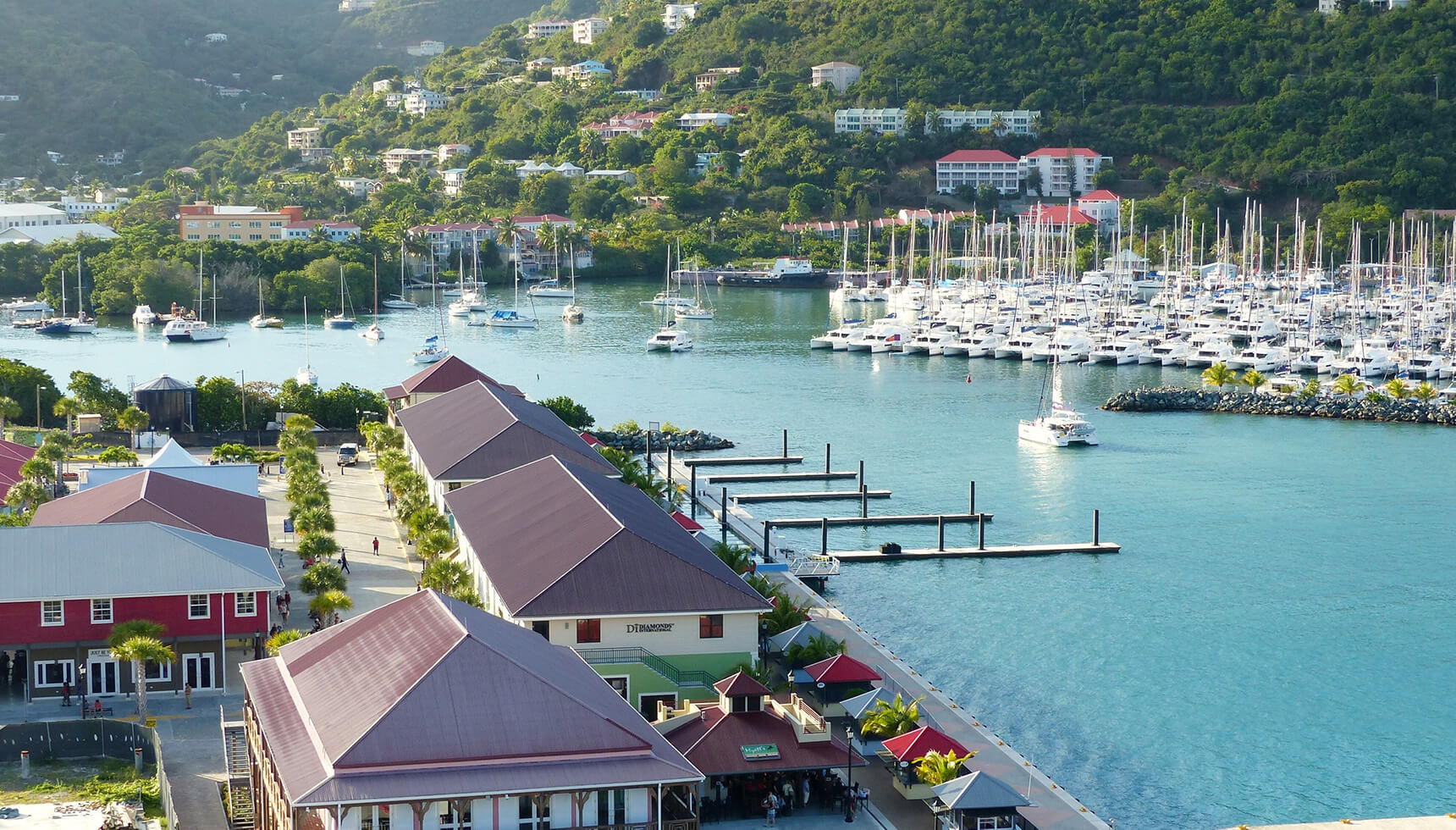 Earlier, Proctor had told me he thought Blue Tide had been in Paraquita Bay for the storm, and his heart fell into his shoes. "I saw the photos, and I assumed the worst," he said. Government estimates suggested that 80 to 90 percent of the BVI's boats were damaged or destroyed in the storm. The sheer, wanton destruction was heartbreaking, not only to the boat owners, but to the entire territory, which made its name in the tourism industry by being the charter capital of the world.
Later, he found out they'd actually been keeping it at The Moorings base, and he breathed a little easier. But photos of the carnage were floating around on social media, and he knew that he had to come and see it for himself.
When they finally found it, weeks later, the news was grim. "She was missing a mast, and we still don't know everything else that was wrong: whether there was damage to the hull or what," he said. "There could be a problem with the rudder, too."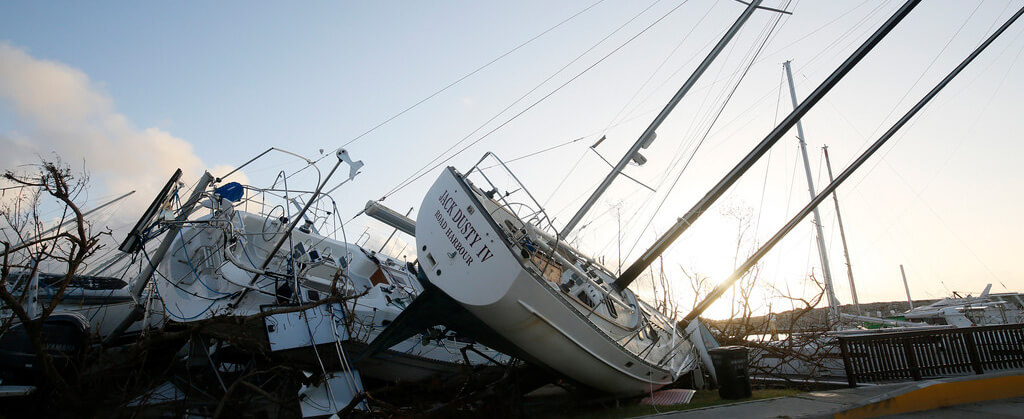 For the past few years, he explained, he had a friendly competition going with his friends and coworkers, flying down together and chartering three boats in the bareboat class. Even when he heard about Hurricane Irma and saw social-media photos of the devastation, even before hearing about his own boat, he knew there was no chance he wouldn't make the trip. The BVI meant too much to him.
He didn't really think he'd be racing. After local salvagers fished the vessel out of the water, Blue Tide took three months to fix. But now, with freshly varnished decks, polished interior and brand-new masts and sails, it's hard to tell anything had happened. We trod her decks with a little bit of awe mixed with trepidation for the boat that rose from the dead.
Still, as we left the Outer Marina at Nanny Cay, the crew was hesitant to get too excited about their chances in the Round Tortola race. Of the 43 boats competing, virtually all had been shipped in from elsewhere and hadn't seen anywhere close to the kind of damage that Blue Tide had.
"We aren't expecting much this year," Proctor had said when he'd proffered the invitation. "In fact, we're expecting a good view of everybody else's sterns."
I told them I didn't care. "Besides, I can imagine the headlines now," I told him, trying to stay positive.
"Everybody loves an underdog story."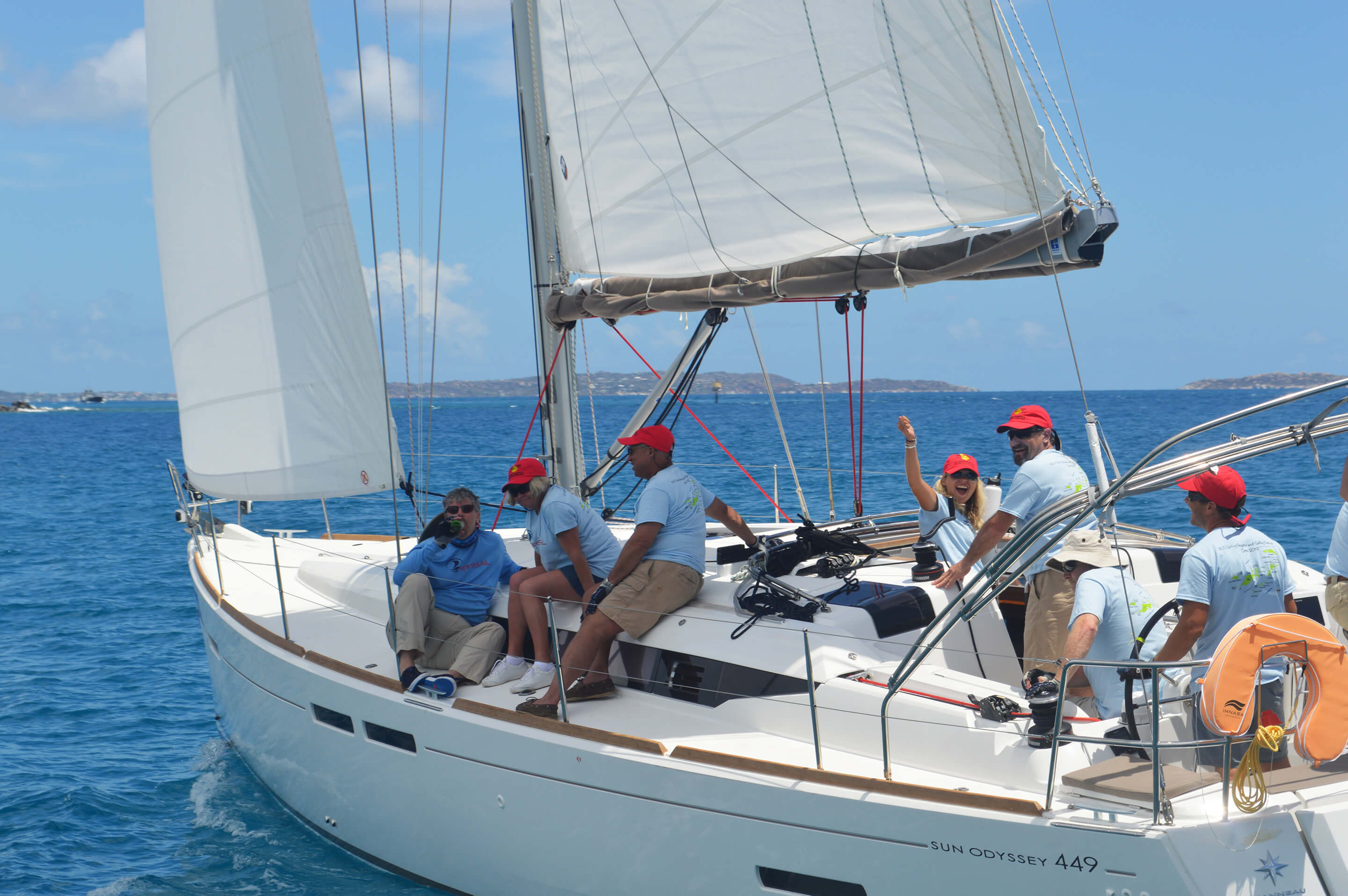 As a chronicler of the hurricane recovery, I was used to those, but as we headed doggedly upwind, nobody—not even me—was prepared for what we saw.
For the first time, I looked through a visitor's eyes. Stately hilltop villas like haunted mansions, with their windows gaping and roofs blown off. The brand new East End boatyard with its rows of dead soldiers, ready to either be sold to the lowest bidder or chopped up and shipped off to junk heaps. And those were the lucky ones. There were wrecks still bobbing in Paraquita, waiting for insurance to kick in—if they had any.
One by one, the crew, who'd been coming here for years—long before I arrived—began to ask me about their favourite BVI landmarks, like Norman Island's Willy T. and the Bitter End Yacht Club ("civilization," Proctor called it), as if about the welfare of old friends who'd fallen on hard times. I was happy to oblige in this display of disaster tourism as we headed doggedly upwind, still in the middle of the pack.
"These boats sail differently on different tacks," Proctor explained in an effort to buoy our hopes each time the bow turned into the wind. We'd had a good start, right on the line and in clear air. But you can't use what isn't there.
"They have to shorten the course," said Jim when we reached Camanoe around 2 pm, "or at least rerun it later in the week. Don't they?" I kept my mouth shut, figuring it wouldn't be helpful to mention that Tortola's "reliable winds" weren't quite as reliable as the regatta's marketing wizards always claimed.
"It would be pretty embarrassing if nobody finished."
Rounding Great Camanoe, Brandon squinted into the wind. "Wait, what's happening with those boats out there?" he asked, squinting into the mist ahead of us, pointing to the tightest grouping of bareboats that had managed to stay out ahead of us the whole race. "It looks like they're close-hauled." All around Blue Tide, heads pop up. Up ahead, it appeared to be raining. A squall somewhere out at sea was looking at our best chance to make up for lost time.
It proved brief. Proctor threw in the towel when the wind died again around 3:30. "I propose a race back to the bar" he radioed to his friend, a fellow Alabaman sailing in the bareboat class on another Moorings 51, Return of the Macks, who hadn't done any better than us. "Last one there buys everyone a round of painkillers."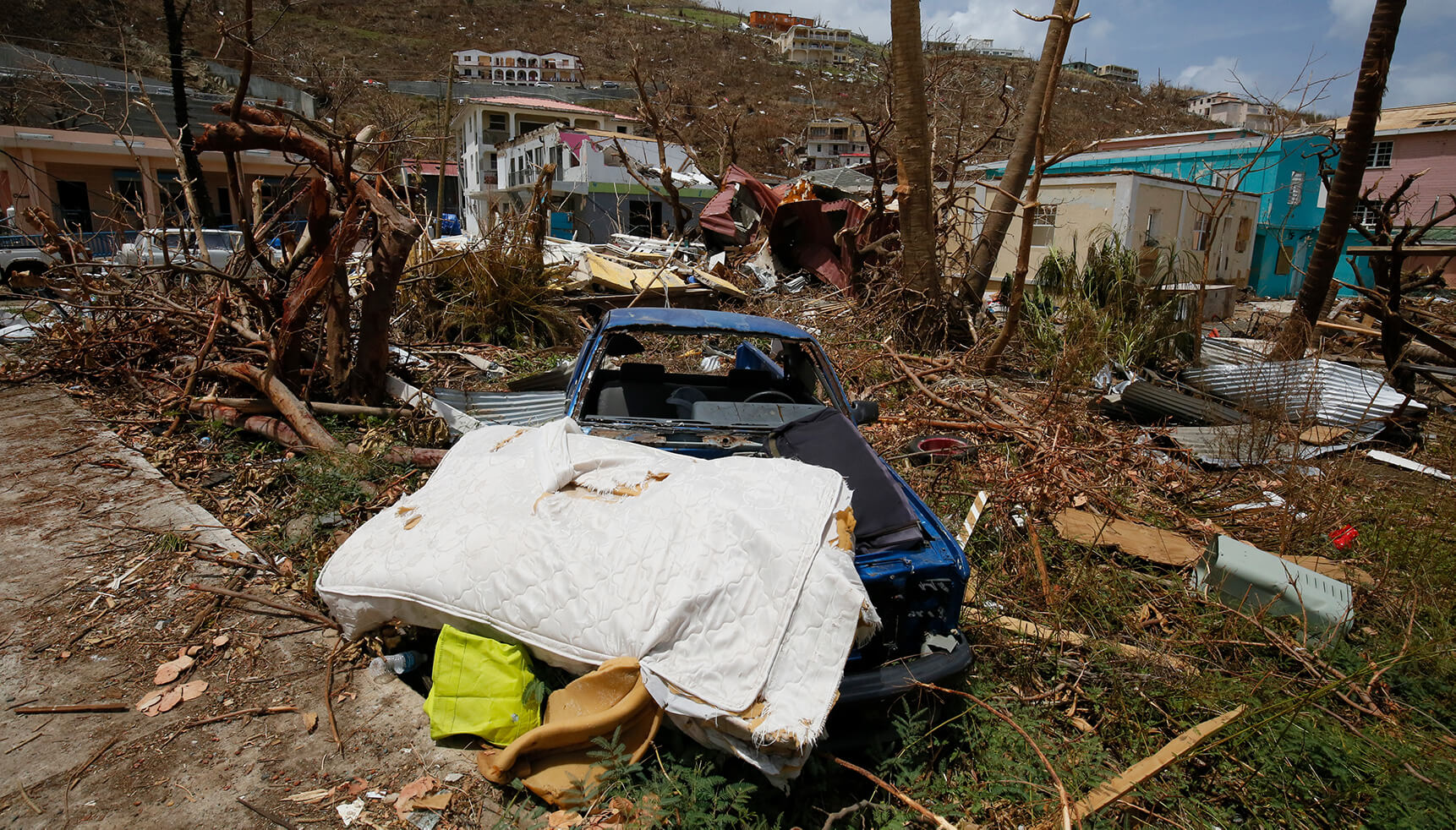 Now we were just trying to outrun the rain. I volunteered to drive the boat all the way back down to Nanny Cay. Before the storm, the roads were affectionately described as "fun." Now, they were riddled with potholes and stray roofing debris, and in some cases, had been completely washed away by the storm surge. Meanwhile, people were driving around in vehicles that seemed like accidents waiting to happen—vehicles that lacked windshields, windows and even roofs—more Irma casualties that couldn't easily be replaced, especially when it takes two months to ship a car to the island under good circumstances.
But on the other hand, when I needed a ride, BVI residents always delivered. I'd hitchhiked to work on numerous occasions in vehicles that looked like they were barely holding together, but the drivers were nearly always pleasant to share what (little) they had. It was the same with Proctor and his boat. It was the same all over the BVI.
The rain was sheeting as we motored Blue Tide—the little boat that could(n't), into the slip. Sixteen boats had already rounded Tortola and were heading back toward Norman Island and the rest of the course for the Full Moon Race, but we weren't among them. In the end, just two boats finished Round Tortola. My hope for an underdog victory—that Blue Tide would be the Rocky of the spring regatta—had been scuttled. But then again, all around the BVI, people were putting aside their hopes and dreams and focusing on survival. Under that lens, maybe we'd gotten exactly what we were hoping for all along.
I asked Proctor if, between the destruction and the lack of wind, he regretted coming, and to my surprise, he said no.
"We do [the regattas in] Antigua and St. Maarten, too, but in the past few years, we've just formed a connection here. That's why we came back this year, too." He said he had a conversation with the director of the regatta, Judy Petz, just after the storm. "I told her we're coming down anyway. If the regatta doesn't happen, we'll just come down and make it a mission trip of sorts. We'd find a way to help out where we can."
"Thanks for coming," I said, and I meant it.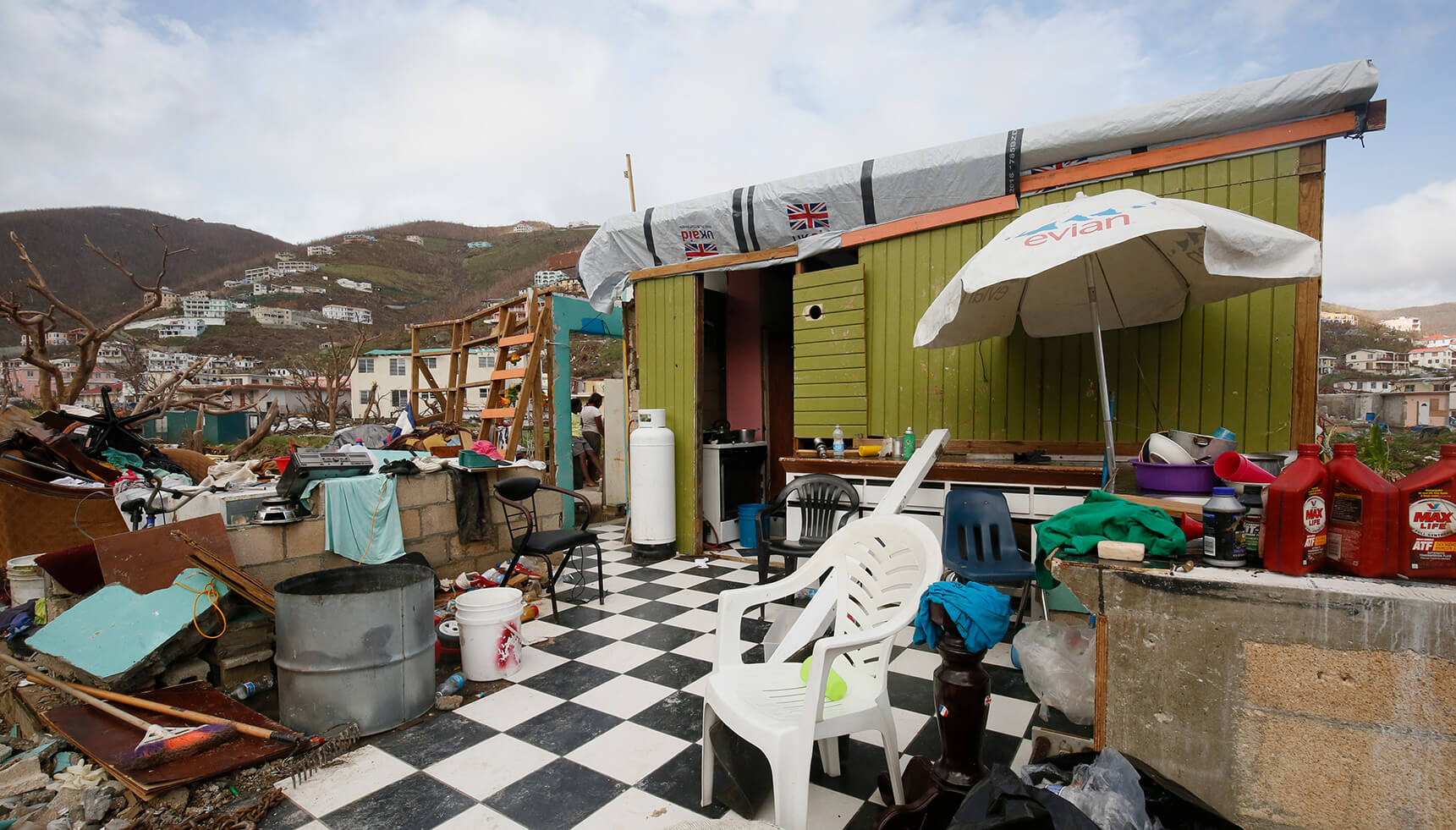 Beyond the beach bar and the tents being set up, lay the "graveyard" of Irma wrecks lined up on the unclaimed land beyond the Outer Marina. These were the anti-Blue Tides, waiting to be sold, waiting to be scrapped, waiting for their fate. Just then, Judy Petz came up behind me. She thanked me for coming, and told me that 67 boats were registered for the regatta–just a few short from last year. "A miracle," she remarked. "And some people came down just to volunteer."
Even though the sights of the day had been grim ones, her words got me thinking about all the people–volunteers and locals alike, who were strapping on hard hats and rolling up their sleeves.
An entire group of volunteers was sleeping inside a destroyed primary school, fixing it up so kids could get back to class instead of having to learn math in a UNICEF tent; the linesmen from Canada who had spent months here, so a foreign country could get its lights on again. The new bars and restaurants that begun to spring up to replace those that had closed, hopeful that this place will once again have a future. The charter guests who insisted on booking a trip no matter what and asked; "What can I bring?".
And as we drank and watched the rain flow down over the tents, we were just happy to be here, in more ways than one. All over the island, the underdog story continues.