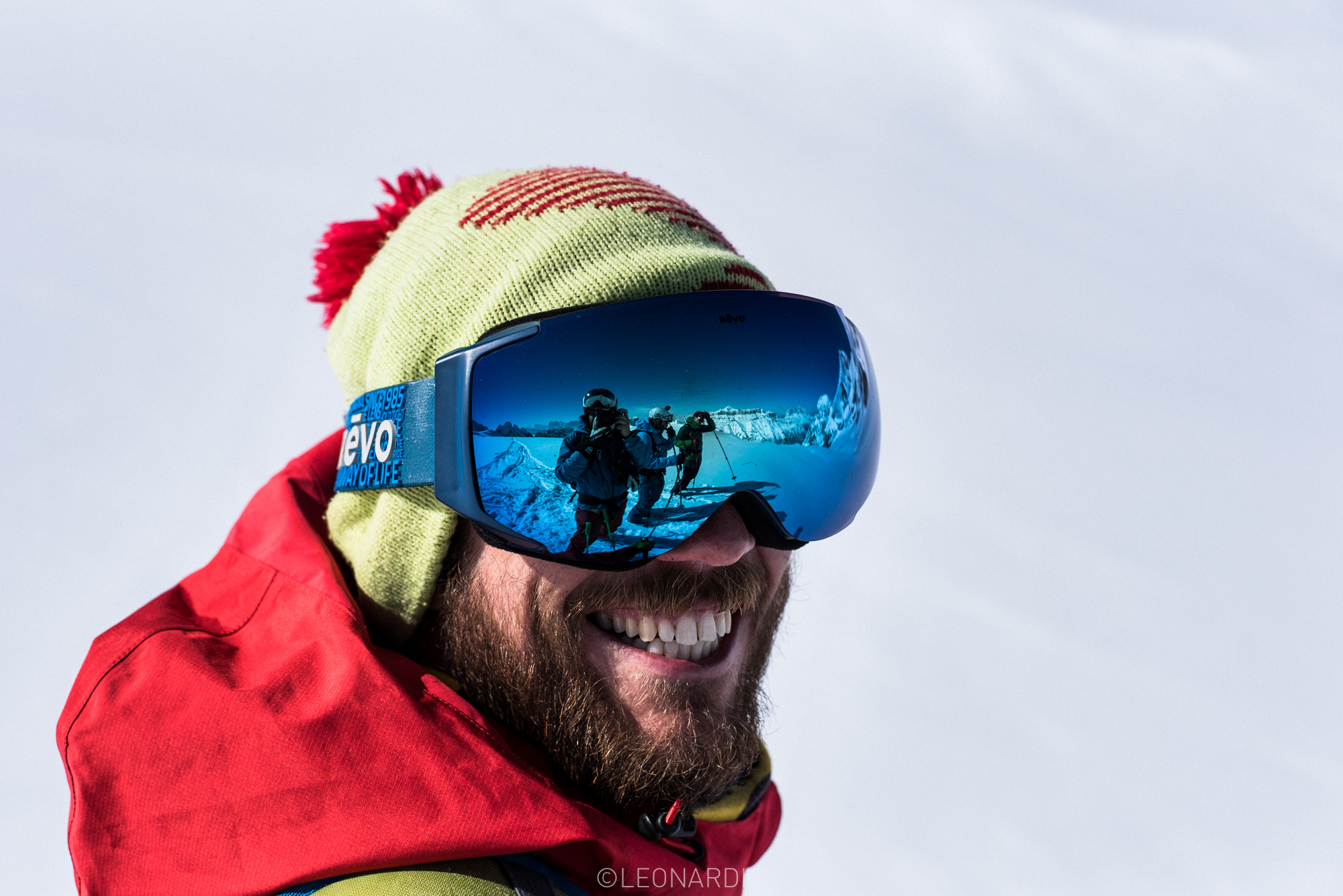 Carolo Cosi
Carlo Cosi is a 32-year-old Italian mountain guide who earned the prestigious distinction of 'Alpine Guide' – aka Master of Mountaineering – at the age of just 25. He has traversed over 50 ice routes, 100 rock routes and undertaken over 100 ski mountaineering trips and crossings in his career so far.
There is a light breeze from the east as the crampons creak on the snow under my boots. It's cold, but it's not too bad considering the altitude. My headlamp illuminates the steep and sharp snowy ridge that we are climbing, shining just enough light to guide us.
There is a palpitating star within the Milky Way that cuts the sky in two behind us. We have hard legs, shortness of breath and we are slowing down. We have been walking in the dark for five hours, alone, with the only sign of company being a few torchlights far in the distance. The shimmering lights of the houses down in the valley on the left make us dream of a bed with a pillow to sink into.
The rope that binds us tightens, and as I turn around John looks at me in fear: "I don't know if I can do it" he says. We are at 4,700 metres above sea level, on the standard French route of the Mont Blanc. Behind us lies the Bionnassay ridge. John is a client of mine from New York who I met in the Dolomites two summers ago. The lights on the left are the houses of Chamonix.
But the summit is just over 100 metres away. It is one of the toughest. It is one that makes you think "I can't do it, I want to go back", but also one that you want to conquer. One of the most beautiful, the most exciting. One you will remember forever.
I know these feelings very well. I also know the sacrifices John made to be here to make his dream come true. But above all, I know John's skills, so his sentence doesn't bother me at all. We stop to eat a bar and drink a drop of water. I hate these bars, I spend whole summers eating them. I manage to calm John. We rest a little, I encourage him, then we decide to continue.
The sky finally begins to slowly tinge, first purple, then pink, yellow and then red. The snow paints an orange so bright it looks like there's a fire. We are at 4,810 metres. We're on top of Mont Blanc, the highest peak in the Alps, and we are witnessing one of the most beautiful shows that can be seen in the world. A fireball begins to rise from the horizon and the shadow of Mont Blanc's pyramid peak invades the French side. As the sun rises the shadow reduces, giving the first rays of light over the valley.
John looks at me with wide eyes and we hug each other. "We did it!" he says. "Thanks Carlo, I didn't think I could do it. This is one of the best moments of my life."
It all began with the dream of a boy who, on a bright February day, came out with this phrase during the Carnevale holidays: "Daddy, when I grow up I want to ski every day of my life".
The dream
My name is Carlo Cosi, I'm 32 years old, I have a degree in sports sciences, I am an adventurer. And for eight years, I have been making my greatest passion the most beautiful job in the world: mountain guide.
It all began with the dream of a boy who, on a bright February day, came out with this phrase during the Carnevale holidays: "Daddy, when I grow up I want to ski every day of my life". I was 10 years old when I uttered this sentence, located under the wall of the Roda di Vael in the Dolomites. The art of sliding down a slope was the thing that pleased me most. Although I was a city kid, there were no soccer balls that distracted me. I thought only of the snow, the mountain, the skis.
I spent hours at home in Padua wearing boots and skis on my feet, imagining my living room carpet as a blanket of snow, constantly dreaming of skiing.
At 14, I added a passion for climbing to my love for skiing. As always, this desire had come from my parents and above all from my father who, one fine day in August, took me to the top of Cima Grande, within the renowned Cinque Torri (Five Towers) in Cortina, Dolomites.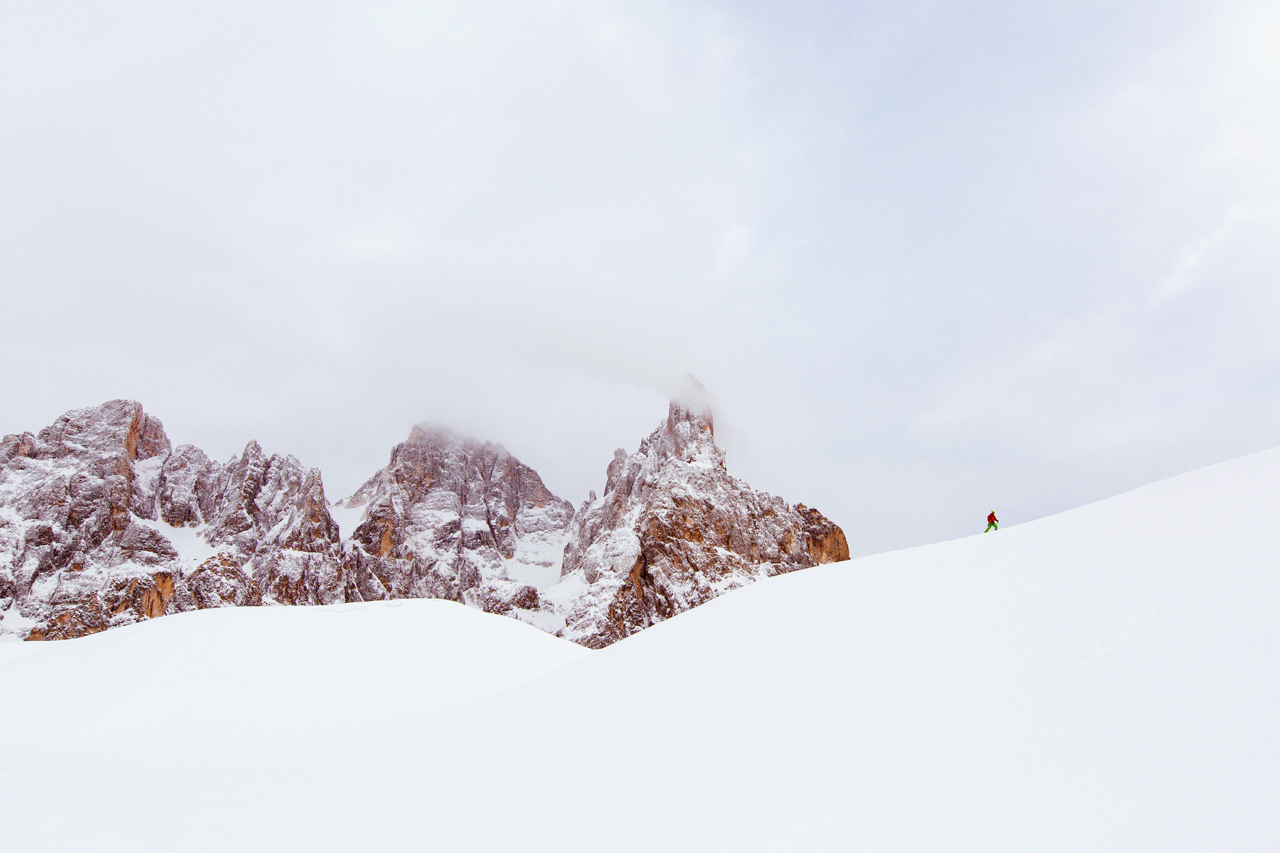 The years passed and my passion grew, fuelled by my Grandmother Ida's stories about the "legendary" adventures of my Grandfather, one of the strongest mountaineers in Padua in the 1950s. Unfortunately, Grandpa died in a road accident when he was still in his prime, but Grandma's stories kept him alive in my eyes. She made him almost mythical.
Although I enjoyed playing rugby and hanging with my school friends, it didn't satiate my desire to escape the city and conquer the mountains, just as my grandparents did in their stories.
The turning point came at 16, when my parents enrolled me in a climbing course with the mountain guides in Padua's climbing gym. It was there that I immersed myself into their world. I learned practical skills – how to use ropes and carabiners – but just as importantly I learned how to lead climb; requiring leadership, composure, organisation, control.
Combining skiing, climbing and travelling, every day of my life? Make no mistake, I had found my dream job. At just 16, I had decided my future.
Mountain adventures
Three years later, I had completed the minimum mountaineering curriculum that allowed me to take the mountain guide course. But before I could begin this new adventure, a setback arrived on my birthday, November 15, 2006, when a ski accident saw me hospitalised with broken legs. Fortunately it was nothing too serious, and after two operations and a year of physiotherapy, I was back on track and fit to realise my mountain dreams.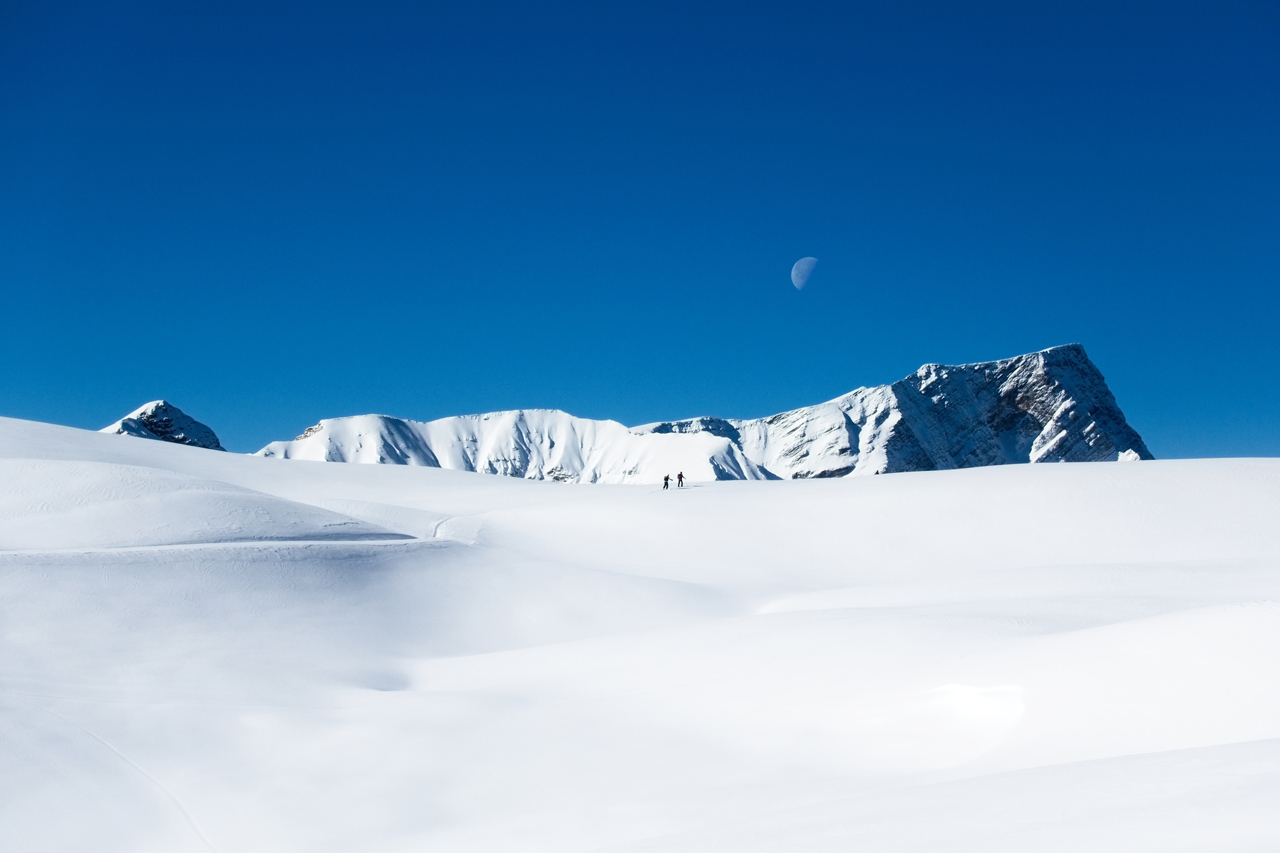 The qualification process is a long and arduous one. You need time, willpower and passion. You need to be adaptable, and you need to make many sacrifices along the way. Your desire must outweigh any doubts.
First comes the selection stage, which requires applicants to have completed a variety of climbs: on rocks, on skis, in high mountains, on ice falls. Then you must demonstrate your technical skills in skiing, ice climbing and rock climbing to a commission of national instructors.
Should you pass, a 90-day course spread over two years begins, in which there are training and exam modules on everything from downhill skiing to ski mountaineering, from ice falls to self-rescue (in avalanche, rock and crevasse scenarios).
There are also exams on mountain medicine, law, weather, flora and fauna. Completing all of this attains the title of Aspiring Mountain Guide, before two further years of practice and exams follow.
After five years striving to my goal, and at the age of 25 I was able to drop the word "aspiring" to become a fully-fledged mountain guide. I had used my passion to make a living. And for that I feel extremely fortunate. But the challenges continue.
Sometimes you have a client that comes with an itinerary that would be the envy of any climber, and they request to climb a hard route… yet they can't even stand on the path. Or there'll be times that a customer wants to try a via ferrata – Italian for "iron way" and referring to a route equipped with fixed anchors like steel cables and ladders – because a friend of theirs made it, but they don't have the slightest idea of what it means to walk on an exposed ledge. Some may even suffer from vertigo.
Being a mountain guide
These are the times that I perhaps would not regret an office job! It is in these moments that, as a mountain guide, we understand how important patience, passion for your work and the ability to relate to any type of climber is important in this job.
Sometimes, being able to shatter dreams is just as important as being able to realise them. Try telling a customer who has travelled from Australia and has trained years for this moment, that the weather is getting worse and – just 100 metres from the top of the Matterhorn – we have to go back.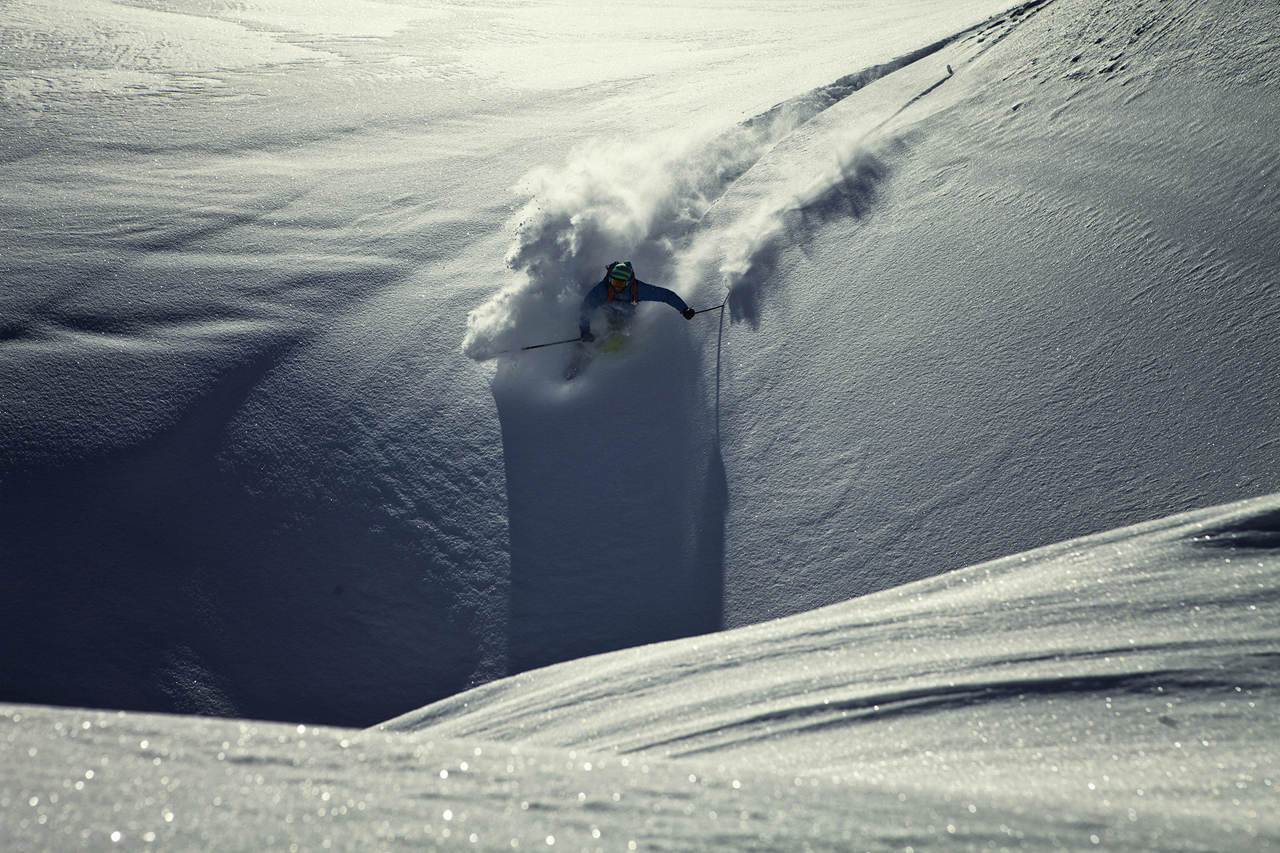 These are choices that are not easy to make and manage, particularly when the decision is being influenced by the disappointment of the customer. The risk here is that you lose the clarity of the situation in an effort to please. But it is in these moments where the years of training and the instincts we have honed take control. When safety comes before popularity.
In an office job, you could also lose focus and make an error. You may even be fired. But you always have the chance of finding another job. Making an error within sight of the Matterhorn's peak means never returning home. The responsibility that a mountain guide has is therefore often underestimated.
But then there are the days to frame, of which fortunately there are many! The smiles of the customers who reach their dream, who overcome their fears, who descend a powder slope on their first track – these are priceless sensations that give me the satisfaction of knowing I made the perfect lifestyle choice.
Gallery