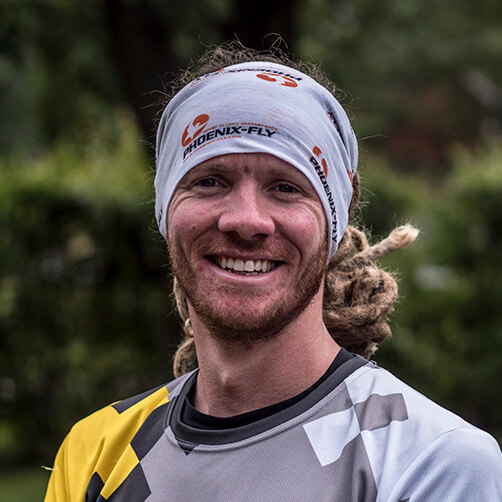 Sam Hardy
Sam Hardy is a 30-year-old professional BASE jumper from Dorset. 14 years ago, he met extreme sports athlete, Tim Emmett, which inspired him to take up the death-defying sport. Since then, Sam has travelled all over the world, completing over 1,800 BASE jumps in 27 different countries and has become one of the world's leading experts on the sport, teaching and capturing the daring jumps on film.
BASE jumpers are seen by many people as 'hooligans' or 'reckless adrenaline junkies' putting themselves in maximum danger for the full fight or flight experience. Well, as a dreadlocked, yoga stretching, dog lover from Dorset, that's not how I see it.
As a teenager, I spent my youth skateboarding until my Dad introduced me to rock climbing. I'll always remember the first time I went climbing, shaking on the edge of a cliff, tethered to a rope in a fit of tears and screaming to my Dad to let me come down. Once my feet were on the ground, I realised that those feelings felt good and decided I wanted to learn more about them.
After finishing school, I headed off to college to study Outdoor Education Instructing to pursue my newfound passion of rock climbing. It was during my time here when professional rock climber and mountaineer, Tim Emmett visited my college to give a talk. As Tim chatted away about the adventurous life he'd been living and the incredible places he'd climbed, I sat in awe, completely mesmerised by my new hero and his adventurous spirit. Towards the end of the talk he spoke about BASE jumping and my ears pricked up. I fell in love with the images he shared and learnt he could climb up a mountain, jump off and open a parachute to land safely on the ground. This seemed to me like the ultimate high and could have been the thing I was searching for. Once Tim finished presenting I tentatively took his book up for a signature and asked him, "How do I start BASE jumping?" Little did I know this would be the question that would mould my life.
On the drive home with my Dad, I couldn't stop talking about skydiving and how I'd love to try it. Right there and then Dad said to me, "If you finish college with flying colours, I'll support you in taking your skydiving course." I couldn't believe this opportunity was offered to me and it motivated me so much that I graduated from college as the youngest and highest qualified Outdoor Instructor in the UK. With kayaking, canoeing, mountaineering, caving and climbing qualifications under my belt I was armed and ready to coach the world, and ready to skydive!
I eventually signed up for a BASE jumping course with German skydiving legend, Ulli Schneider. I spent three months skydiving every day and racked up experience under Ulli's guidance. He taught me everything about BASE jumping from packing my parachute, to malfunction procedures and ethics. Finally, after months of training, he said to me "OK Sam, you're ready. Tomorrow I will take you for your first BASE jump."
The next day I found myself on the edge of a bridge looking down. I drew a big breath and jumped. As soon as my feet left the bridge, everything made sense. I wasn't worried about the past, or anxious about the future, I was living right in that moment and in full control of my life. The parachute opened, I grabbed the controls and flew the parachute to ground and landed in the paddock below. I turned around and looked up at the bridge, my heart racing and yelled a massive "Wooooohooooo!" This was it; I had searched for this feeling for years through action sports and finally found it.
We landed in a tight landing area between three interconnecting highways. We hugged each other, grabbed our gear and ran to the getaway car. Not all jobs are legal jobs.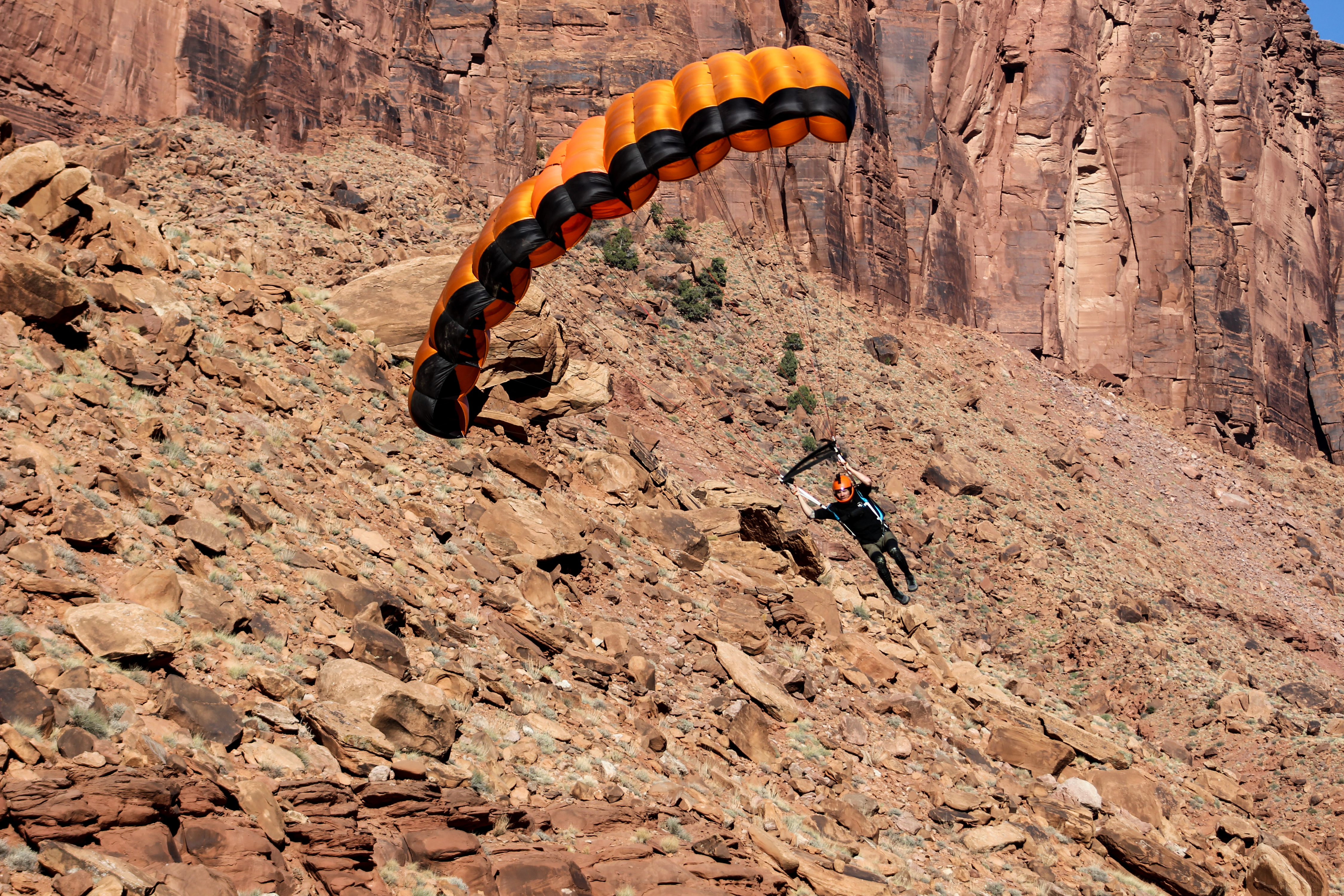 Over the next 10 years I worked all around the world as a skydiving instructor, mastered flying wingsuits, got into action sports photography and devoted massive amounts of time into wingsuit proximity flying. I picked up BASE jumping sponsors, tested wingsuits, tested parachutes, shot TV shows and documentaries and immersed myself fully into the sport of BASE jumping while documenting it all.
While documenting it, I realised my inner passion with this sport was to capture it on camera and produce images that took the viewer's breath away, to tell a story of flying humans and to inspire others to feel what I feel. Wingsuit BASE jumping is regarded as the world's most extreme sport, which it is, but filming wingsuit BASE jumping is even more dangerous and requires a higher skill set. You must have trust in the flyer and in your own ability. To paint a comparable picture, imagine driving a Ferrari around a racetrack full speed for one minute. Now imagine chasing behind that Ferrari in your car and keeping your eyes and head faced towards the lead car, while looking out the side of your eye sockets to see where you're driving. If at any point you lose control, you will crash. That's a close match to filming wingsuit BASE jumping.
This is where I find myself in a euphoric state that makes me feel reward and satisfaction like nothing else. The feeling of travelling +240km/h (or to put it into context, 66 meters per second, which is a football pitch every 1.9 seconds) just meters above the ground is an phenomenal feeling and to fly next to someone while they're flying in perfect proximity to you is amazing, especially after you land and watch the footage back.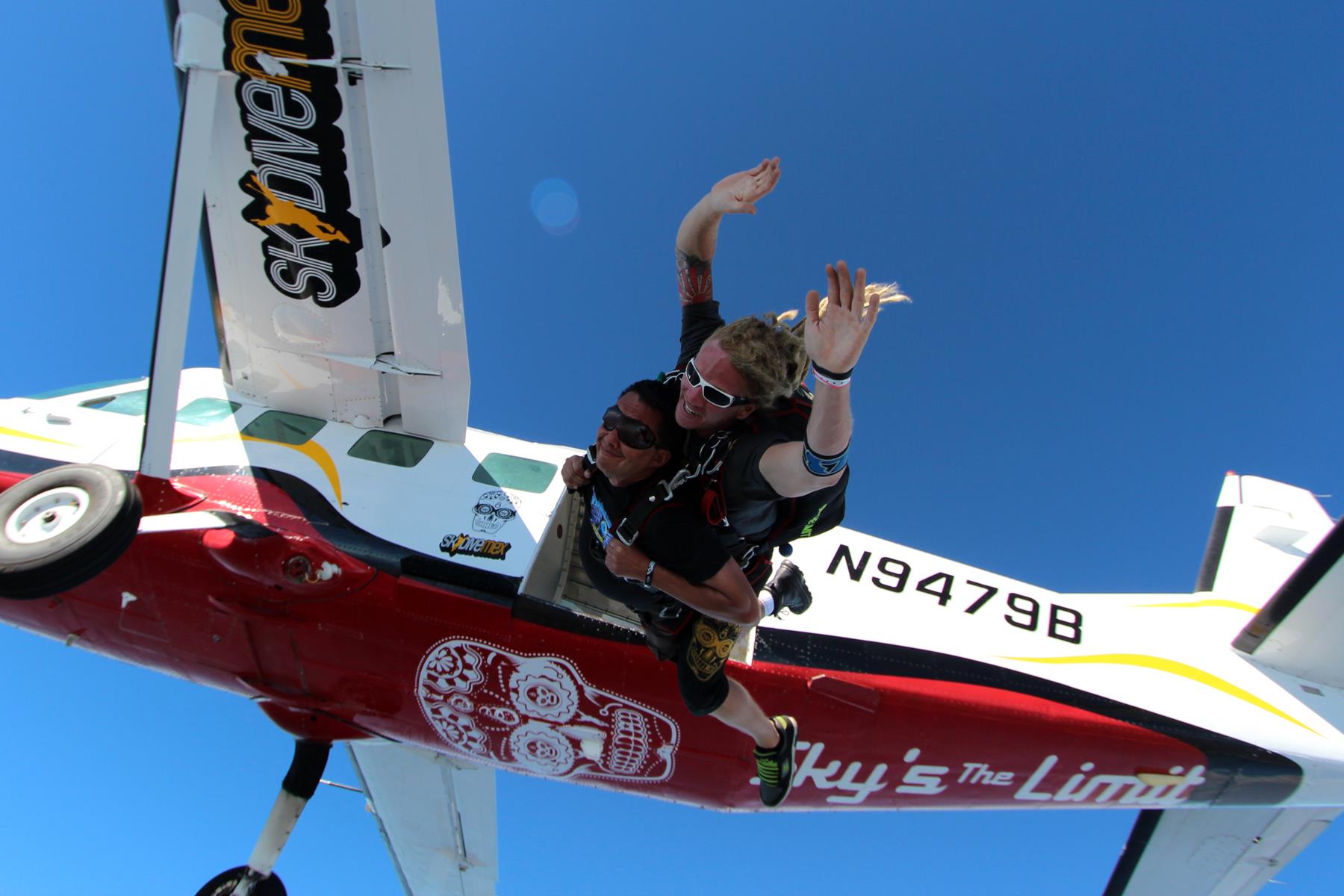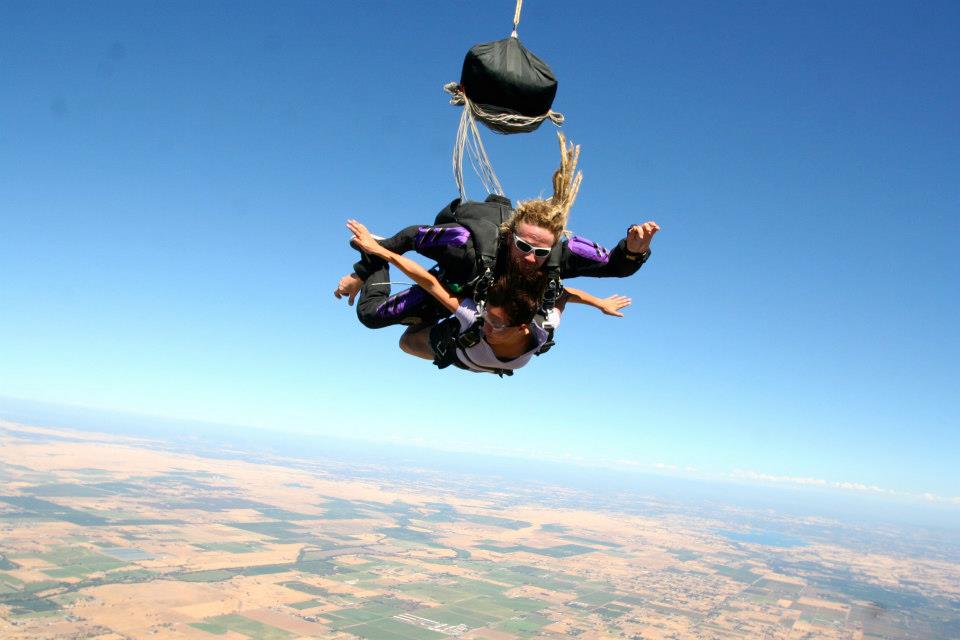 As an accomplished wingsuit BASE jumping cameraman, you typically end up putting yourself in a very compromising position that's somewhat stressful and pushes you to your limits as you must concentrate on someone else's flying before your own.
I experienced a jump like this while I was in Rio de Janeiro, Brazil. I was there to capture a shot of BASE jumper Jamie Flynne, flying past Christ the Redeemer. As the helicopter approached the spot where we had to jump out, I opened the helicopter door and felt the wind rushing in with the blades inches above our heads.
We both hop out the chopper and Jamie turns the speed on, flying our wingsuits right at Christ the Redeemer. At this point, I can't think about how I am flying my wingsuit, I just have to keep Jamie in shot and stay as close as possible. If I fuck this up, it's a failure. As we start approaching, I close the gap between us a little more, making sure my head is turned towards Jamie at all times while my eyes are looking the opposite way to make sure our line of flight is clear and then woosh, Christ Redeemer in all its glory buzzes past us in an instant. We fly towards the landing area and all I'm shouting inside my helmet is "I got the shot, I got it!". We landed in a tight landing area between three interconnecting highways. We hugged each other, grabbed our gear and ran to the getaway car. Not all jobs are legal jobs.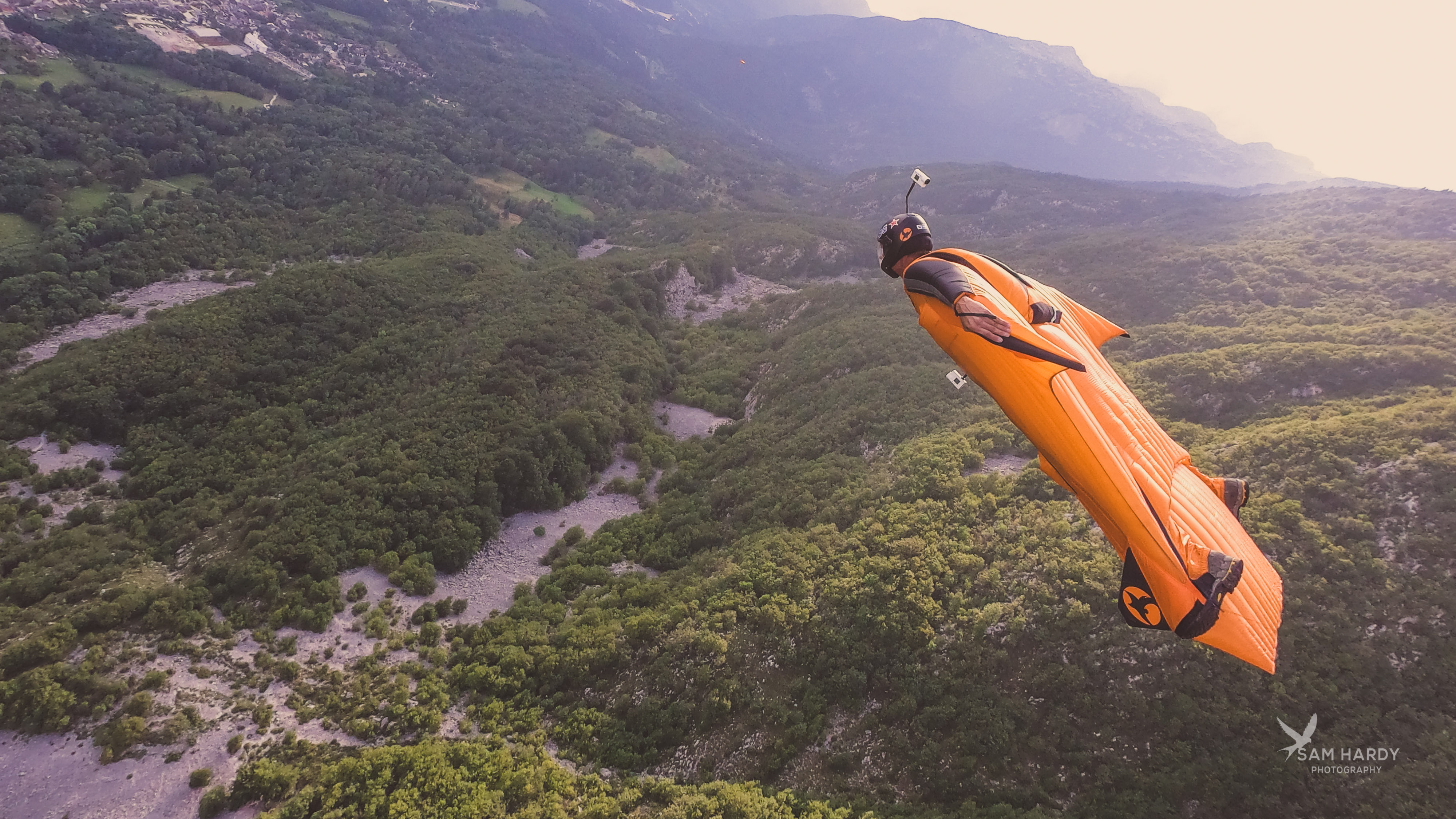 Another memorable filming experience came in Chamonix, France. The area offered two incredible jumps accessible by cable car. Brevent, 15 minutes up in the cable cars for 2,000m of flying and on the other side of the valley stood Aiguille Du Midi, also known as Mt. Blanc which offered 3,842m of usable wingsuit flight time. These two jumps are regarded as the world's best wingsuit BASE jumps, offering thousands of variations of hardcore wingsuit proximity lines depending on your skill set and creativity. In the time living there I did over 400 jumps from Brevent and 100 jumps from the Aiguille (before it closed in 2016 after too many fatalities occurred). Clocking up nearly 10 hours of flight time, this moulded me as a wingsuit BASE jumper and taught me so much. During my time there, I lost countless friends, each more special than the next and the time we shared on the ground and in the air was simply perfect. From each friend lost, a lesson was learnt, and I feel fortunate to be here today and to have met each one of them.
One of the top filming jumps in Chamonix was what my friend and flying partner, Nate Jones, called "Wingsuit High Five." We made a 3ft hand out of polystyrene that Nate was going to hit with his hand, while flying his wingsuit. Madness, but was it possible? Nate had one chance to hit the hand and I had one chance to capture the shot.
Nate counts down and pushes off the exit and I am right by his side. He takes the first right hand corner smoothly and I push out wide while keeping him in shot. He dives towards the ground and I cut the corner right next to his left side, keeping him in frame. We're now going full speed and he's lining up the hand. I take a glance out the corner of my eyes and speed up towards him holding tight by his side and then, SMASH! he nails the target, the shot is captured, and we continue flying towards the landing area. He opens his parachute and I open mine seconds after, we spiral down to the ground and land in the paddock. "Bro you nailed it, that was insane!" I said. Nate replies, "Holy shit that was intense, I thought I was going to miss it! Did you get the shot dude?" I reply with a smile, "Yeah dude, I got the shot." There is nothing like that feeling.
Not every flight is plain sailing. In 2015 Nate and myself travelled to The Simien Mountains, Ethiopia to explore the area for wingsuit BASE jumps that had never been done before. We stood upon a possible exit point, peering over the edge and calculating the heights with lasers. We noticed a protruding ledge that stuck out below, so we needed a powerful push to clear the ledge, fly into the ravine and transport to the landing area. Easy, right? We seriously discussed if this was doable and after much discussion it came down to "You have to push hard, like your life depends on it, because it does." We all gear up and Nate goes first. After having an incredibly powerful push, he clears the ledge below and flies out.
I zipped my wingsuit up, cracked my neck and took a deep breath. As soon as my feet left the rock, I looked down and knew I hadn't cleared the ledge. The ledge got bigger and bigger and then BANG, I hit it with my feet, which span me 90 degrees away from where I needed to be. Tumbling down the wall, I concentrated on collapsing the wingsuit, changing my position and eventually punched off the wall and into flight. Flying towards the landing area I looked down at my foot and noticed the suit was damaged. I opened my parachute high and slowly flew to the ground, cursing myself. I landed next to Nate who was filming and shakily said, "Turn the camera off dude."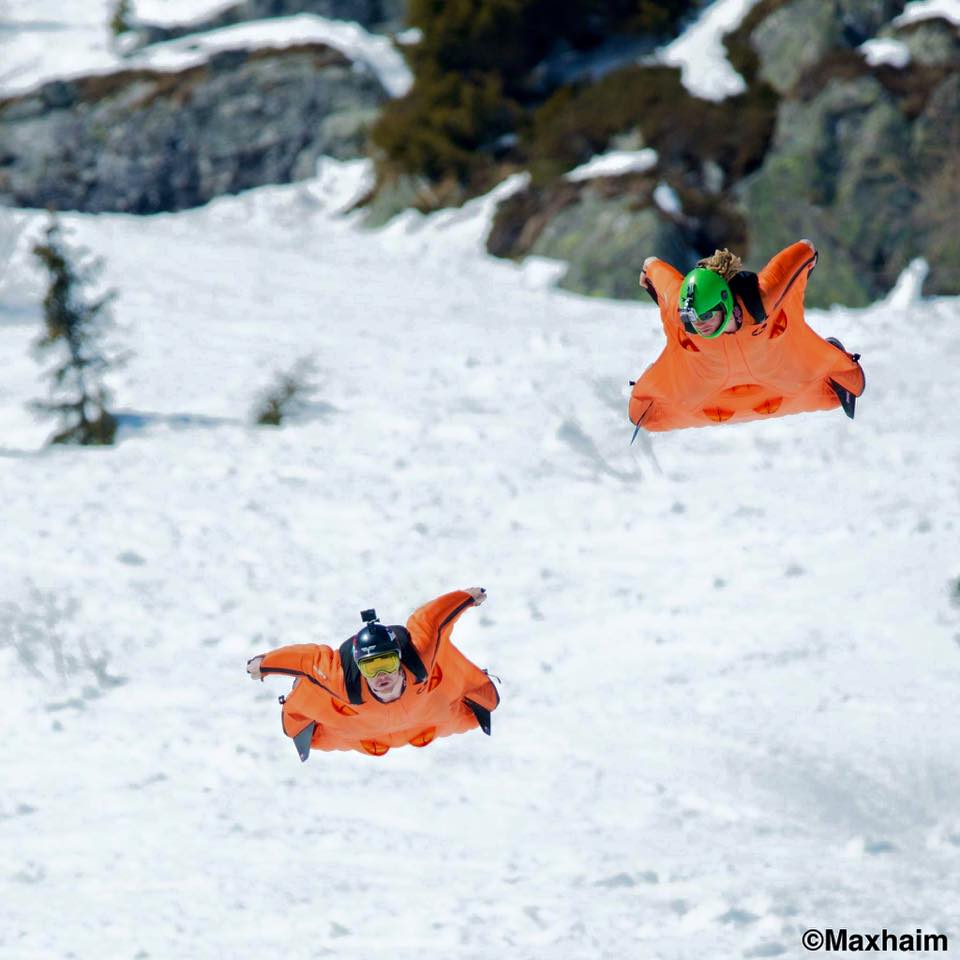 This experience was different from what I was used to, but I accepted death when taking up this sport and understood it could happen at any time. It created doubt in my mind. What was I doing in Ethiopia, chucking myself off cliffs in the middle of nowhere? For the pursuit of what? Have I just been surviving from luck all this time? Should I stop right now? Is it worth it? These were the questions going around my head afterwards.
That was the first time l felt like I wasn't in control and put me in a vulnerable position. I told myself what happened has happened and you can't change anything about it, but what you can do is stand up straight, learn from your mistakes and continue. The following day we headed deeper into the National Park to another jump we had found days before. Needless to say, I jumped again and flew one of the most memorable jumps do date.
14 years since Tim's talk, I have completed over 3,500 skydives and over 1,800 BASE jumps in 27 countries around the globe and the last time I spoke with Tim, he asked me for advice with wingsuit flying.
BASE jumping has provided me with a huge amount of life experiences, it's given me confidence to make decisions in everyday life and it makes me happy. I am lucky that I found something to be passionate about and am so thankful for the time I have on this planet to play. Life is about living powerfully, being the best person you can be each day and doing something that empowers you to feel alive and in control.