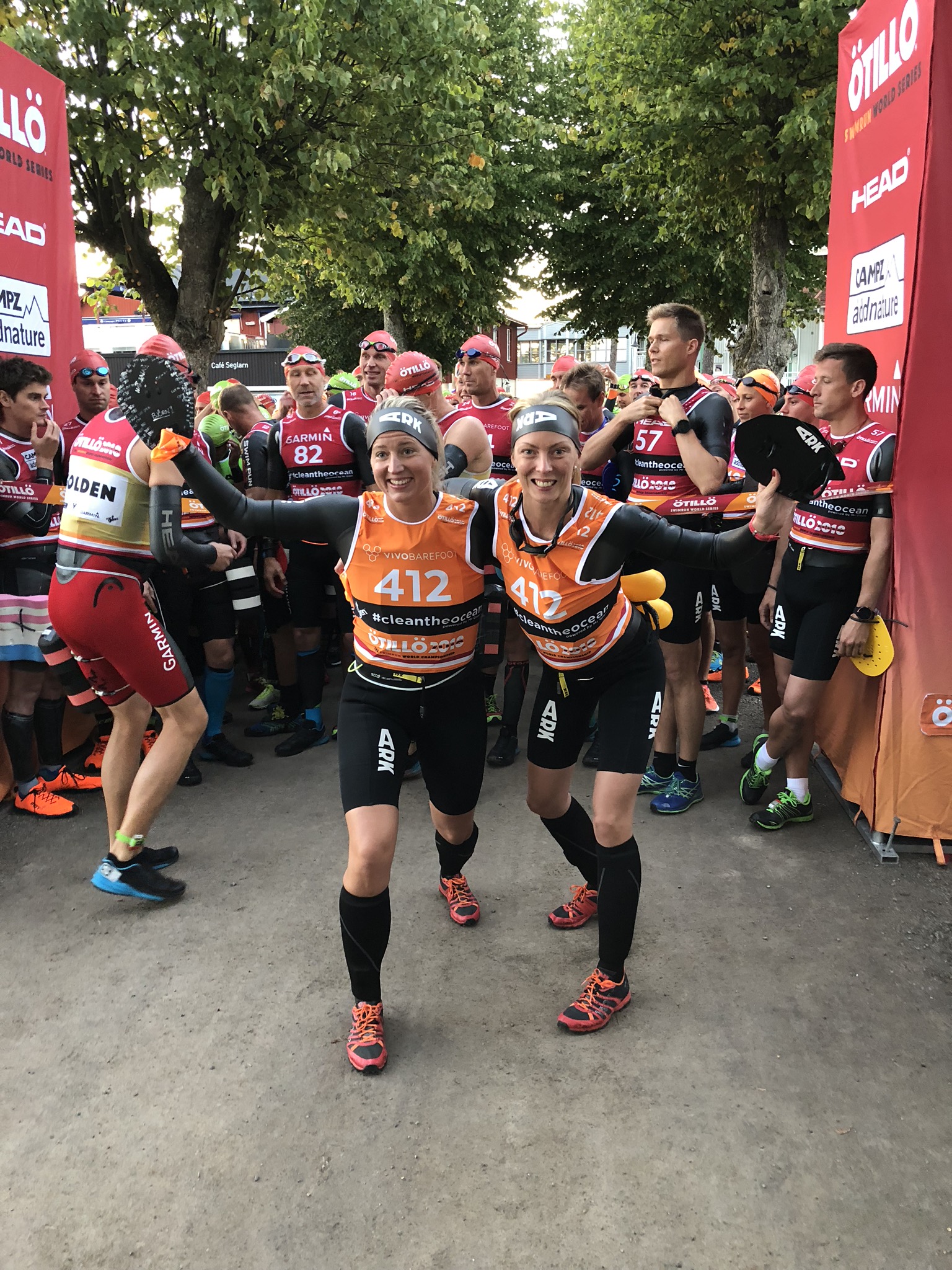 Helen Wikmar and Emma Wanberg
Helen Wikmar and Emma Wanberg are Swedish swimrunners. In 2018, they completed the Ötillö World Championship race, a punishing 75km route set among the Stockholm archipelago in the Baltic Sea. Teams compete in pairs, tethered together by rope.
I remember the first time I saw them. It was summer 2015, and I was relaxing on Hummerviken beach with my three kids, on the Swedish island of Öckerö. Suddenly, emerging from the water came a snaking line of people in wetsuits. They appeared to be tied together.
As they trampled over my towel, I spotted two people I knew. Breathless, they explained what they were doing. A year later, and I too would be emerging from the Kattegat Sea as one of them. A swimrunner.
I began running. A 1km run became 3km, then 5km. I entered my first swimrun in 2016. By the time I'd completed my first Ironman in 2017, it was clear that endurance races were the perfect sport for me. I have the mental strength required to be able to continue a race even when difficulties force you to consider giving up and sitting in the sun.
Then I heard about the Ötillö World Championship. It looked like the best adventure ever: the waves, the wind and the nature.
Ötillö is the origin of the swimrun movement. The jewel in the crown. Competitors swim and run from island to island ("Ö till Ö" in Swedish), over a route that stretches from Sandhamn to Utö in Stockholm's archipelago. In total, it's 10 kilometres of open-water swimming and 65 kilometres of trail running.
But unlike marathons, triathlons or Ironman races, Ötillö has one key difference – you must compete as a pair, tethered to each other by rope.
From the first time we met, the communication between Helen and me was very honest and straightforward. We can explain our thoughts and emotions in a very easy way, not puffed up with fluffy words.
That's one of our biggest advantages as a team, it makes us take fast decisions and balance each other out when suffering dips during long races.
When you race for 6-10 hours, there's no room for vague comments and finger pointing. You have to know what you want. It's an advantage if you can understand your teammate with minimal communication since you'll both experience lows. You need to know how to handle them to optimise the team's effort.
A mere nod, an anxious glance, or a change in running style can be all it takes to know your teammate needs you.
I think it's very liberating to race with Helen. It's just honest, raw and naked in a way. We can be very upfront regarding decisions or thoughts; nobody gets hurt or irritated. We simply don't have any time for that when we have a common goal.
I think it's very liberating to race with Helen. It's just honest, raw and naked in a way. We can be very upfront regarding decisions or thoughts; nobody gets hurt or irritated. We simply don't have any time for that when we have a common goal.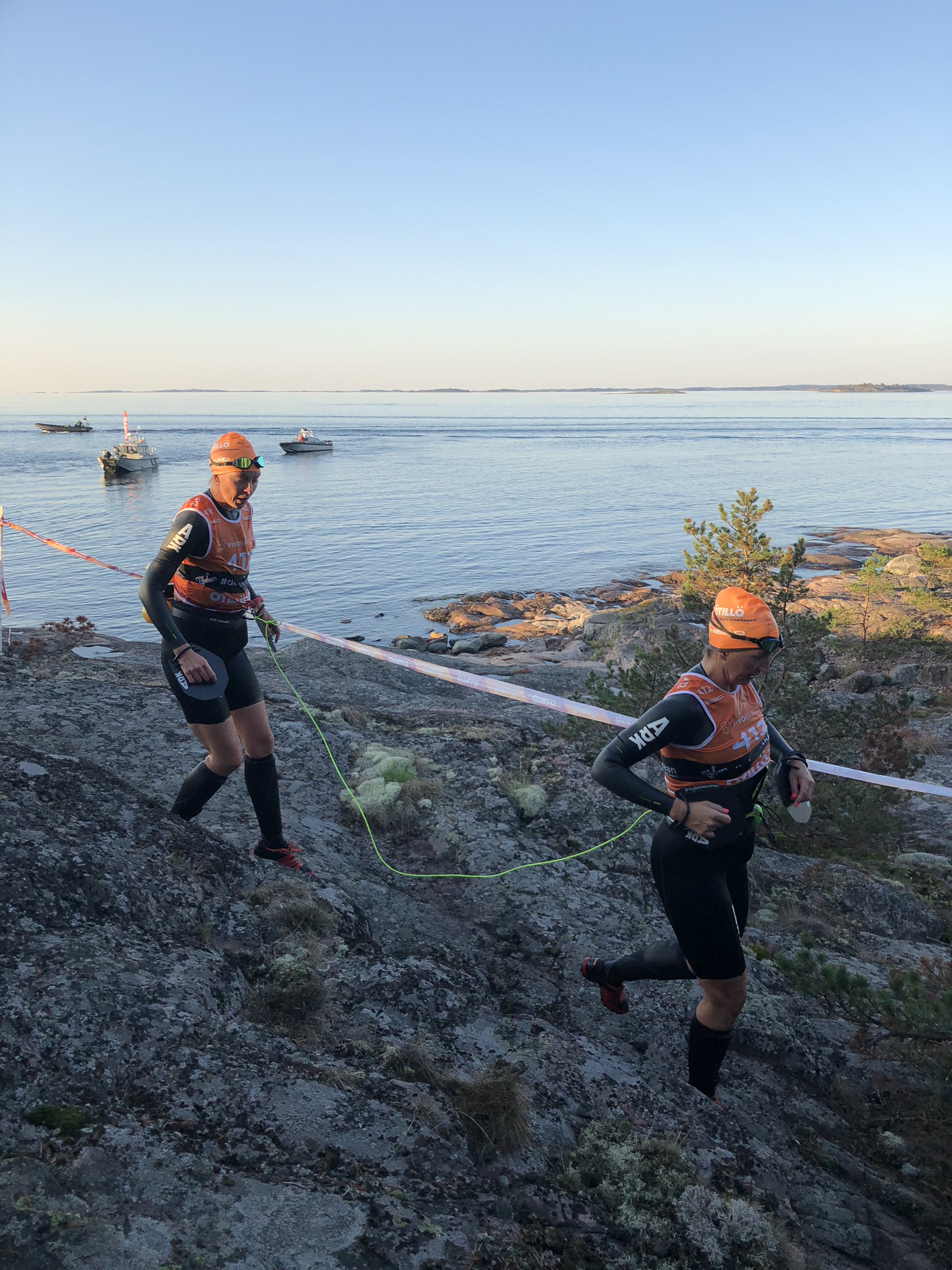 I had reservations about asking Emma to compete with me. I had been training with her, but she was a more experienced swimrunner, stronger and faster. But I had a good feeling about the two of us.
We qualified for the Ötillö World Championships in our first race together in the Swiss Alps. Emma was super strong, and she had to wait for me in the hills. It was one of my worst races, and I still feel sick thinking about the mountains and the struggles I had.
But just two weeks later, I suffered a hip injury and my doctor advised me to rest. My participation in Ötillö was now far from certain. I was crushed.
As part of my training, I had planned to do an Ironman. Wary of my doctor's advice, I made a compromise. I would enter the race but withdraw at the running stage.
I recorded my best ever swim and cycle, shaving 45 minutes off my time. It was set to be my best ever Ironman performance, and after completing the cycling I ran to the transition zone, tempted to continue.
Then I saw the note I had placed inside my running shoes before the race: "You have a bigger goal than this – ABORT". I ran… straight for the exit. My focus was Ötillö. I would do it. No matter what.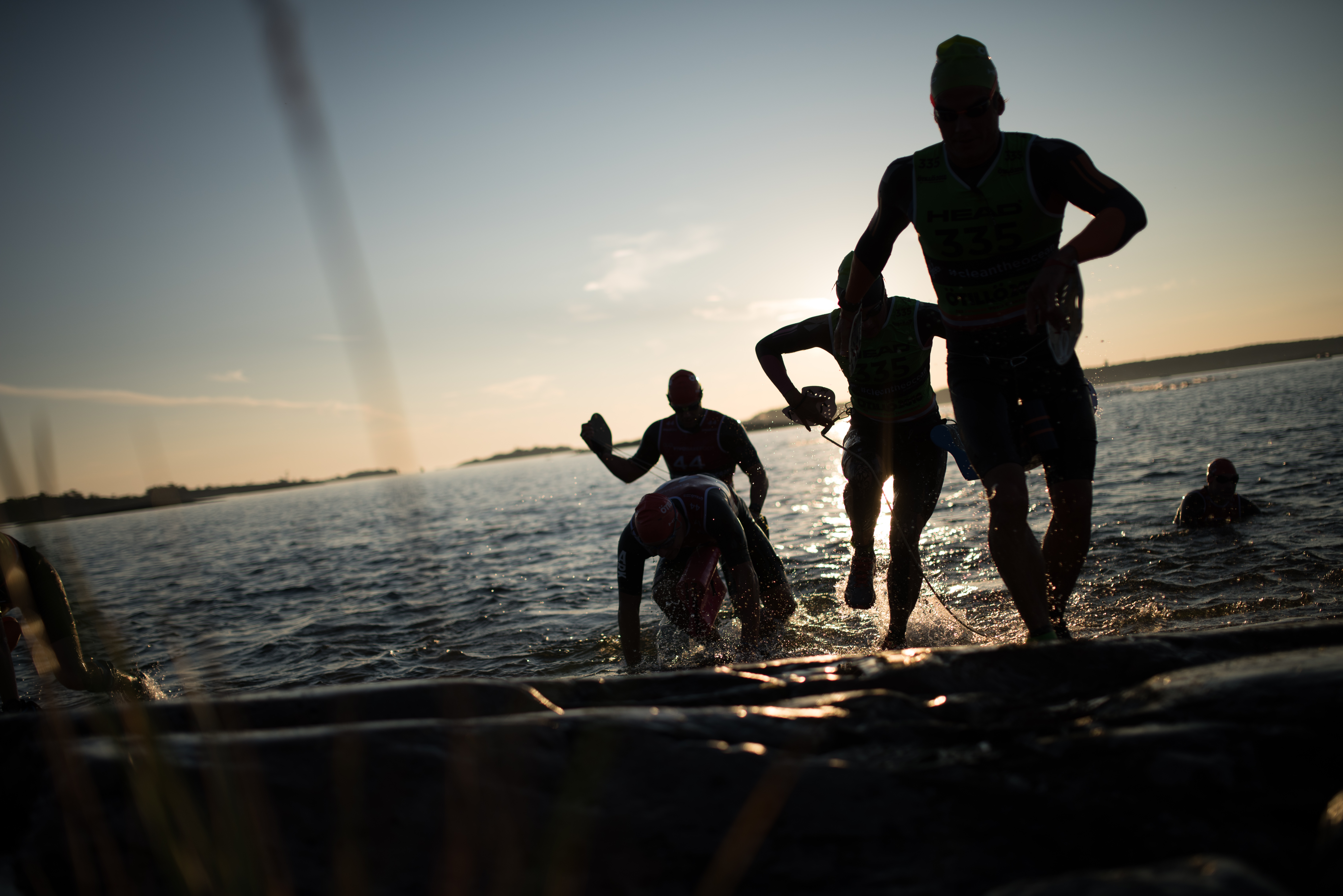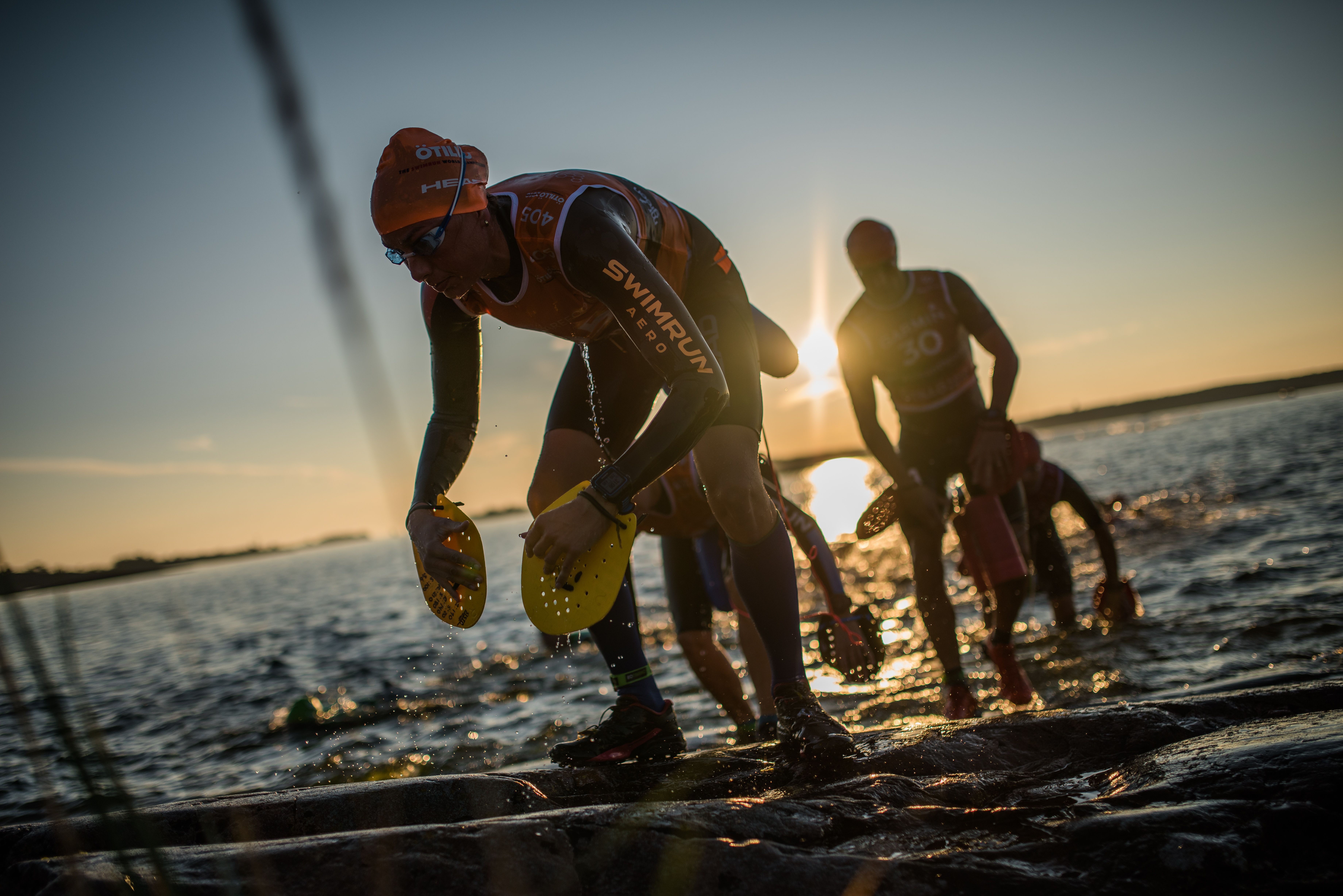 Helen had been going through a tough season following her injured hip, but she kept her head high. When she finally decided to start with me in Ötillö there was no turning back. To start and abort the race was not an option: if we start, we will go to the bitter end.
Helen told me later that I looked worried when I asked her about her hip, and we both thought that I would be the one to lead the team throughout the race.
In fact, it ended up being just the opposite of what we both expected would happen.
I didn't feel nervous when the day finally arrived. I had slept well the night before, waking up when the alarm sounded at 3.20am.
It was a crisp summer's morning and the sun was yet to rise. Marshalls lined a magical walk way down to the ferry, boarded by a mass of tired, nervous and excited swimrunners.
At the starting line, I vowed to Emma that I would do my best for her, but I was anxious that I would let her down. You could sense the nervousness in the crowd. Finally, it was time. No hesitation. Only determination. And pure happiness.
Before the race, I was a little worried that Helen may be overexcited, and that she would go too fast! She was like a panther, jumping from stone to stone, over trees, mud, gravel and hills.
Meanwhile, I felt like a clumsy whale with poor stamina. I had to push myself to keep up with her pace. She was so determined. She WAS determination. She wanted to OWN this race. And she did.
She had so much energy, while I had to focus to keep a steady eye on the road just to keep up. While I struggled, she was cheering with the public and giving high fives.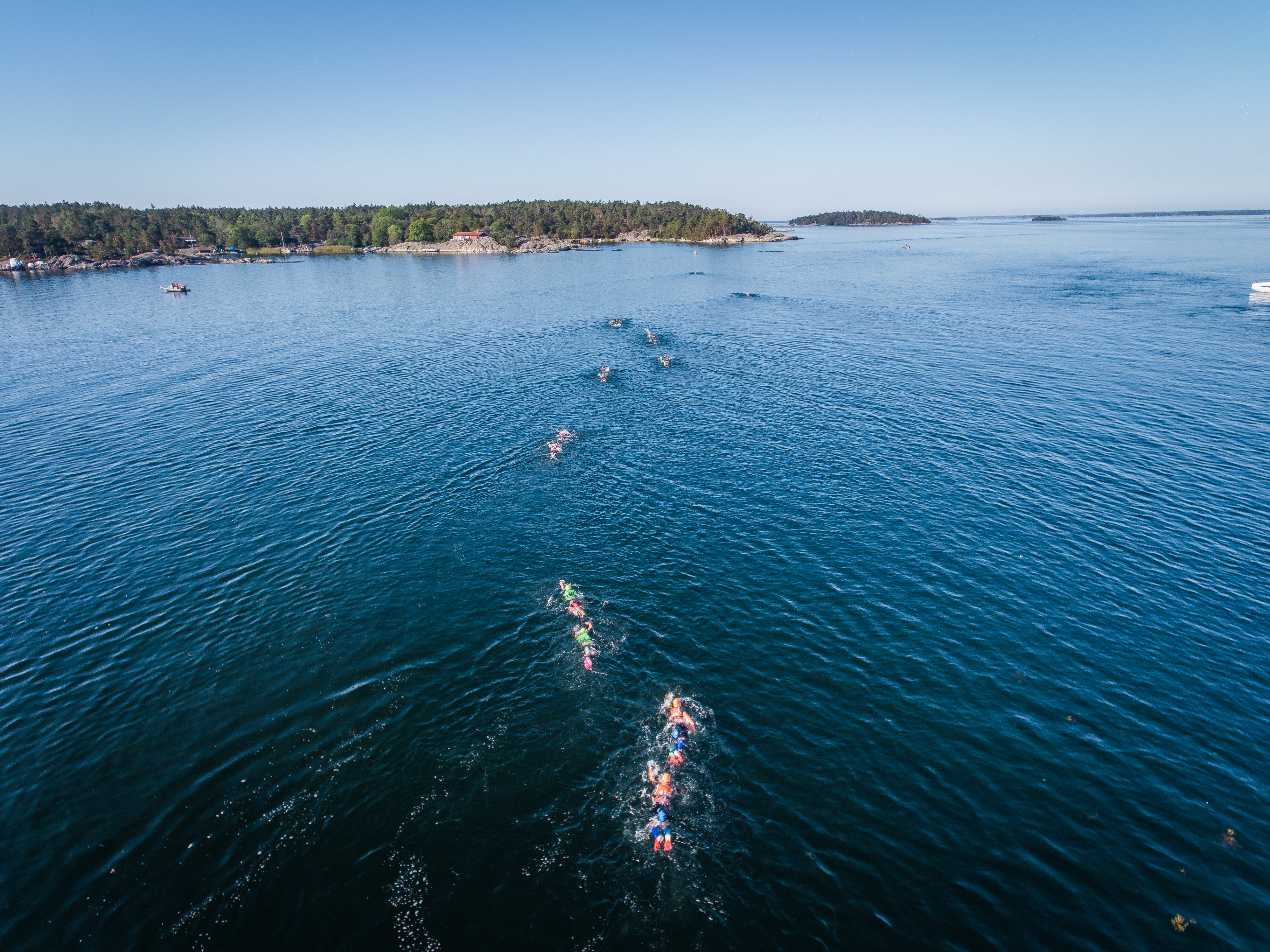 My injury had restricted my training to the water, and my swimming had noticeably improved. We had decided beforehand that I would take the lead for the first swim section, making the transition very smooth. The water was calm, the conditions were perfect. I had even dreamt about the first swim. To use my strength and mind to conquer the water.
Suddenly, the teams split over two sections to the left and right. Somehow, we ended up in the middle, all alone. My original plan was to find a couple of quick feet to hang on to, but now we had to rely entirely on our own power.
There was no panic. Even though we couldn't communicate, I could feel Emma behind me and sensed that she had a good feeling about this too. Usually when I swim I have thoughts running around my head, but I was so calm I didn't even notice if the water was warm or cold. I was just focused on swinging those arms.
Eventually the sun started to rise as swimrunners crawled up on the slippery stones in a never-ending stream. It was there we were greeted by our friends who cheered us on. Seeing them throughout the day had a huge impact on our performance. To me, the sight of people I know provides a better boost than any energy gels.
The water was brisk, the sun kept us warm. The trail looked like those forests in fairy tales; a tablet of every shade of green you can imagine. The narrow paths, the soft moss, the trees keeping us out of the sun. I inhaled the fresh air. I took a picture in my head. I will never forget this moment.
We reached the first cut-off point on Runmarö island in sixth place when Emma revealed that her knee was giving her a lot of pain. What followed was a trail on Risselö island that was so technical it was almost impossible to run. As we tried to keep the pace, Emma's knee pain worsened. Eventually, she could barely even walk, reduced to a limp.
Her injury resulted in my first mental dip of the day, as I thought: "Good, let's quit. Emma is in too much pain". But Emma showed no sign of giving up. With over five hours to go still, she fought. And so I had to step up my game.
Since I had prepared for hip pain, I had some painkillers with me that she took reluctantly. We walked every downhill and uphill. When the painkillers kicked in, Emma was able to run again, and I took inspiration from her fortitude.
Our teamwork was flawless. We didn't have to discuss anything; we knew who was doing what during the whole race and that saved us a lot of time and energy. If one was tired, the other one stepped up. And now, it would be Emma's turn to help me…
After the last swim, I somehow found power in my legs, so I took the lead with just one nod and we used our best team weapon: the ability to have clear and straight communication.
I could tell Helen was struggling now, so I pushed her to keep up the pace for the last few kilometres. The race ends on Utö island, with a steep uphill trail of around 400 metres.
With the finish line in sight, it's a punishing way to end after such a long journey. But Helen got some extra fuel from the public and we sprinted up the hill, emptying all we had. We pushed each other to the limit.
On Ornö, the largest island on the route and the last cut-off point in the race, Emma took over. Her knee felt better, and she set a good pace. I focused on watching her pounding heels and kept telling myself that my hip was not hurting.
Unfortunately, nearly eight hours after we set off this morning, it was hurting. A lot. I swore. A lot. And I shouted to Emma that it was no longer fun.
Emma began to count down how many kilometres we had left to each remaining checkpoint. And while she talked me out of my dark hole, the tether also helped us.
Some teams only use it in the water, but we kept it attached during the running too – connecting us as one throughout. It's a physical reminder that this amazing endurance race is not about one mind or one body. It is about two people sharing one experience, reaching the same goal. Our teamwork that day still gives me the shivers.
Emma continued her countdown all the way until the end: "1600 metres left, 1400 metres left, 1200, 1000, 800… HELEN! We can hear the crowds!". I squeezed the last bit of energy from this amazing human body, crossing the line after ten hours, three minutes and 30 seconds. We had finished in the top ten.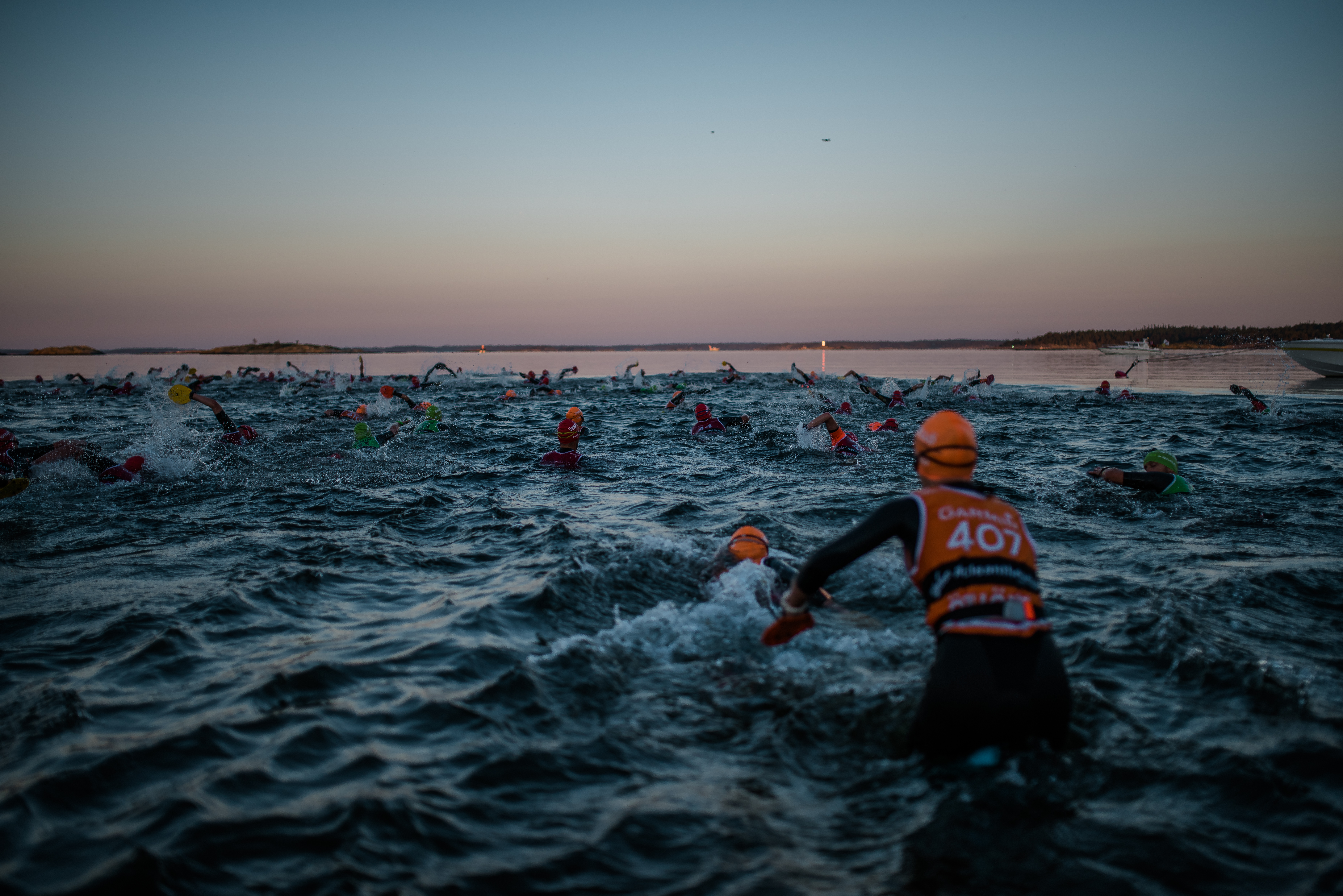 When we finally crossed the finish line Helen shouted to me "WE DID IT!". I was so exhausted I couldn't grasp that we'd actually finished.
I was so happy, but I couldn't even smile due to the fact that I had zero energy left in my body. My soul was smiling as much as it could though; we had inspired each other to reach our goal.
It's true that one human body can do great things alone. But companionship and teamwork can take it to new levels.
In 2019, Emma and I will try to qualify again. This time, we'll be one year wiser and fully aware that anyone can have a good or bad day. It just means that we will adapt to the circumstances happening at that moment.
And that's our strength. Flexible and tough minds. Together we are strong.