Food is a wondrous thing. Aside from the whole 'keeping you alive' aspect, food can also have a big impact on your mood and, whether you've just been dumped or are nursing the hangover from hell, there's no substitute for a bit of comfort food.
Different countries and cultures across the globe have different ideas about what constitutes a feel-good dish, so if you're feeling adventurous (plus slightly emotional and/or under the weather), why not give some of the following a try?
The Middle East | Cumin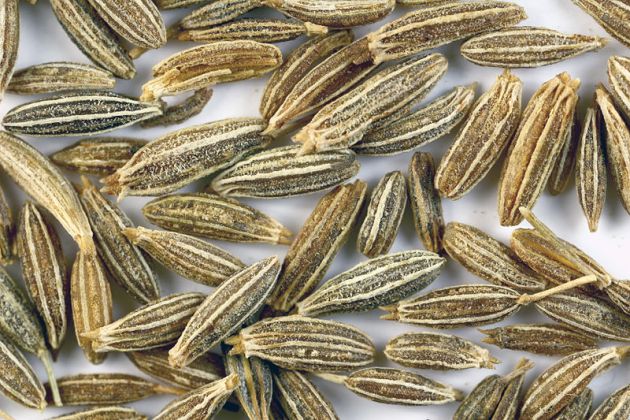 Cumin is a common ingredient in Middle Eastern cuisine. The dried seed of the herb Cuminum cyminum, cumin creates an earthy and warming feeling when added to a dish, and is one of the most popular spices in the world.

There were several superstitions related to cumin back in the Middle Ages that boosted its popularity. As well as being believed to keep loved ones and chickens from straying, it was also said that if a bride and groom carried cumin seeds during their wedding ceremony, they would go on to lead a long and happy life together.
Cumin meatballs (serves 4)
What you'll need
680g lean ground beef
1 egg
15g minced garlic
25g breadcrumbs
1g cumin
Salt and pepper to taste
45ml vegetable oil
355ml water
50g tomato paste
30ml lemon juice
0.7g garlic powder
Instructions
Mix the ground beef, egg, garlic, breadcrumbs, cumin, and salt and pepper in a large bowl. Roll the mixture into balls and set aside.
Over a medium-high heat, heat the vegetable oil in a large skillet. Add the meatballs, cooking for approximately 10 minutes until firm and brown on all sides. Remove the meatballs and drain the fat from the skillet.
Pour the water into the skillet and bring to the boil. Add the tomato paste, lemon juice, garlic powder and salt and pepper and stir. Bring to the boil and reduce the heat.
Add the cooked meatballs to the tomato sauce mixture. Simmer for 5-10 minutes and serves.
The Caribbean | Jerk seasoning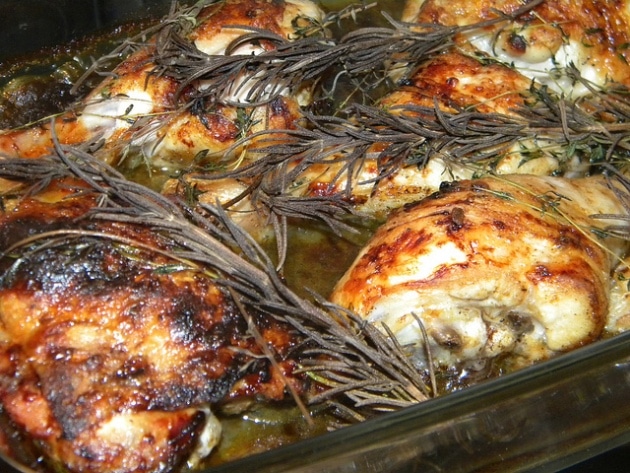 Jamaican jerk spice seasoning is a very hot spice mixture, made up largely of allspice and scotch bonnet peppers. Traditionally, the seasoning has been applied to pork and chicken, however more modern jerk recipes have also called for fish, shrimp, beef, and even tofu to be used.

Jamaican jerk spice is so popular that the term "jerk" is also used to refer to the cooking method, as well as to the seasoning itself. The traditional method of jerk cooking involved smoking the meat over aromatic wood charcoal, however grilling over a hardwood steel jerk pan is more common in Jamaica nowadays. And, here in the UK, a frying pan will also do quite nicely.
Jerk chicken with coconut curry (serves 4)
What you'll need
1 jar jerk chicken seasoning
4 chicken thighs, boneless, skinless and halved
2 tbsp vegetable oil
1 large onion, peeled and chopped
2 garlic cloves, peeled and chopped
200g pumpkin, peeled and chopped
1 aubergine, chopped
2 potatoes, peeled and chopped
1 red pepper, seedless and cut into chunks
1 chayote, cut into chunks
400g coconut milk
1 chicken stock cube, crumbled
½ tbsp Caribbean curry paste
2 tsp curry powder
1 small scotch bonnet chilli, seedless and finely chopped
1 tbsp tomato ketchup
1 tbsp tomato purée
2 tsp Worcestershire sauce
1 tsp dried thyme
Salt and pepper
Instructions
Rub the jerk chicken seasoning into the chicken pieces. Place in a covered dish and refrigerate for at least one hour.
Begin preparing the curry by heating the oil in a pan and frying the onion and garlic until softened. Add the pumpkin, aubergine, potatoes, red pepper and chayote and fry for approximately 5-10 minutes.
Add the coconut milk, stock cube, curry paste, curry powder and chilli to the pan and cook for a further 10 minutes. Add the ketchup, tomato purée, Worcestershire sauce and thyme and leave to simmer.
In a separate non-stick frying pan, place the marinated chicken skin-side down. Cook on a fairly high heat for 8-10 minutes before turning the pieces over and reducing the heat to medium. Continue to fry until the chicken is cooked through, and serve with the curry.
The Mediterranean | Cuttlefish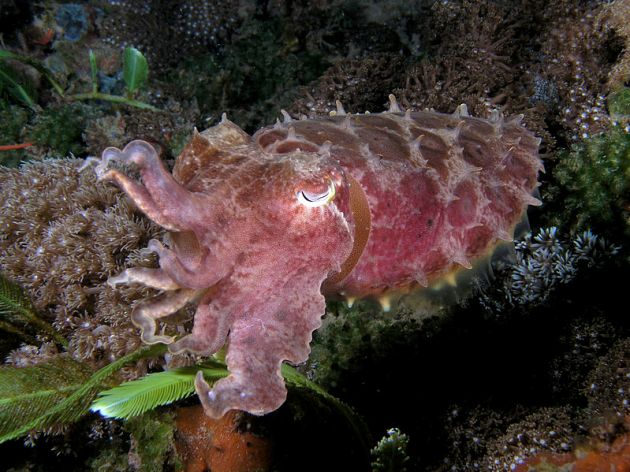 Despite living in the shadow of squid when it comes to cuisine, cuttlefish is still a popular ingredient in Mediterranean cooking.

Somewhere between a squid and an octopus, the cuttlefish is one of the most intelligent invertebrates around, and also has one of the largest brain-to-body size ratios. Seems a shame to eat it really but, if you're in need of an intelligence boost, it could be the fish for you!
Macaroni with peas and cuttlefish (serves 4)
What you'll need
4 servings garganelli pasta
1 small onion, peeled and finely chopped
2 garlic cloves, peeled and crushed
4 tbsp olive oil
100ml white wine
250ml fish stock
150g unsalted butter
400-500g cuttlefish, cut into strips
150g cooked peas
Salt and pepper to taste
Instructions
Melt some of the butter in a pan and cook the onion and garlic for 2-3 minutes until soft. Add the wine and simmer until almost evaporated. Add the fish stock and reduce by half.
Melt some more butter in a pan until foaming. Season the cuttlefish, add to the pan and fry for approximately one minute. Add the fish, peas and remaining butter to the sauce mixture.
Cook the pasta in boiling, salted water. Drain, before mixing with the sauce. Season with salt and pepper and serve.
South America | Chillies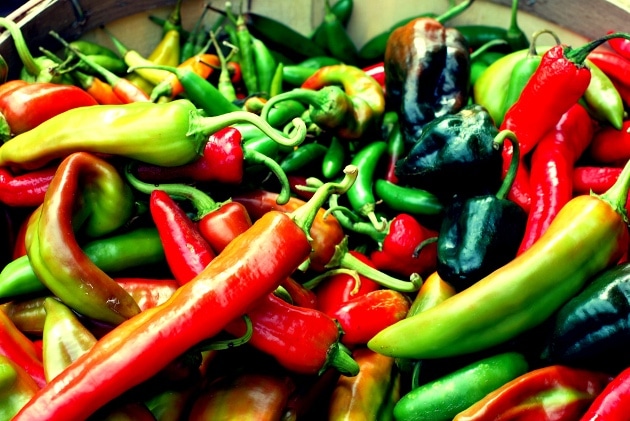 Fans of hot food will be more than familiar with the chilli pepper. It originated in South and Central America, where it has been part of the human diet since at least 7500 BC.

Chilli peppers contain a substance known capsaicin and a number of related chemicals, which together are known as capsaicinoids. When a chilli pepper is eaten, the capsaicinoids activate the pain receptors in the mouth and throat and send a signal to the brain, which responds by raising the heart rate, increasing perspiration and releasing endorphins. Eating a chilli pepper has even been likened to riding a rollercoaster, by psychologist Paul Rozin, as they are both examples of 'constrained risks' – the person can enjoy the extreme sensation knowing that they are not actually in any danger.
Chilli soup (serves 3)
What you'll need
2 potatoes
1 pint vegetable stock
1 leek, chopped
1 onion, chopped
2 carrots, chopped
2 red chillies, chopped
1 courgette, chopped
2 tbsp olive oil
2 slices stale bread
1 tsp fresh thyme
Salt and pepper to taste
Instructions
Boil the potatoes in a water-filled saucepan for five minutes. Add the chopped carrots, and continue to boil for a further five minutes. In a separate pan, cook the leek and onions until soft.
Drain the potatoes and carrots, and add back to the saucepan. Add the vegetable stock, red chillies, courgette, leek, onion, thyme and salt and pepper, and simmer on a low heat for a few minutes.
Toast the stale bread under a grill, before cutting into small cubes. When the soup is ready to serve, sprinkle on top with a drizzle of olive oil.
Scandinavia | Cloudberries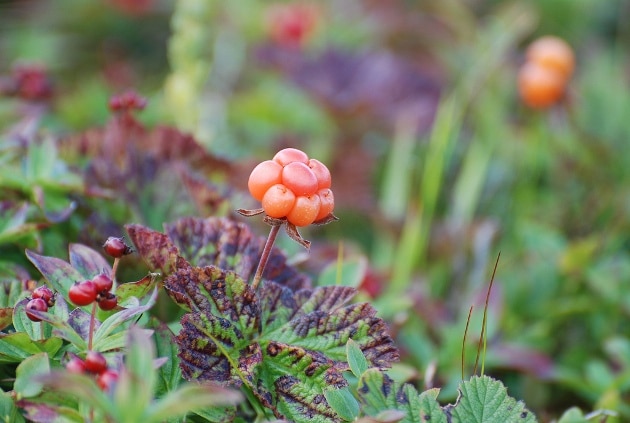 Scandinavians are very proud of the cloudberry. The fruit is depicted on the national side of Finnish €2 coins, and a cloudberry also appears in the coat of arms for the Norwegian municipality of Nesseby.

They are frequently used in Scandinavian cooking, providing a distinctive tart taste when eaten fresh, tasting creamier if eaten when over-ripe, and always providing an excellent source of vitamin C.
Cloudberry layer cake (serves 6)
What you'll need
6 eggs
230g granulated sugar
1 tsp vanilla essence
165g plain flour
350g cloudberry jam
500g whipped cream
15g icing sugar
Instructions
Pre-heat the oven to 180 °C and line two 20cm cake tins with parchment paper.
Beat the eggs in a bowl until frothy. Add the sugar and continue to beat for approximately five minutes until the mixture is light and lemon coloured. Beat in the vanilla essence, along with a pinch of salt, before folding in the flour.
Fill the two baking tins with the cake mixture. Place in the oven and bake for 25-30 minutes. Once baked, leave in the tins to cool.
Remove cakes from the tins once cooled, and slice in half horizontally to make four separate layers. Place the bottom layer on a plate and cover the top with the cream. Add the next layer of cake on top and cover the top with jam. Place another layer of cake on top, topping with cream, and add the final layer of cake. Spread the remaining jam on top, along with the remaining cream. Dust with icing sugar and serve.
Mexico | Aztec chocolate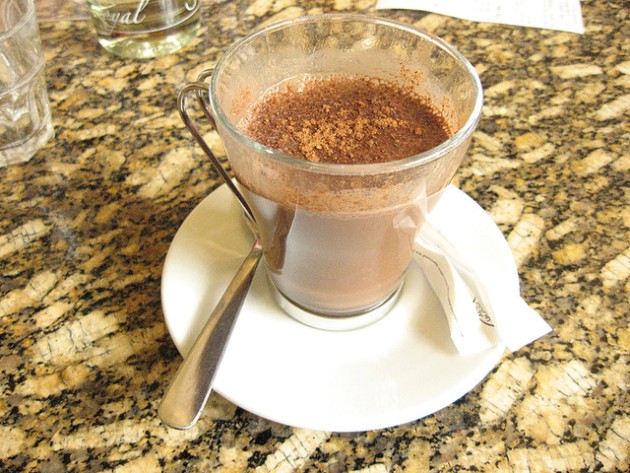 Chocolate originates from the ancient tribes of Mexico and Central America, who would mix ground cacao seeds with a variety of seasonings to create a frothy, spicy drink known as chocolatl.

Emperor Montezuma reportedly drank over 50 servings of chocolatl a day, and would serve it to his esteemed guests in a golden goblet. Thanks to its effect on serotonin levels in the brain, chocolate continues to bring joy to millions in its various modern forms, however its spicy Mexican roots should never be forgotten.
Aztec chilli hot chocolate (serves 2)
What you'll need
600ml milk
300ml double cream
50g plain chocolate
2 egg yolks
Pinch of salt
½ tsp ground nutmeg
½ tsp ground cinnamon
Pinch of allspice
5 tbsp water
Instructions
Over a pan of hot water, heat the milk and cream in a bowl. Bring to the boil, before adding the salt, nutmeg, cinnamon and allspice. Leave to simmer for one hour.
In a small saucepan, heat the chocolate and water over a low heat until the chocolate has melted. Remove from the heat.
Beat in the egg yolks, before whisking in the spiced milk mixture. Serve immediately.
Can't be bothered to make these at home? Grab some travel insurance and head out to try the real deal overseas.
Photo credits: Sanjay Acharya (CC BY-SA 3.0), Aimee Steen (CC BY 2.0), Nick Hobgood (CC BY-SA 3.0), Lucas Cobb (CC BY 2.0), Littleisland lighthouse (CC BY-SA 2.0), moonlightbulb (CC BY 2.0)