The British are well known for their love of a good cup of tea. Tea is drunk for any occasion. Had your heart broken? Put the kettle on. Got a promotion? Have a brew. There's no situation that tea cannot improve. In the InsureandGo office we estimate the marketing team alone drink 6,500 cups of tea a year. Is that normal do you think? Other nations have traditional hot drinks too, so if you feel like a change one chilly dark evening, try one of these.
Atole | Mexico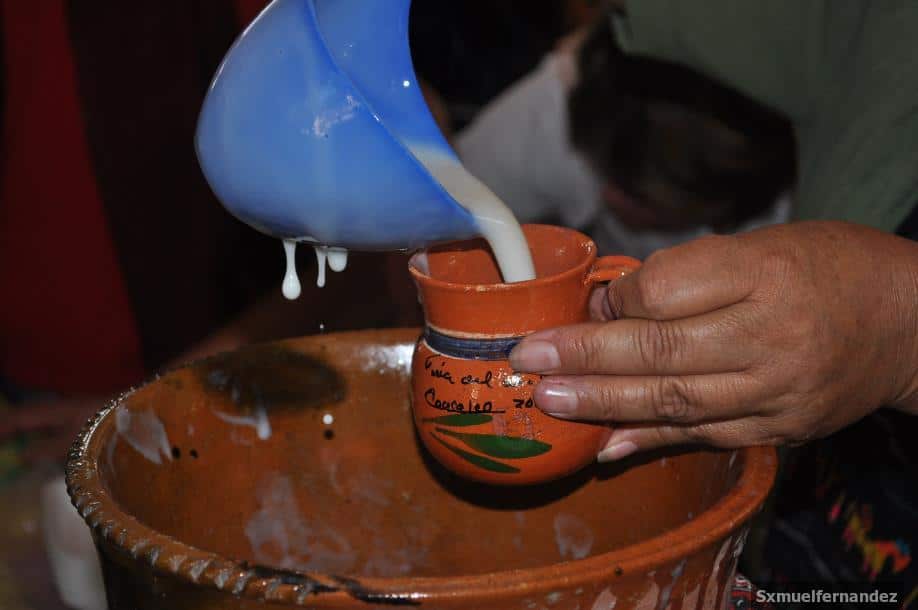 Now this sounds like an absolute treat, imagine sipping on this on a cold winter's day; it's thick, creamy and flavoured with vanilla and cinnamon. I imagine it to be a bit like custard- but better! It is primarily made out of masa harina, which is the flour used in the making of tortillas, tamales and other Mexican food. Sometimes chocolate is added, or fruit such as pineapple or strawberries. A special mixing stick is used to beat the atole, called a molinillo, which is essentially a very pretty wooden whisk. It is held between the palms and spun back and forth by rubbing your hands together, which froths the drink up nicely.
This drink has been around since Aztec times (sometimes known as the terrible era before travel insurance) and is drunk as a breakfast beverage or in the evening as a comfort food. It's often sold by street vendors who ladle it out of huge pots and serve it with tamales. However, the chocolate version (called champurrado) is traditionally served at Christmas time; Las Posadas.
Recipe (serves 2)
40g masa harina blended with 60ml warm water in blender
675ml milk
5 tablespoons brown sugar
1 pinch of salt
1 cinnamon stick
1 vanilla pod
Heat all ingredients in a saucepan over a medium-low heat and stir. Bring to a simmer and continue to stir frequently for 20-25 minutes until the mixture thickens. Remove the cinnamon stick and vanilla pod and serve.
Anijsmelk | Holland
The Dutch are big fans of aniseed and liquorish flavours and this has been transferred to their popular hot drink Anijsmelk. It was originally made by crushing aniseed into milk and warming it up to be drunk before bedtime. It is thought to promote sleep and help digestion. Despite sounding quite vile, to those not of an aniseed-persuasion anyway, it's worth considering that it isn't a powerful flavour in this drink, and it actually brings a light touch of spice and a gentle fragrant flavour to the milk.
These days it's much quicker and easier to make anijsmelk. Anijsbokjes are small white cubes, like a sugar cube, that also contain aniseed. These are dissolved in hot milk and are readily available in small packets in the Netherlands, but can also be bought online.
Recipe (serves 6)
1 litre of milk
1 tablespoon of sugar
1 teaspoon of crushed aniseed
Heat the milk, sugar and aniseed, taking care not to boil. Serve immediately or allow to cool and drink cold.
Api Morado | Bolivia
What an interesting purple drink this is; made from purple corn, cloves, cinnamon, pineapple and orange rind. It's served for breakfast, usually with a pastry (I'm warming to it now). It can be bought hot, and is available from bus stations to set commuters up for their day.
This drink is high in Resveratrol, an antioxidant that makes red wine "healthy". Apparently Resveratrol encourages cell health so if you needed an excuse to drink this delight then you can't get better than that.
Once again, like tea, the history of this drink can be traced back many, many years- to the Incas in fact. It's quite a long process to make the drink, so you'll be pleased to know that it comes in an instant format too, from specialist Bolivian stores, although it might be quite expensive to import. Otherwise you can make it at home.
Recipe (serves 8)
250g ground purple cornflour (you can buy this online)
3 litres of water
1/4 pineapple, chopped up
2 sticks of cinnamon
2 cloves
Rind from an orange, finely grated
Sugar (however much you like)
Soak the ground purple cornflour in 1 litre of water for two hours. Boil the remaining water with the cinnamon and cloves. Add the soaked corn flour and the orange rind to the boiled cinnamon water. Over the heat stir constantly until it thickens slightly. Add the sugar and chopped pineapple and serve.
Sahlab | Egypt
You can get yourself a cup of steaming hot sahlab from street vendors in Egypt or in a pastry shop. This sweet, hot winter drink is primarily made from dried, ground orchid root. Yes that's right, an orchid root, a wild orchid root to be more precise. The root powder is also known as salep, and it is mixed with hot milk and sugar with a sprinkling of cinnamon and pistachios on top.
The powder can be kept for years and is the main ingredient of dondurma ice cream, which is the super thick, sticky ice cream sold in Turkey. You can buy an instant sahlab mix, so you don't have to dig up a wild orchid yourself. It's most likely to be artificial though as the orchids are now endangered. If you are going to try some, it is worth bearing in mind that it is considered an aphrodisiac!
Recipe (serves 2)
1 1/2 tablespoons sahlab powder (or 2 tablespoons of corn-starch if you can't find the sahlab powder online)
900ml milk
3 tablespoons sugar
2 teaspoons rose or orange-blossom water
2 tablespoons finely chopped pistachios
Ground cinnamon
Mix the sahlab powder with a few tablespoons of milk. Bring the remaining milk to a boil and pour the sahlab mixture in. Make sure you stir well so that no lumps form. Continue to warm over very low heat, stirring continuously, until the milk thickens. Then stir in the sugar and the rose/orange-blossom water, serve topped with the nuts and cinnamon.
Hot soy milk | China
So soy milk might not be unusual here now, but it certainly isn't as popular as it is in China! Hot soy milk is a popular breakfast drink. It can be sweet or salty. I'm not sure how popular that would be with the UK palate. Even less popular would be soy milk flavoured with vinegar, shrimp, and mustard, I suspect. It might be worth a try though.
Soy milk is made by soaking dry soybeans in water, grinding them up and then heating the mixture. The pulp is then filtered out. This has been done for many years, in fact there is evidence of soy milk production in China as far back as 25–220 AD. It's been made much easier now thanks to soy milk machines, such as the SoyaJoy G3, which sit nicely on your work surface. I would still prefer to buy a carton, chocolate flavoured, preferably.
Recipe (individual portion)
Plain soy milk (make sure it is not sweetened, or worse- vanilla flavoured)
Rice vinegar
Pickled mustard greens (can be bought at a specialist Chinese food shop)
Sesame oil
Chilli oil
Soy sauce
Dried shrimp
Salt & white pepper
Put all your ingredients into a bowl and stir. The amount you put in is up to you, so if you are a big fan of dried shrimp you can be as generous as you like! Warm on the hob until it just starts to boil and serve.