When something's good, it's often said to be "the best thing since sliced bread." If you think about it, this saying doesn't really make any sense – sliced bread is rubbish, it's boring, and you'd have to be completely bonkers to believe it was mankind's last great invention.
That said, here in the UK, sliced bread is incredibly popular and people buy it almost all the time. Occasionally they'll break the routine with a seeded bloomer (at the weekend, as a treat) but other than that it's sliced bread or nothing.
Compared to Britain, other countries are much more adventurous, bread-wise. In this series we'll be looking around the world at some of the most unusual breads you can put in your lunchbox.
Dampfnudel and dinkelbrot | Germany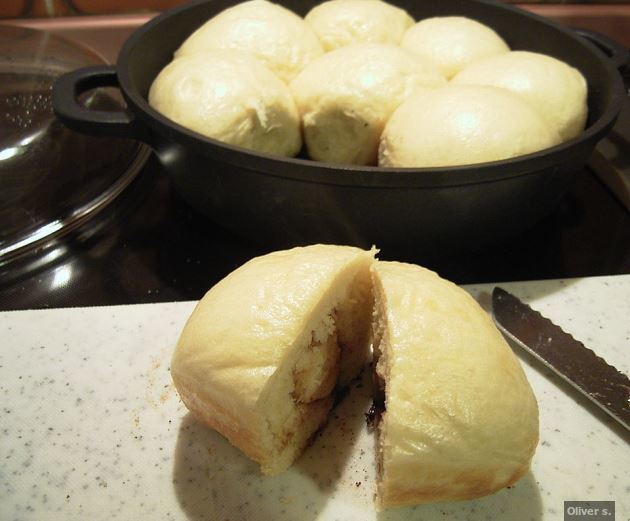 It would be impossible to have a series on bread from around the world without mentioning dampfnudel and dinkelbrot, the two breads with by far the funniest sounding names.

If someone had asked me yesterday if I wanted a dampfnudel, I'd probably have looked at them a bit strangely. I'd almost certainly have declined the offer (depending on my mood at the time). Now that I've learnt it's a type of German bread roll, I'm marginally more likely to accept. The dampfnudel dough is rolled into balls and cooked in a pan with a lid – the milk and butter in the pan forms a dark brown crust on the bottom of the buns, while the top remains pale and white. They can be cooked either sweet or savoury and are served with a variety of accompaniments – for example, custard (sweet), jam (sweet) or cabbage (yuck).

The second half of Germany's bread double act is dinkelbrot, which sounds like it could be the name of a slightly rude robot ("The Dinkelbrot 5000 is here to give you a massage"). Disappointingly, it's actually just a type of bread that uses spelt flour instead of wheat. The spelt gives dinkelbrot a yummy nutty flavour and it can be an excellent alternative to normal bread if you suffer from wheat intolerance (or just think you might).
Before you roll over to Germany to try this pair, pick up some travel insurance for your trip.