A beach is very often an integral part of a holiday. Favourable qualities in a beach tend include fine, pale sand (as opposed to dirty great pebbles), warm, clear water and a nice bar nearby. These beaches don't necessarily tick all the boxes but they are still quite breathtaking in one way or another…
Icy – Jökulsárlón, Iceland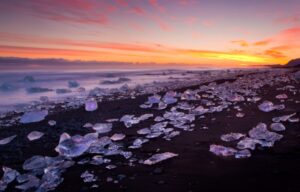 It's unlikely you would want to sunbathe here (although at times it is drenched in 24 hour sunlight) as it's not particularly warm. Jökulsárlón is a glacial lake in Iceland, and the beach on the outskirts is made of black sand. One of the most striking things about this beach is the pieces of glacier that have broken off and lay strewn across the beach. They look like big clear crystals. It's very atmospheric.
So much so that it has been used as a film location a number of times, it's been used twice in James Bond films as well as Batman Begins and numerous TV commercials. It's possible to take a boat ride around the lagoon to explore the icebergs and the wildlife that live there.
Slimy – Qingdao, China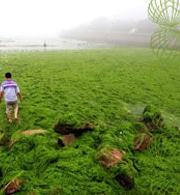 In July this year a beach in Eastern China was overrun with green algae, called Enteromorpha prolifera. And it's not the first time either! It's happened in 2007 and 2010 too. It's not dangerous to humans, although when it rots it stinks apparently, but it does have a big impact on marine life.
The blooming algae takes up so much oxygen it starts to suffocate the poor creatures beneath it. It's not fully known why this keeps happening but it is thought to be to do with an imbalance of nutrients in the sea, possibly to do with fertiliser waste. It certainly makes for some interesting photographs, and it doesn't seem to be putting anyone off going for a swim!
Lizardy – The Galapagos Islands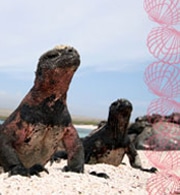 The Marine Iguana is one of those weird animals that can only be found on the Galapagos Islands. You may be used to seeing some interesting sights on the beach; the budgie smugglers, the inappropriate bikinis and the hungover man going a painful shade of pink. What you might not be used to is seeing a bunch of big lizards sunbathing before jumping into the sea for a swim… or a stroll along the seabed.
Like normal lizards these iguanas need to be warm to function properly, so periods of algae-foraging in the sea can leave them cold (someone point them in the direction of Qingdao). So after their meal they clamber out, using their massive claws, and sunbath on the beach or a nice rock to warm up again. They also sneeze out the excess salt they have ingested. Nice. But we've all done that on the beach haven't we?!
Glowy – Navio Beach, Puerto Rico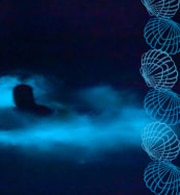 If you are partial to a night-swim then you really must experience this beautiful, magical and slightly disconcerting phenomenon. Mosquito Bay is home to many (billions and billions) of bioluminescent dinoflagellates.
These little half animal half plant creatures give off a flash of bluish light when they are agitated in a bid to see off predators. Their ability to flash, or glow sometimes, is dependent on the day/night cycle. In the day they are an ellipse shape and red while they photosynthesise, but it is night that they become all discoed up. It takes a few hours in the dark for them to reach their full brightness, but once they do they look quite spectacular! It's possible to take boat trips around the bay and to swim or kayak within the illuminating water- if you go, make sure you take your camera!
Bathy – Hot Water Beach, New Zealand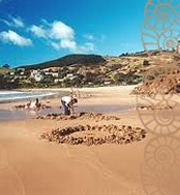 It seems a little odd that, considering the sea is only a few metres away, people dig to get to the water on this beach. Well, as the name suggests there is a little more to it than that. The beachgoers are actually digging to get access to the waters of a hot spring that runs underneath the beach.
Two hours either side of low tide is the best time to dig, as the warm water is able to escape via the sand at a temperature of around 64°C- lovely! It's advisable not to dig too close to the sea however as it's been known for a big cold wave to come and ruin someone's wallowing. If you are thinking of going to this beach it's a good idea to take a spade, and possibly a small child for their natural digging instincts.
Regardless of which odd beach catches your fancy, arrange travel insurance before you visit.