Many of us have fond childhood memories of the holidays we took with our families. Now that we're older, we still love to travel with our nearest and dearest. Over 25% of us plan to travel with our families in 20231.
If you're considering a multi-generational trip, we've got some top tips to help you make the most of your time together. Plus, we share some of the best places to go as a family.
Remember, you'll need travel insurance for everyone, so why not cover the whole clan under one family travel insurance policy?
3 TOP TIPS FOR PLANNING A FAMILY GETAWAY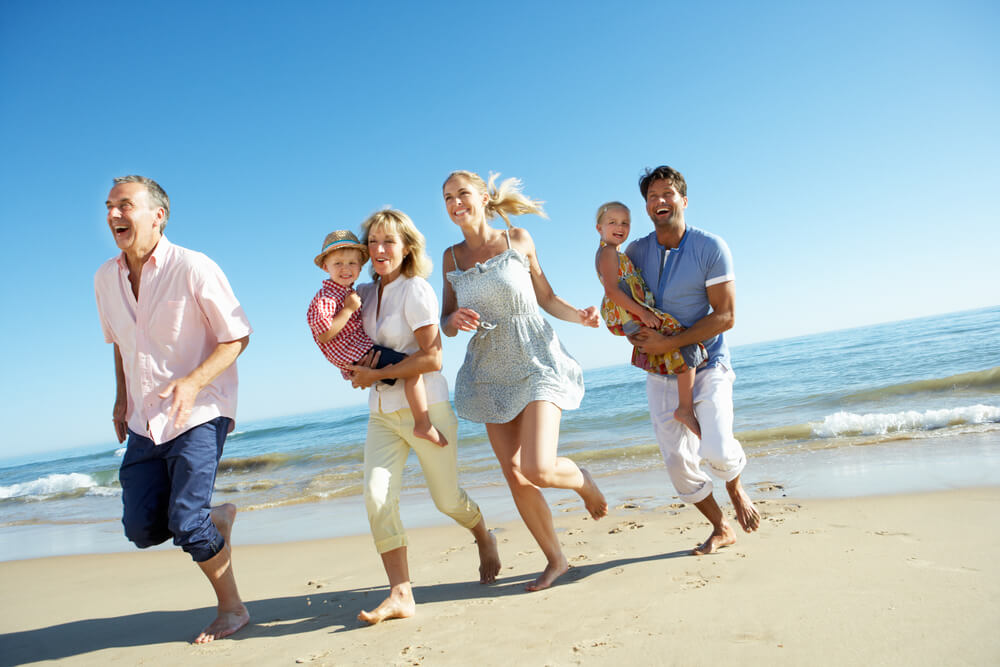 Involve everyone in the planning
One of the easiest and best ways to help your family bond over your holiday is to get everyone involved in the planning. Talk with your loved ones about where they'd like to go and what they want to do. Getting everyone involved early makes it much easier to ensure that everyone feels like there's something for them on the trip.
Short-haul is fantastic for younger families
We can all get grumpy when we've been travelling for a long time, and younger children can really struggle with this. One way to deal with it is to take short-haul trips. Even if your flight is only a few hours, remember to bring plenty of familiar toys and books to keep children occupied. Just don't bring anything noisy which will annoy the other travellers.
Set aside some time to rest and time apart
It may be a family holiday, but you don't have to spend every moment together. A little time apart can make it feel even more special when you're together. It's also a great way to ensure you can still enjoy activities which children might not. No one likes being rushed around a museum by a bored child.
It's also vital to plan some rest times for youngsters and older travellers, especially if you're heading to a hot climate—plan to have a few lazy afternoons or mornings whilst on your trip.
3 FANTASTIC FAMILY HOLIDAY DESTINATIONS
BARCELONA – SPAIN
Anywhere in Spain is a good choice for a family holiday. It's hot, sunny and dry, and offers plenty of fun for everyone. If you want to skip the Costa Del Sol, consider a trip to Barcelona. The city has lots to explore, with interesting museums and many family-friendly restaurants. The local metro system is expansive, cheap, and easy to navigate. You can also enjoy some fantastic sandy beaches.
THE ALGARVE – PORTUGAL
Right on the southern edge of Portugal, The Algarve gets a whopping 3,000 hours of sunshine a year. As well as enjoying the white sands and azure seas, your family can try out dozens of fun activities, especially water sports. If that's not your style, the area has lots of beautiful Moorish and Portuguese architecture to enjoy.
FLORENCE – ITALY
A city break may not be your first thought when it comes to a family trip, but Florence offers a touch of luxury. Enjoy exploring the birthplace of the Renaissance with your whole family. Riding the antique carousel in Piazza Della Repubblica is sure to be a memory that will last a lifetime. Family life is a huge part of Italian culture, so why not enjoy great food and stellar company in this Italian city?
No matter where you and your family decide to go, ensure everyone has quality travel insurance before you go.
1 InsureandGo Annual survey Jan-Feb 2023. 4,339 responses.