Get a travel insurance quote
Over 80s travel insurance
Whatever your age, when going away on holiday, insurance is one of the last things on your mind. But getting that little bit older can make finding the right policy difficult – especially if you have pre-existing medical conditions. At InsureandGo, we think travel insurance should be available to everybody. Whether you're 21, 85 or over 100, we've got a policy for you.
How do I get cheap travel insurance if I'm over 80?
Unfortunately, the older you get the more the cost of insurance rises. This is because statistically, there is an increased risk when older people travel. You may also be paying more to have pre-existing medical conditions included on your policy.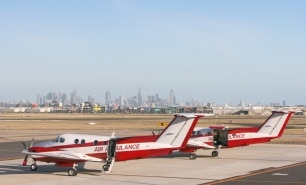 We consider all conditions
If you have a pre-existing medical condition, you don't need to worry - you can declare them online quickly and easily.
Do you limit how long can I go on holiday for if I'm over 80?
We have a limit of 31 days per trip if you're aged 66 or over at the time you buy your single trip travel insurance policy. That's up to a whole month of travelling. If you buy annual holiday insurance, the 31-day limit still applies but there's no limit to the number of trips you can take during the year. So as long as you pop back home once a month, there's no stopping you.
Travel insurance for over 80s with medical conditions
We pride ourselves on considering any medical conditions you might have, and we never automatically exclude a condition without discussing it with you first.
We will always try to work out if we can cover you for any and all medical issues and how much extra that will cost. Some conditions we'll be able to cover at no extra charge, but sometimes there might be a premium if it's something we often pay out for.
Our policy wording booklets have more details regarding medical conditions and your travel insurance.
If you'd rather speak to someone, then feel free to get in touch with us.
Is the cost of my over 80s travel insurance dependant on where I'm going?
This isn't linked to your age, but yes – policy prices change depending on your destination as certain countries have cheaper or more expensive medical treatment. For example, should you need medical care in Spain, it will be a lot cheaper than in the USA.
What activities are included in your over 80s travel insurance?
Even 80-year-olds like to enjoy the local activities. From jet skiing and scuba diving, to cycling and hiking – you'll be covered as standard. Our policies include cover for over 50 sports and activities, no matter what your age is. You can even add on cover for more extreme activities if you're looking to be a bit more adventurous.
Cruise travel insurance
Planning on taking a cruise as well? We offer optional upgrades for cruisegoers with our specialist cruise travel insurance.
Just like our standard travel insurance, we can consider any pre-existing medical conditions on our cruise travel insurance, which also has no upper age limit.
Our cruise holiday insurance includes extra cover for a number of cruise specific eventualities including cabin confinement, interruption, itinerary changes and more.