As you can probably guess from the title of this post, Seoul's Banpo Bridge is definitely no ordinary bridge. In fact, technically, it's not a bridge – it's actually two bridges, one on top of the other. With a fountain. A rainbow fountain.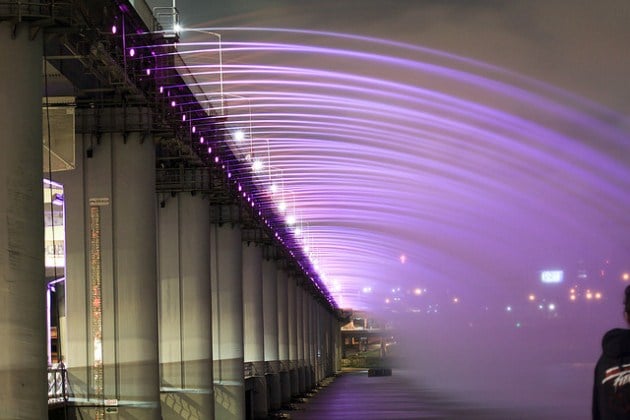 Jamsu Bridge, which was completed in 1976, was built to connect the districts of Yongsan and Seocho. It was designed to lie just a few metres above the waterline of the Han River, so it was submerged during periods of heavy rainfall (but I'm not entirely sure why this was so and why it's a good thing for a bridge to do!)…
Banpo Bridge was built right on top of Jamsu Bridge in 1982 (presumably to make up for the fact that the latter gets flooded every now and again), forming a kind of double-decker bridge.


In 2009, a "Moonlight Rainbow Fountain" was installed on Banpo Bridge. But hang on – what on earth is a "Moonlight Rainbow Fountain"? Well, it consists of nozzles which run down either side of the bridge. Each nozzle shoots out a jet of water, and also contains a small light (an LED). And this is what it looks like: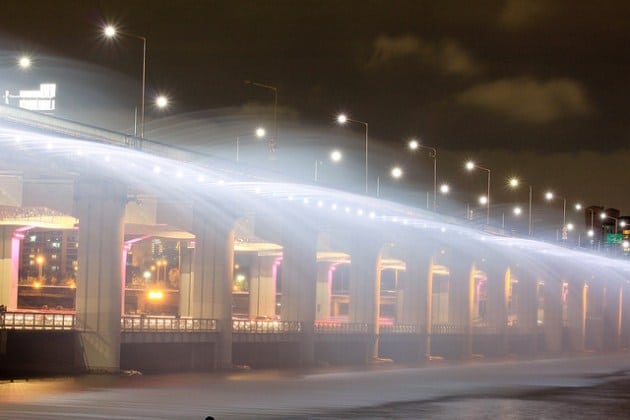 Pretty, isn't it! All together, the nozzles shoot out 190 tonnes of water a minute. The water is pumped from the river so it's recycled continuously. Each jet of water reaches out as far as 43 metres from the bridge.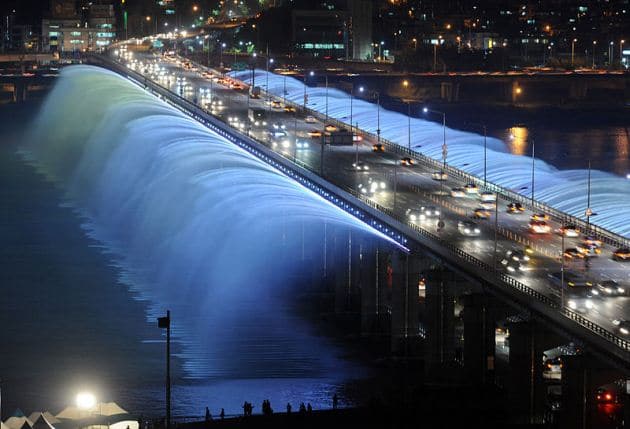 Banpo Bridge's Moonlight Rainbow Fountain is so impressive, it's won a Guinness World Record for being the world's longest bridge fountain… I'm not sure about you but I didn't know they were a thing!
You can some more colour varieties (as well as listen to some funky jazz) in this YouTube video:

Before you book your flights to go and see the bridges, sort our your travel insurance.
Photo credits: st.solaris and Gu Gyobok