Every year, thousands of Brits take the short journey over to Germany during the festive season to explore the markets and enjoy the beautiful Christmassy atmosphere. To me, it's the home of Christmas, and they definitely do it best. The decorations, the food, the traditions, the castles with snow on them – perfection! In fact, we love Germany so much that we decided to have a German Christmas theme for our Christmas party, and once you've finished reading this post, you'll understand why.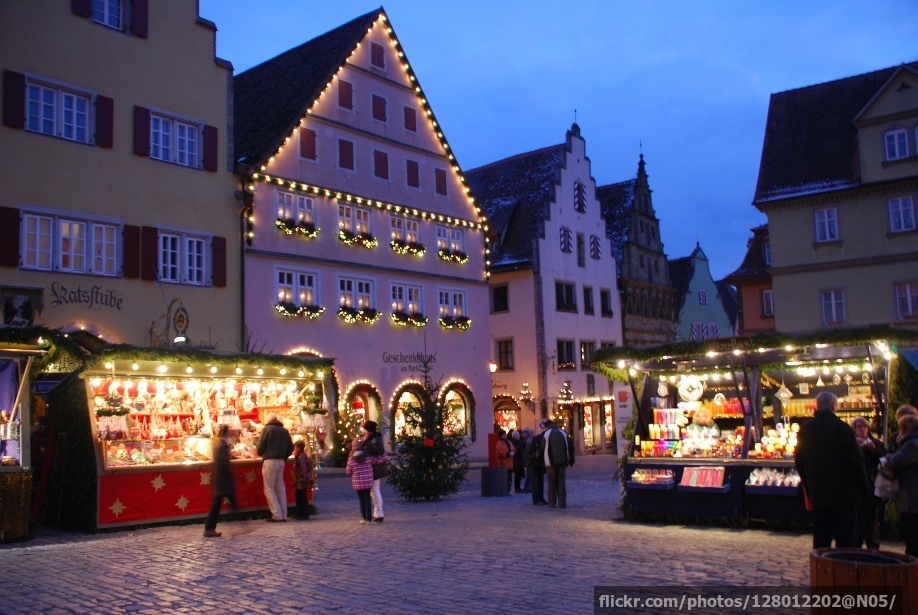 Food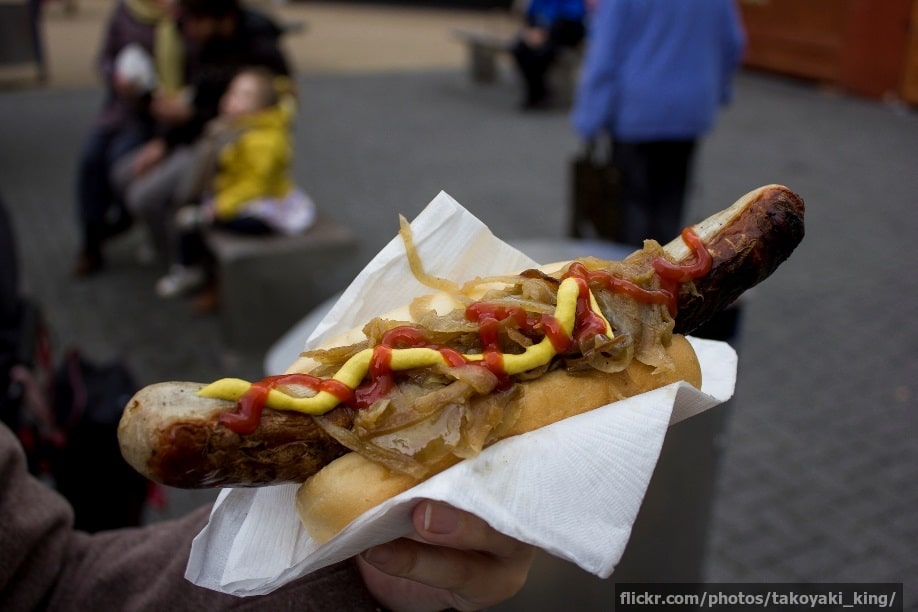 Street food is a big part of German culture and their love of a good sausage is known around the world. The first documented evidence of bratwurst in Germany was in Nuremberg in 1313. Clearly it's an enduring love! There are over 40 different recipes that vary from region to region and they are usually served from vendors in the street or as pub grub with potatoes.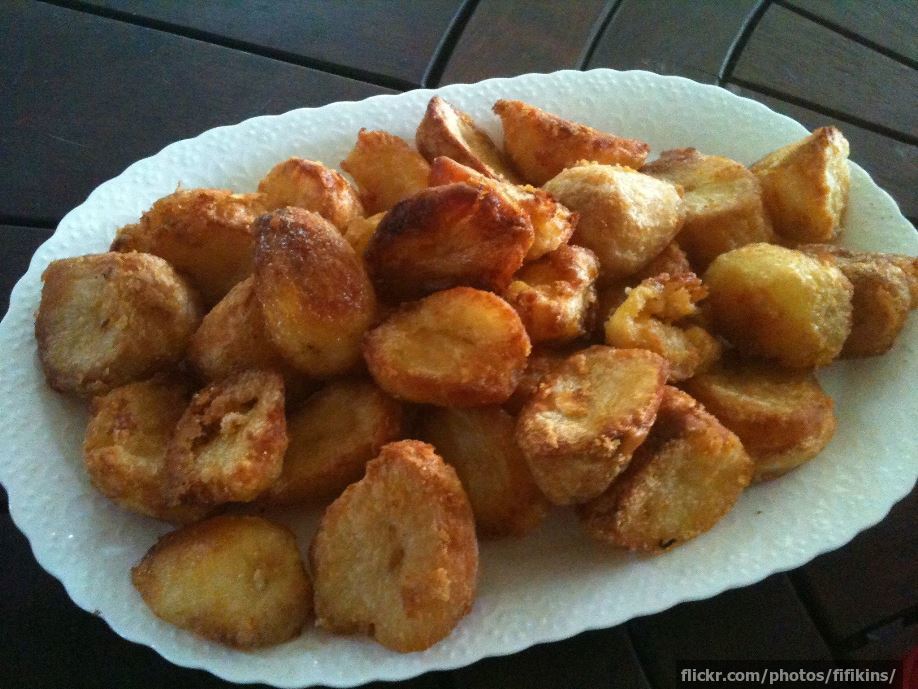 Germans live off meat and potatoes all year round, and Christmas is no exception! In fact, the potato is loved so much at Christmas that there is normally more than one type on your plate! Roasts, dumplings, kale simmered with potato, potato salad and many more! There really is nothing like a carb overload.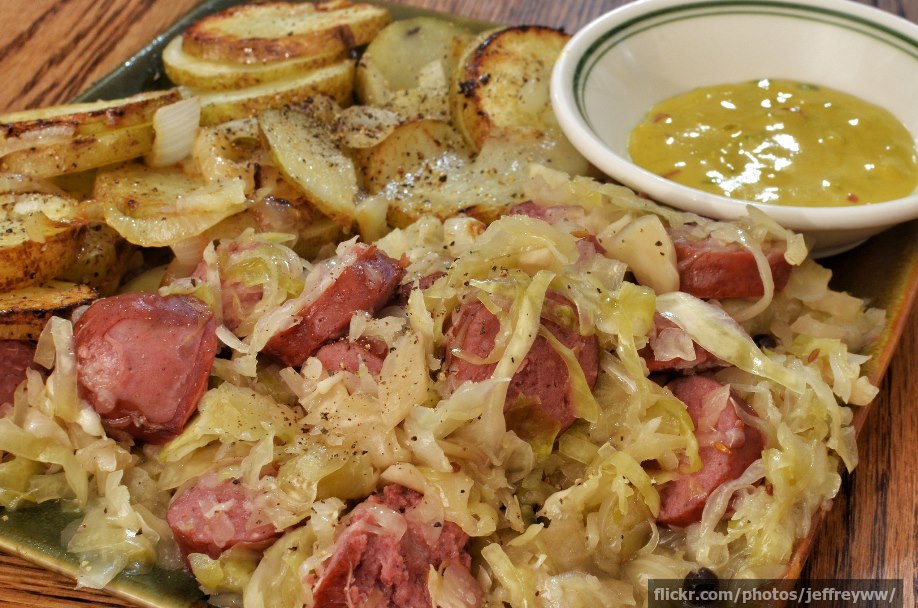 Sauerkraut is a popular side dish. The direct translation is "sour cabbage," which doesn't make is sound too appetising, but this finely-cut, fermented cabbage is a German tradition that's definitely worth a try!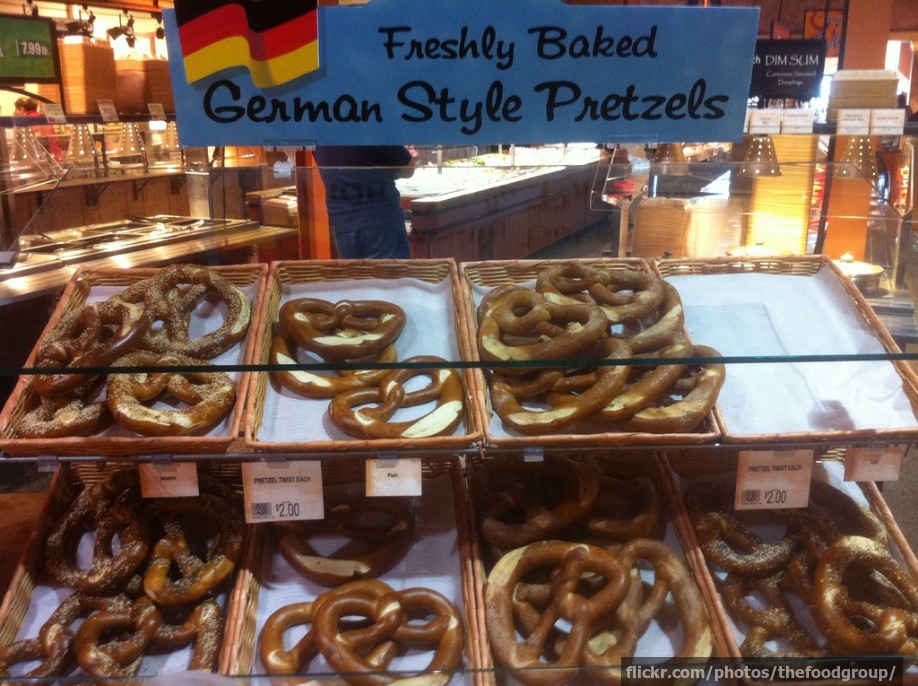 The perfect pretzel can be found in Germany; they have a dark brown, crispy, salty crust, and a soft doughy inside. These traditional German baked goods are also a popular street food all year round, but you'll find them on the markets at Christmas. Pretzels have been known to be hung on family Christmas trees – but I can't help but think that's a waste of some lovely doughy goodness. It was actually an Italian monk who invented the pretzel. He gave them out as a reward to children who learnt their prayers, but once German monks got a hold of the recipe, they started adding toppings like salt, which made them very popular within the community.
Drink
Wise man's gift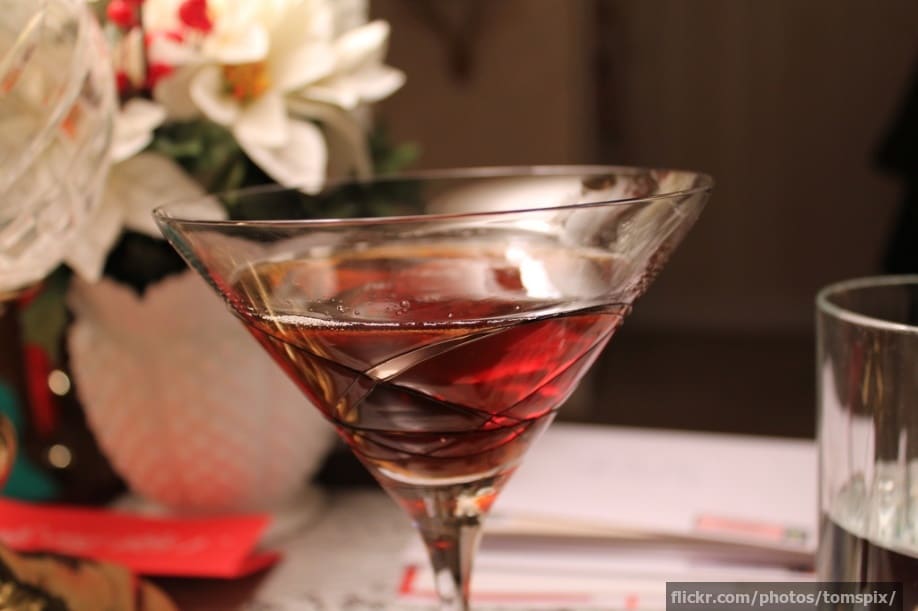 This delicious German cocktail is made at Christmas, and will certainly warm you through when you've come in from the cold! It includes chilled vodka and cinnamon schnapps. The word "schnapps" is a German noun that means swallow, but is now used to describe a strong alcoholic drink, and it might be the easiest drink to order with a drunken slur!
German beer is famous all around the world, and considering Germans drink on average 2.55 billion gallons of beer each year, they're pretty much experts when it comes to the stuff! Krombacher was founded on 4th February 1803 by Johannes Haas. Johannes' father had his own restaurant, and back in those days, you could only sell alcohol if your establishment had their own brewery, so Johannes thought it would be a good investment for the family business. And he wasn't wrong!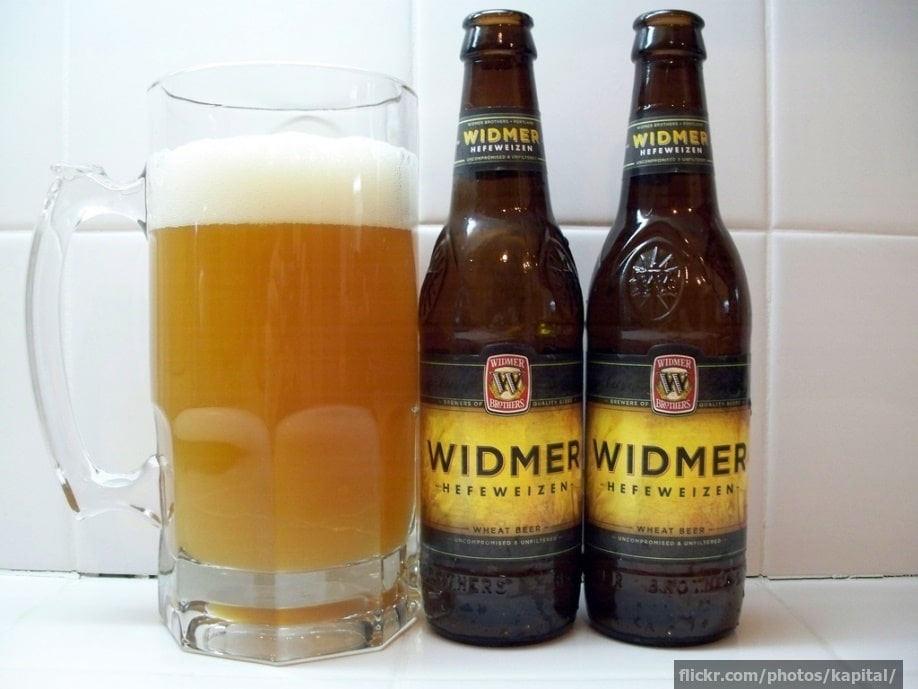 There were a few hiccups along the way… Haas had to pay the church 17 guilders (which was a decent sum of money in the 19th century) every year so he could use their water supply, and by 1896, the company had a new owner, Otto Eberhardt. It all worked out well for the company in the end, though, as now they are one of the most popular beers sold throughout Germany. The brewery is located in Krombach (hence the name). For every crate of Krombacher that's purchased, one square metre of rainforest is saved for at least a hundred years. Ethical and delicious – perfect!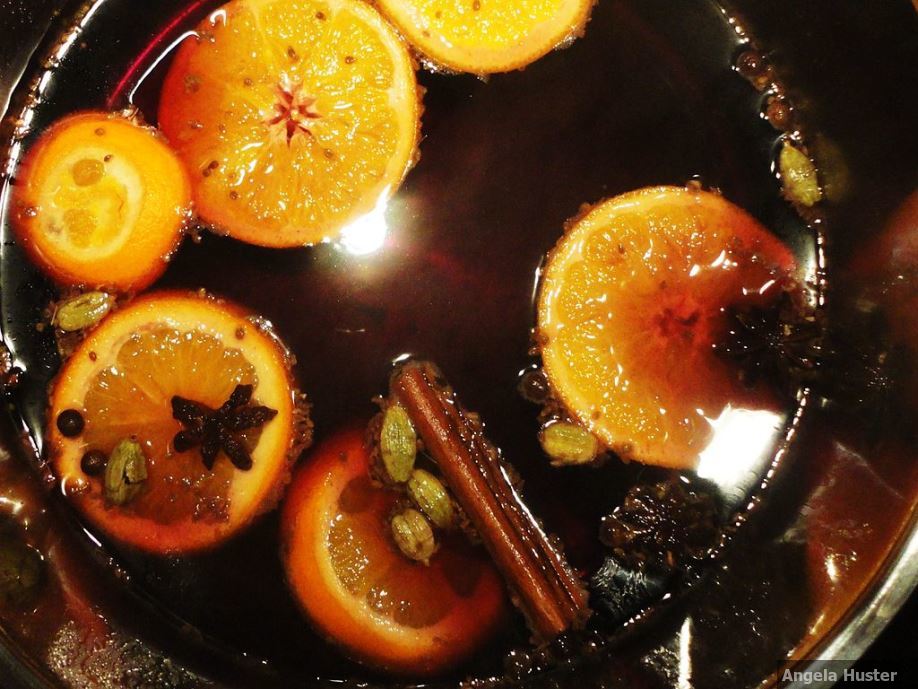 If you're not a beer lover, then mulled wine at Christmas might be more your thing. This sweet-smelling drink is normally made with red wine, spices and raisins. Mulled wine first originated in Rome, so when the Romans travelled around Europe, their recipe for mulled wine went with them. In Germany, mulled wine is known as Glühwein and includes cinnamon sticks, cloves, star anise, citrus, sugar and sometimes vanilla pods. It is sometimes drunk "mit schuss" which means "with a shot". And there was me thinking mixing red wine and shots was frowned upon!
Jägermeister is a German digestif which is made with 56 herbs and spices (not that you can taste any of them when it burns your throat). The name translates to "master of hunters" and is a title for a high-ranking official in charge of matters related to hunting. There was a little rumour that this strong beverage was made with deer or elk blood, but I'm pleased to say that it's not true!
Presents
A common saying in Germany is "ich habe Schwein gehabt" which translates as "I have had a pig." This saying might sound a little odd to you and me, but in Germany, it's used as a way of saying "I'm lucky!" The saying is said to have started with farm families, who believed it was lucky if they had a pig in winter, because they would have meat to eat during the colder months. Because of this, Germans give their friends and family little marzipan pigs during the festive season. This sweet little gesture symbolises good luck and fortune for the year to come.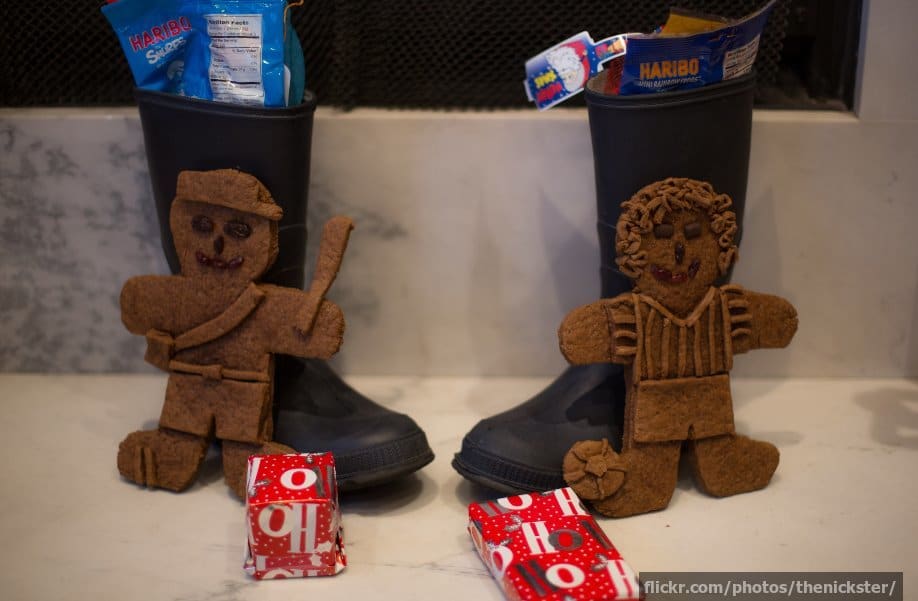 In Germany, St Nicholas Day (St Nikolaus Tag) is celebrated on the 6th December. On the evening of December 5th, children leave a boot known as Nikolaus-Stiefel (Nikolaus boot) outside their house. St Nikolaus puts the children's gifts and sweets into the boots, and checks that they have been good and polite throughout the year. If he finds out they have been bad, he fills the boot with twigs instead. In German folklore, St Nikolaus is said to be accompanied by Knecht Reprecht, who asks the children if they have been saying their prayers throughout the year. If the children haven't, he throws ashes at them, or beats them with a stick – which isn't exactly a great way of showing your Christmas spirit.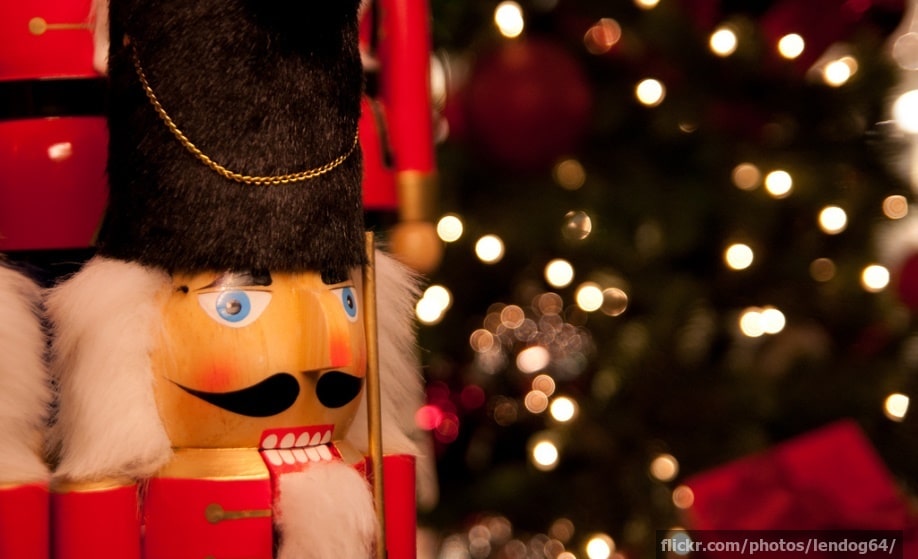 Woodcarving is a big tradition in Germany, so hand-carved toys, ornaments and decorations are still really popular gifts to give to your loved ones over the festive period. Local craftsmen will set up a market stool at Christmas showing off all of their creations. A popular item to buy is the nutcracker. These wooden carvings of soldiers, knights or kings have existed since the 15th century. Originally, you could place a nut in the nutcracker's mouth so it could be broken, but nowadays they are mostly used for decoration at Christmas time. The most famous nutcracker carvings come from Sonneberg or the Ore Mountains, as the locals used it as a way of earning their main income.
Decorations
The Christmas spider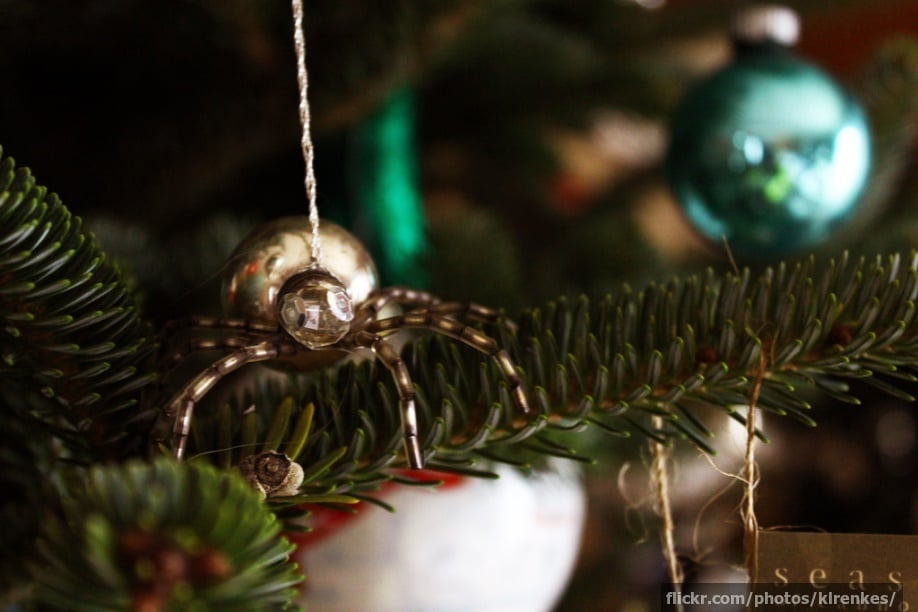 Although a terrifying nightmare for some, the Germans add a spider to their Christmas trees in the name of tradition! There's an old story about a woman who tidied her house in preparation for Christmas… She swept the house until it was spotless, and all the spiders had to hide in the attic to avoid being swept away. The family put up their Christmas tree, but the spiders were upset because they couldn't see it. At midnight, the spiders crept out through the gaps and leapt from branch to branch, inspecting all the family's decorations. Weihnachtsmann, or Father Christmas, arrived soon after, and saw all the spiders' webs. He knew the family wouldn't appreciate the webs, so he turned them all silver and gold. Trees in Germany are now decorated with gold and silver tinsel, and have a spider hidden among the branches!
The golden angel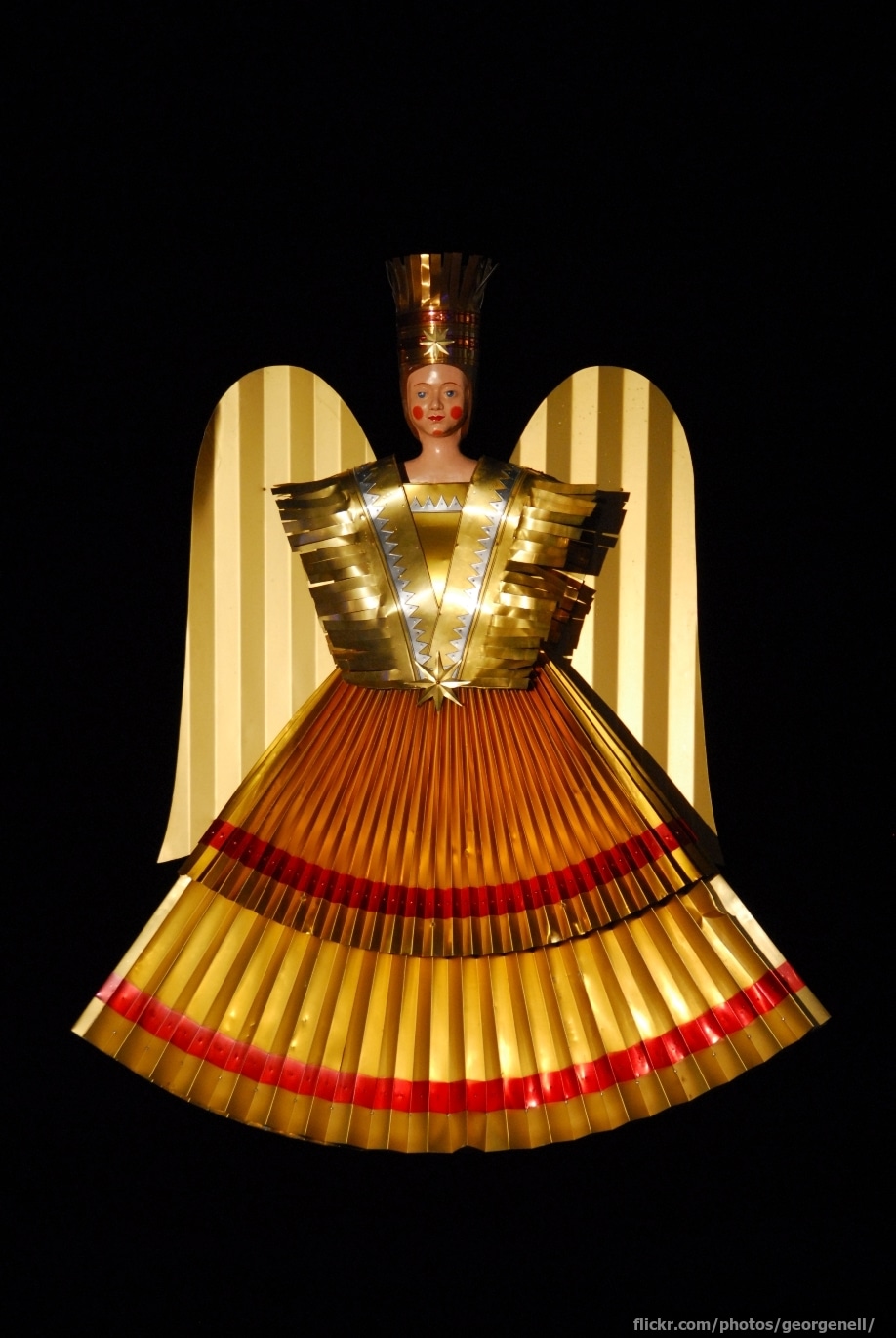 400 years ago in Nuremberg, there was a dollmaker called Melchior Hauser. His daughter had died, and as you'd expect, this really affected him and his wife. He went into his work shop, and started working on a doll. By the time he was finished, he has created a beautiful angel with the face of his beloved daughter, wearing a golden dress and a little crown. At Christmas, he gave this doll to his wife, and she put it on top of the tree, which is now a tradition in Germany.
Christmas market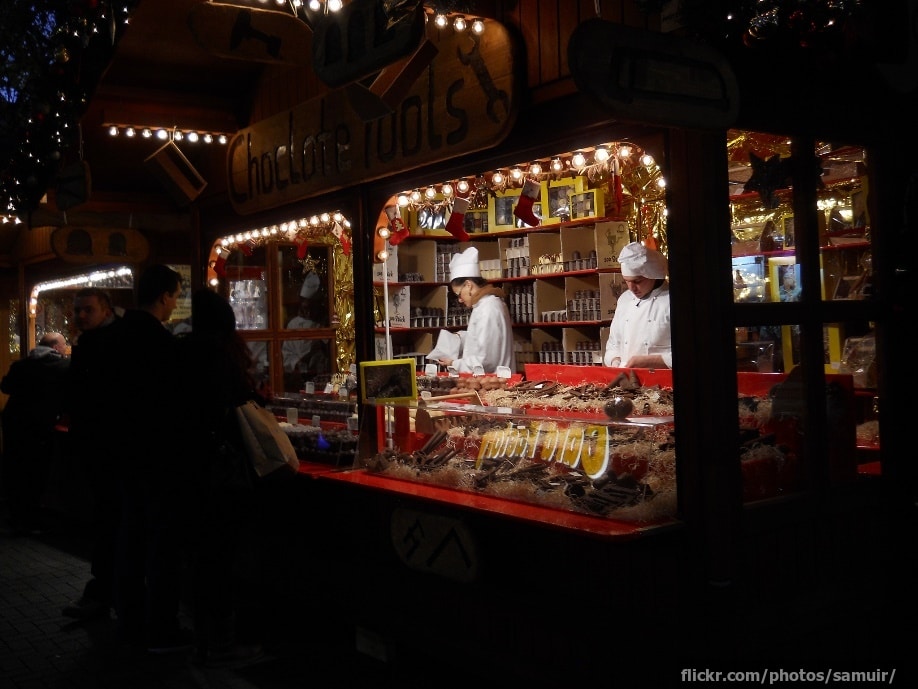 The German Christmas markets are world-famous, and have spread rapidly all over the globe. During the four weeks of Advent, these markets pop up all around Germany and sell beautiful hand-crafted gifts and traditional foods, including bratwursts! You'll also find decorative gingerbread. The gingerbread is made into various shapes, like hearts or stars, which are then decorated with messages written in icing and sweets. Traditionally, these are dunked in port wine, but they're just as good (if not better) on their own or with hot chocolate!
Lights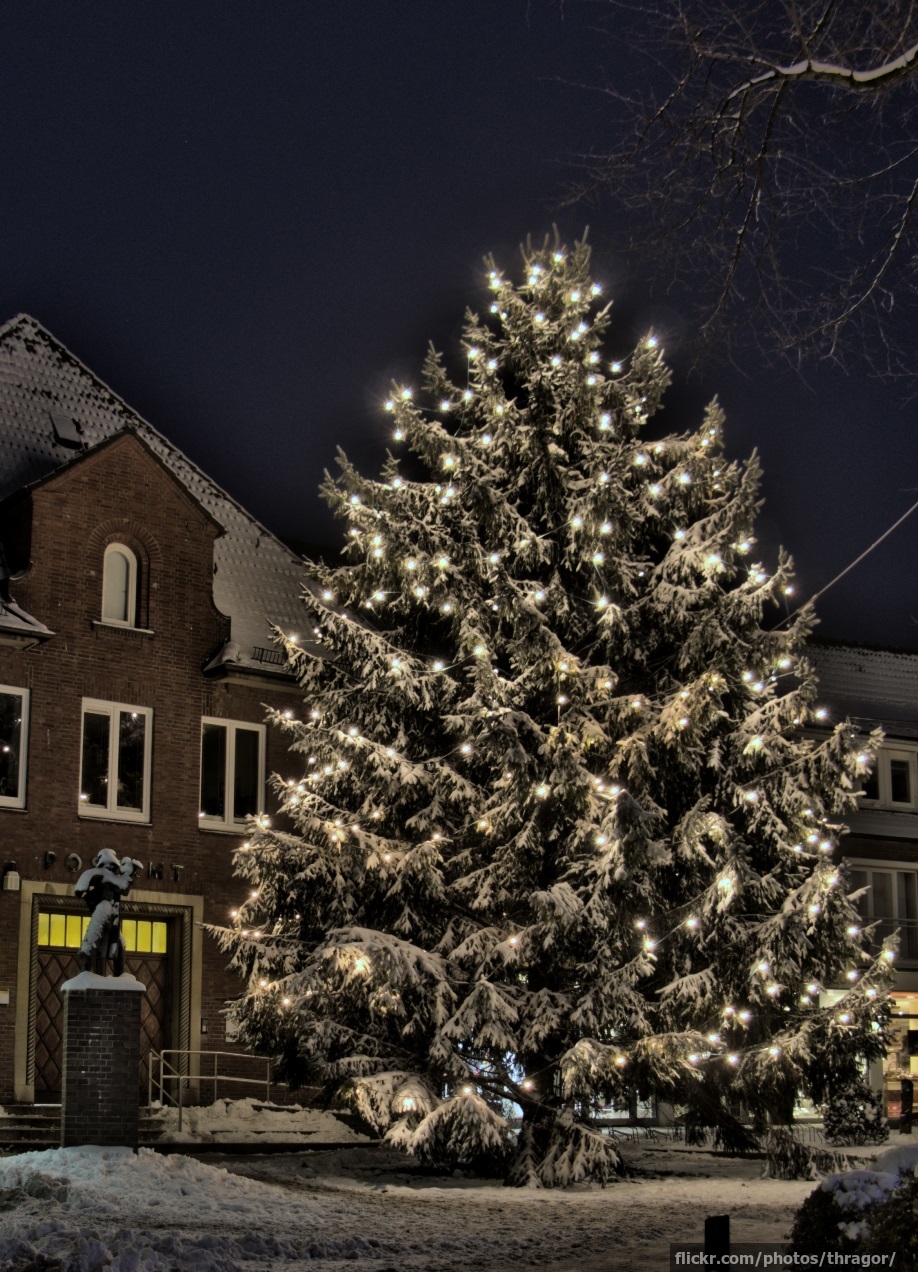 Putting lights on the tree only became popular when the Germans started doing it two hundred years ago. Before the invention of candleholders, Germans stuck the candles on the trees by melting wax onto a branch and holding the candle in place until their hands went numb. Thanks to the invention of electricity, streets and home are more lit up than ever, and safely so. Lighting up the Christmas tree has become an annual event for towns across the world, and is still a big tradition in Germany.
Entertainment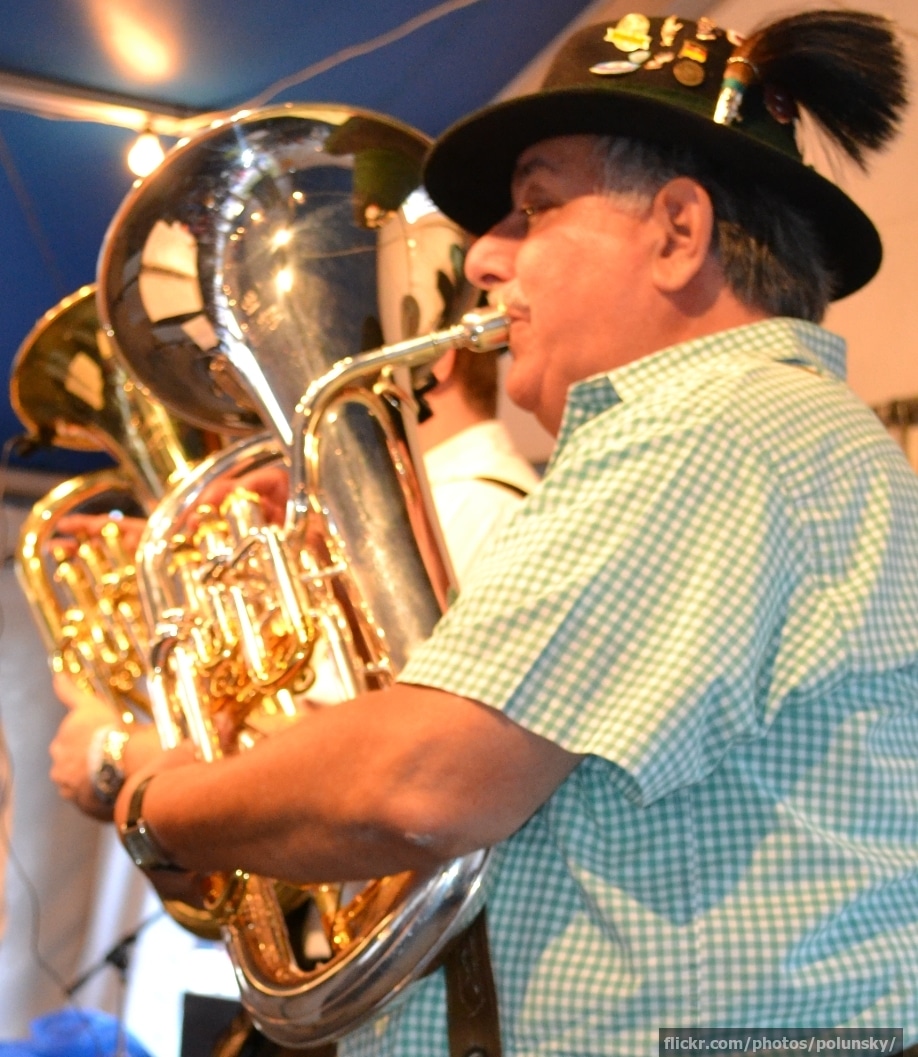 A Bavarian band, or an oompah band, will be easily heard at a German market because of the loud music being played by all the brass instruments! You'll also notice their clothes, which are traditional lederhosen (the leather shorts). In both East and West Germany, folk songs called "volkslieder" were taught to children. The songs were optimistic and cheerful, but when the German student revolution in 1968 took place, folk songs took a turn and included lyrics about political activism, sadness and passion. Like many genres of music, traditional folk music in Germany has changed over time and become slightly modernised, but in Germany, especially southern Germany, it's still a popular way to get the crowds up on their feet and dancing.
Planning on heading away this Christmas? Don't forget your travel insurance.