Cycling the World
By JONATHAN KAMBSKARD-BENNETT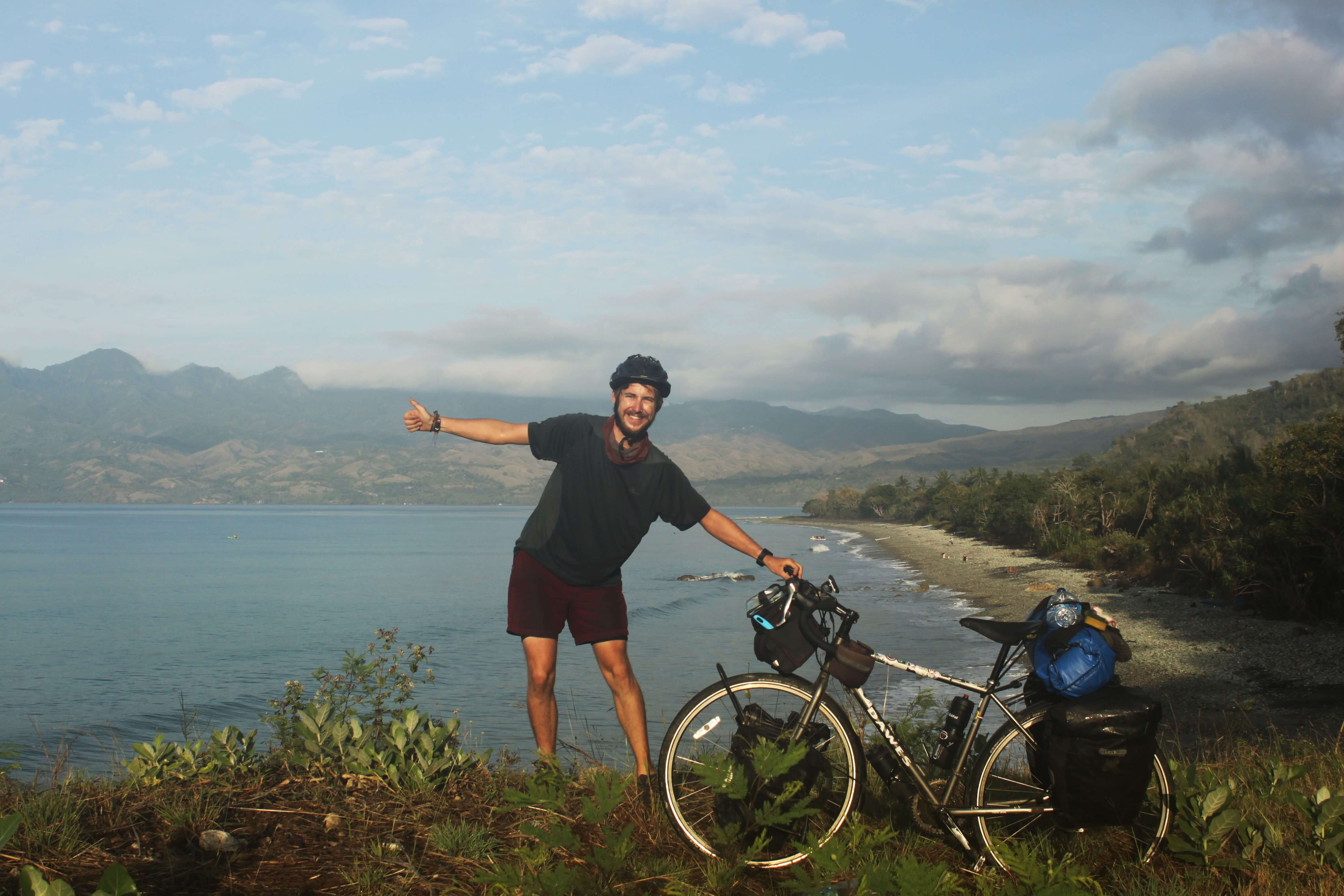 JONATHAN KAMBSKARD-BENNETT
In January 2015 I left London on my bicycle to see how far east I could pedal…
In December 2017 I arrived home having cycled around the world via 42 countries and 30,000 miles.
I don't think you could be any less prepared to cycle around the world than I was. The morning I cycled out of London, I had no idea that I would be away from home for so long – I just wanted to see how far east I could ride! Three years later I arrived back where I started with 50,000km under my belt. My challenge to 'see how far east I could go' had led to a full lap of the planet…
WHY I DID IT
I left London because I wanted to step outside my comfort zone. I was bored sitting on a crammed train, only to get off and work for minimum wage at the other end. I wanted an adventure and travelling by bicycle was the simplest way to get it. I figured I could go further with only limited funds by sticking to my bike, avoiding paying for transport and packing a tent so I wouldn't have to pay for accommodation.
The planning all happened rather quickly. I first started entertaining the idea of a long bike tour in late autumn but only actually got a bike that would carry me the distance at Christmas. I set myself a leaving date for two weeks later and spent my final few days in London stressing over whether or not the postman would deliver the equipment I'd ordered in time.
I was far from a what you would describe a 'serious cyclist' when I started this trip. I used to cycle a lot in London simply because it was a cheap way to get around and generally faster than waiting for the bus. The furthest I'd ever pedaled before leaving on this trip was the 10-mile commute I used to ride to work. I didn't own any Lycra and had never worn a cycling jersey with funny pockets at the back. My maintenance skills extended as far as a punctured tire but that was more-or-less the limit of my expertise as a mechanic. Fortunately, I made up for my lack of credentials as a two-wheeled adventurer with a very healthy dose of optimism and an ability to think 'everything will end up OK' even when every rational thought suggested otherwise.
I cycled to Dover, took the ferry over to France and began riding up the North Sea coast. I naively concluded that if I could make it up to Scandinavia in January the ride across Europe to Istanbul would be easy. That first week was hard work. The extent of my training had been a couple of laps around Richmond Park and my legs weren't ready for the long hours of riding in the cold. The morning of my trip was the first time I'd tried cycling the bike with loaded panniers and the weight put strain on my knees. I developed tendonitis and winced my way up through Belgium and Holland. In hindsight, I should have paused to rest – stubbornness can be both a positive trait and a negative one – but I couldn't bear the idea of stopping so early. So, I pushed on through the pain and after a few uncomfortable days my body started to adjust to the new routine. Thus began my love affair with bike touring and I would never want to travel any other way now.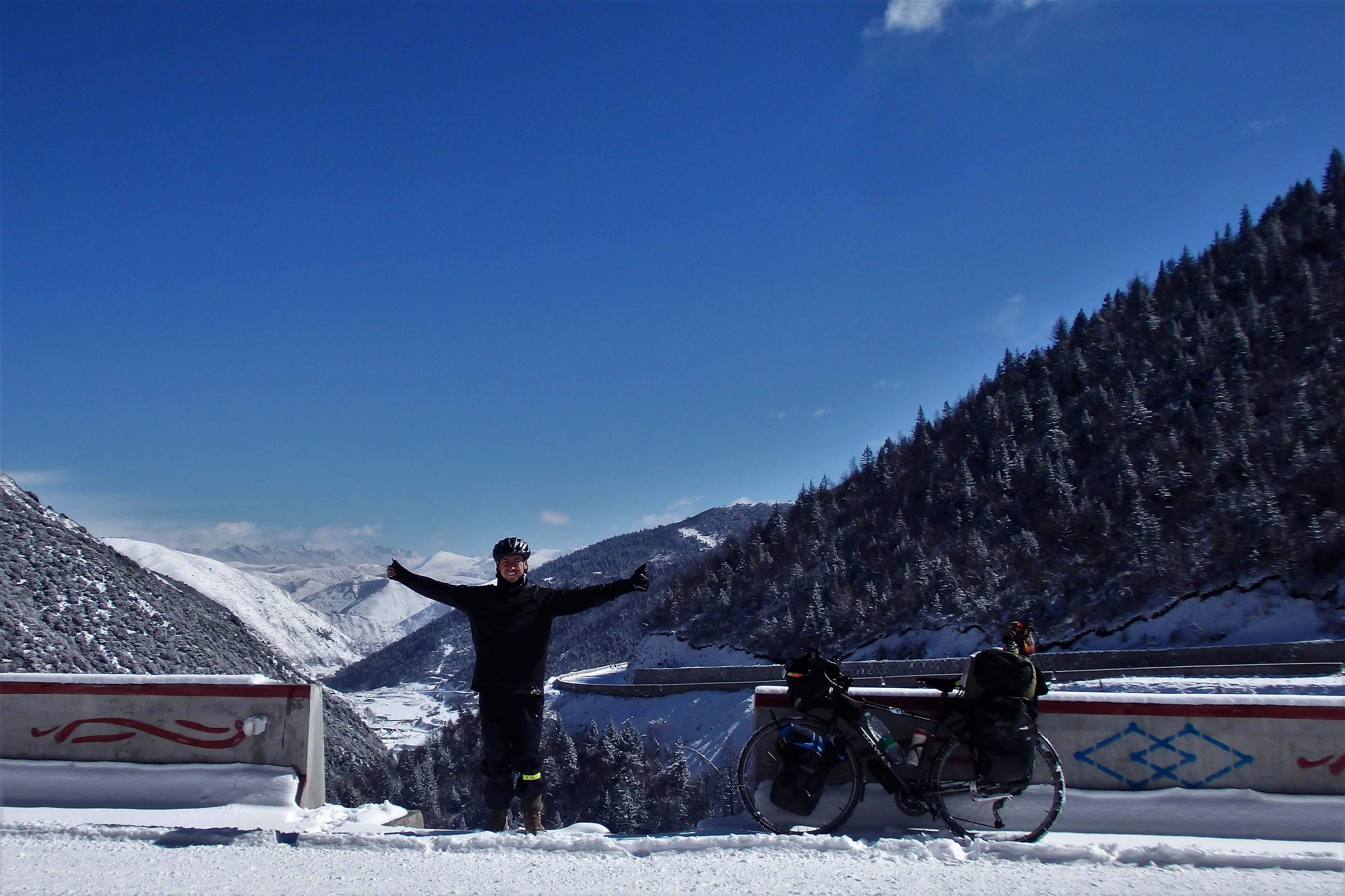 THE PEOPLE
For me, the beauty of bike touring is the way it forces you to interact with people in the places you travel. Anyone can get your attention and stop you with the wave of a hand. This does make you more vulnerable, of course, but fortunately the world is generally full of pretty wonderful people. It was these chance meetings that turned into the most special times on my cycle around the world. It was because I was travelling by bicycle that the Romanian granny could invite me into her house for Easter lunch, that I got to hang out with the Kazakh military and that I got to welcomed into a Naxi wedding in a remote corner of Yunnan, China.
The first few months I cycled with my valuables carefully stashed across my body and bicycle. I kept US dollar bills hidden in my handlebars, tucked my money belt under my shorts and locked my bike to something solid every time it was out of eye-sight for a mere second. I was convinced that I'd be getting robbed multiple times during my trip which was one of the most absurd notions I harvested prior to leaving. Although I was excited to explore new countries I was also nervous about cycling them because I'd grown up around mainstream media that seems desperate to paint the world as a dystopia of total danger.
It turns out that the world is not a scary place at all. I won't pretend that I didn't meet a few shady characters and found myself in the occasional 'hairy' situation but by and large I was usually wondering when I'd meet all the evil people that feature in the news daily. Spoiler alert – I never did. Instead, I met people like the Indonesians who let me sleep in their mosque when a storm hit Sumatra, the Aussie miners in the desolate Outback who put me up in an air-conditioned cabin and the Bulgarian man who gave me a Bluetooth speaker for my bicycle.
For me, the beauty of bike touring is the way it forces you to interact with people in the places you travel.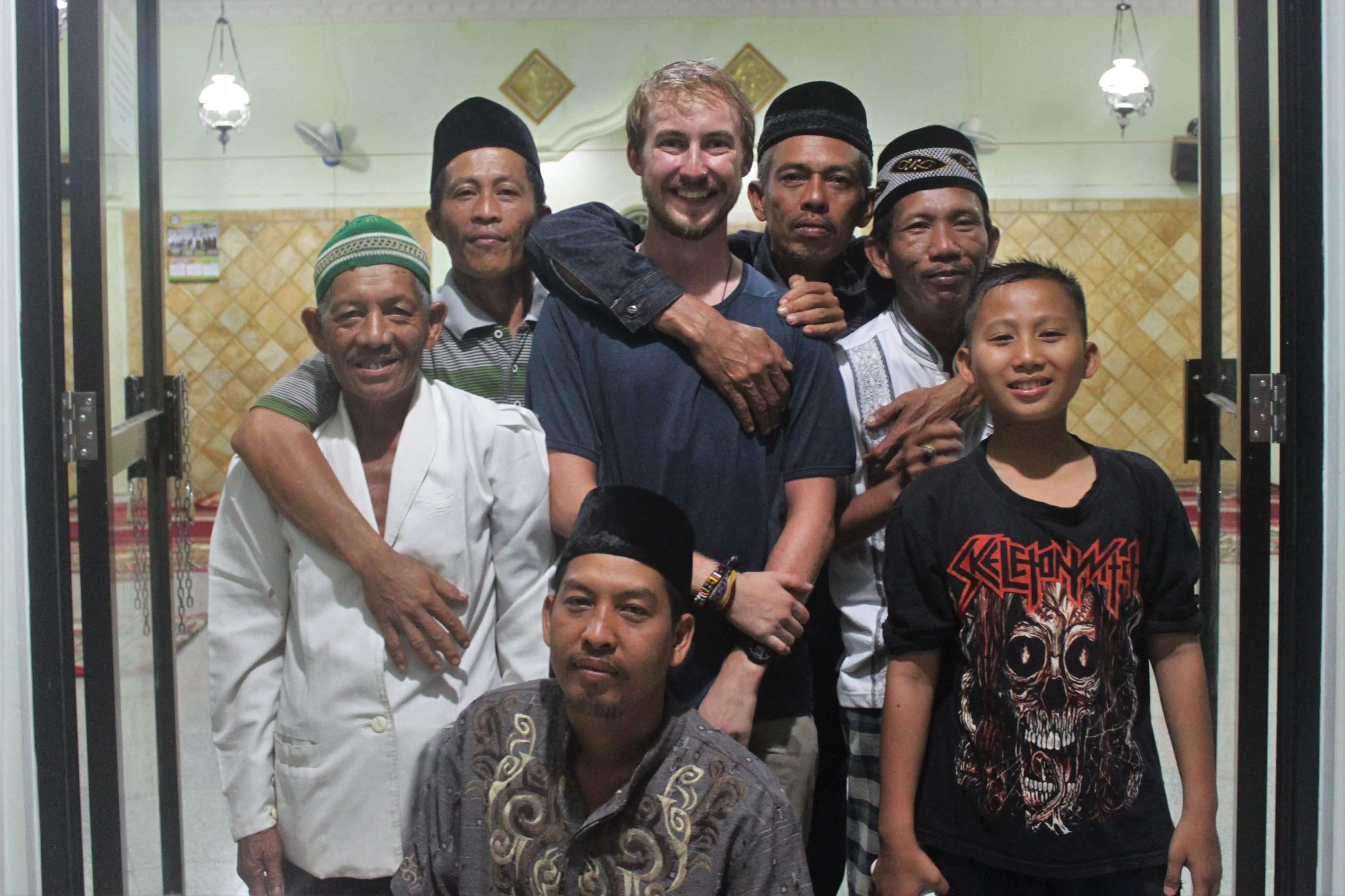 WILD CAMPING
I struggled a great deal when, in the first year of my ride, I camped at temperatures around -10C in Tajikistan. But, after a few rather uncomfortable nights, I figured out how to stay safe in cold temperatures, so when I encountered night time lows of -20C on the Tibetan Plateau I was prepared for them. I had two sleeping bags, a thicker floor mat and good quality base layers to get me through the night.
When dawn arrived, I'd have my water ready in thermos flasks and my food stored inside the sleeping bags so that nothing froze during the night. When I first started wild camping in Europe I found it scary to just slip into the woods at dusk and set up camp. But the more I did it, the more comfortable I felt sleeping rough. When you decide not to pay for places to sleep, you develop an inner 'stealth camping' eye and suddenly anywhere becomes a potential bed for the night. I've camped in many strange places: underneath Chinese motorways, in Buddhist monasteries in Myanmar and next to police stations in Indonesia. Sometimes you find a pitch so beautiful you wonder why you'd ever want to sleep inside four walls. I'll never forget my campsite on top of Timor's highest peak Mt Ramelau with views stretching across the whole island. Nor will I ever forget the moment I stepped outside my tent in Iceland for a wee in the middle of the night, only to find the Northern Lights plastered across the sky above my head. Who would rather sleep in a hotel?
When there was no option to stealth camp I would ask people in villages if I could pitch by their house, but frequently I was invited to stay inside their homes instead. I'd often force myself to do this when I first arrived in a new country to make sure I was getting to know the locals. On my first evening in Iran I rolled into a small village in the mountains asking for a place to camp. It was Ramadan and I was invited to stay with a family who offered me dinner before they had even broken fast. Similar stories happened time and time again around the world, with strangers going out of their way to extend a helping hand to me.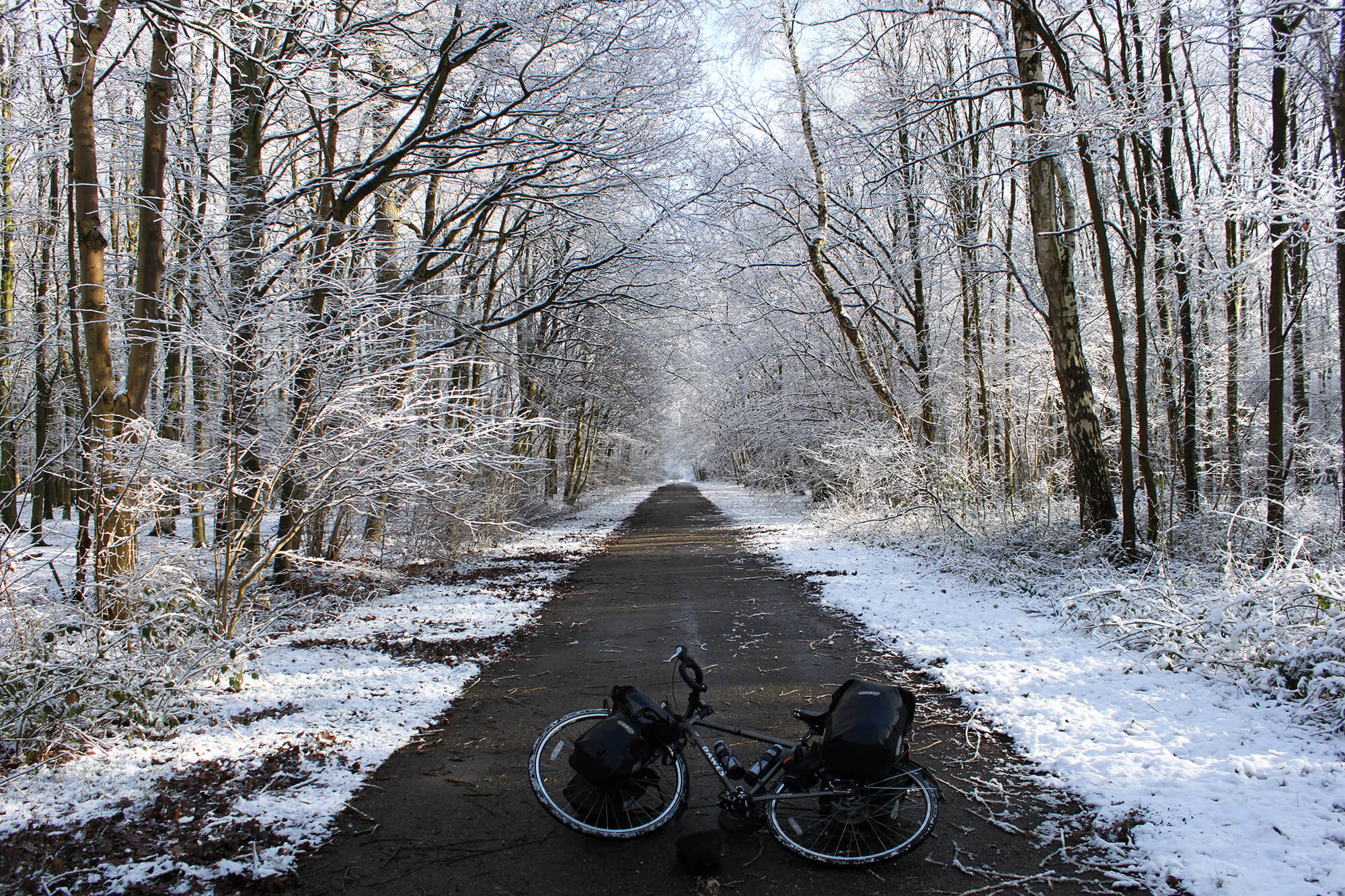 LESSONS LEARNT
In hindsight, I wish I had known a little bit more about bicycle maintenance before leaving. Amazingly I didn't get a single puncture until I had pedaled almost 10,000km after 6 months on the road. That first flat happened when I was in Armenia, near to the border with Iran on a hot July afternoon. The landscape was arid and sparse, and I had to drag my bike a good way to find some shade from the pounding summer sun while I switched tubes. I got back on the road after an embarrassing amount of time but when I next had to change a flat it took no time at all.
A couple months later I realised I'd been carrying the wrong size spare chain all the way from Denmark to Uzbekistan. After that awkward realisation I decided to check that my other spare parts were indeed the correct ones. Lo and behold, the extra tire I'd been carrying as a backup for the deserts of Turkmenistan was also the wrong size. Stupid, yes. But not a disaster. If you are cycling on a road and run into trouble all you need to do is stick your thumb up and wait patiently until someone can give you a ride to the next bike shop.
That is, of course, far easier said than done. I remember the morning the bearings in my pedal wore through and it slipped right off. That happened on an empty stretch of road in the Australian Outback. On that occasion the nearest building was 100 miles away and I wouldn't be passing a bike shop for a week. But this was now over a year since I'd made my mistakes in the deserts of Central Asia and I was wiser from them. I'd mastered my life on the road having conquered the high mountain passes of Tibet and travelled the jungles of Southeast Asia. When my pedal slipped off in the empty Outback I had more than 20 litres of water with me and food for days. I balanced the pedal back on and continued with caution on the tarmac. It was slow and tedious cycling, but I'd learnt that the art of bike touring is not in your leg muscles – it's in your stubbornness and resilience.
Besides, learning on the job is far more fun. This doesn't just apply to skills in logistics or maintenance, it's learning about your mental and physical capabilities as much as anything else. During my first section of cycling more than 4,000m above sea level in Tajikistan I really struggled with altitude sickness. When I was next up at those heights in China half a year later, I was much more comfortable with the lack of oxygen and had a better understanding of how it would affect my cycling.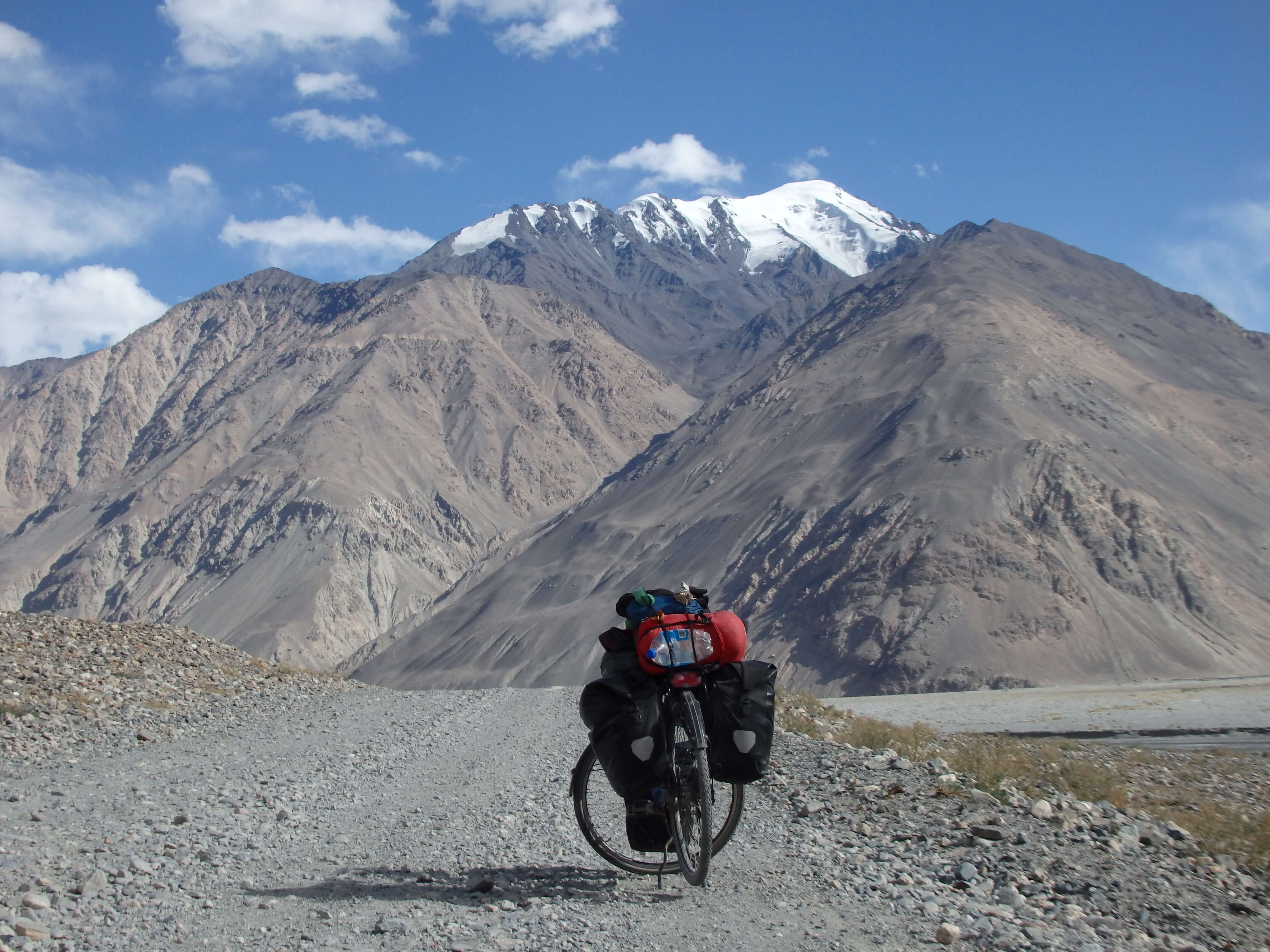 LOOKING BACK
There is no right or wrong way to travel by bicycle. People have been riding vast distances ever since Thomas Stevens cycled around the world on a penny farthing in the 1880s. Times have changed and during my three-year ride I was overtaken by fellow cyclist Mark Beaumont, who reclaimed his record by cycling around the world in an astonishing 80 days on a swanky carbon bike with an accompanying support team team. I certainly didn't face a race. Nor was I interested in breaking any world-records. Cruising along at 10mph somewhere new and beautiful is exciting enough for me.
Bike travel opens up the opportunity to travel in a way that is totally unique for each of us. With your own two wheels you are your own boss: it is you who decides what route to travel, how far to ride each day, who to stop and talk to and how much to spend on the way. Whether you want to sleep in the wild or stay in fancy hotels, cruise on smooth tarmac or hunt out the gravel trails in the mountains, clip in your pedals or just ride in sandals, all you really need is two wheels beneath you.