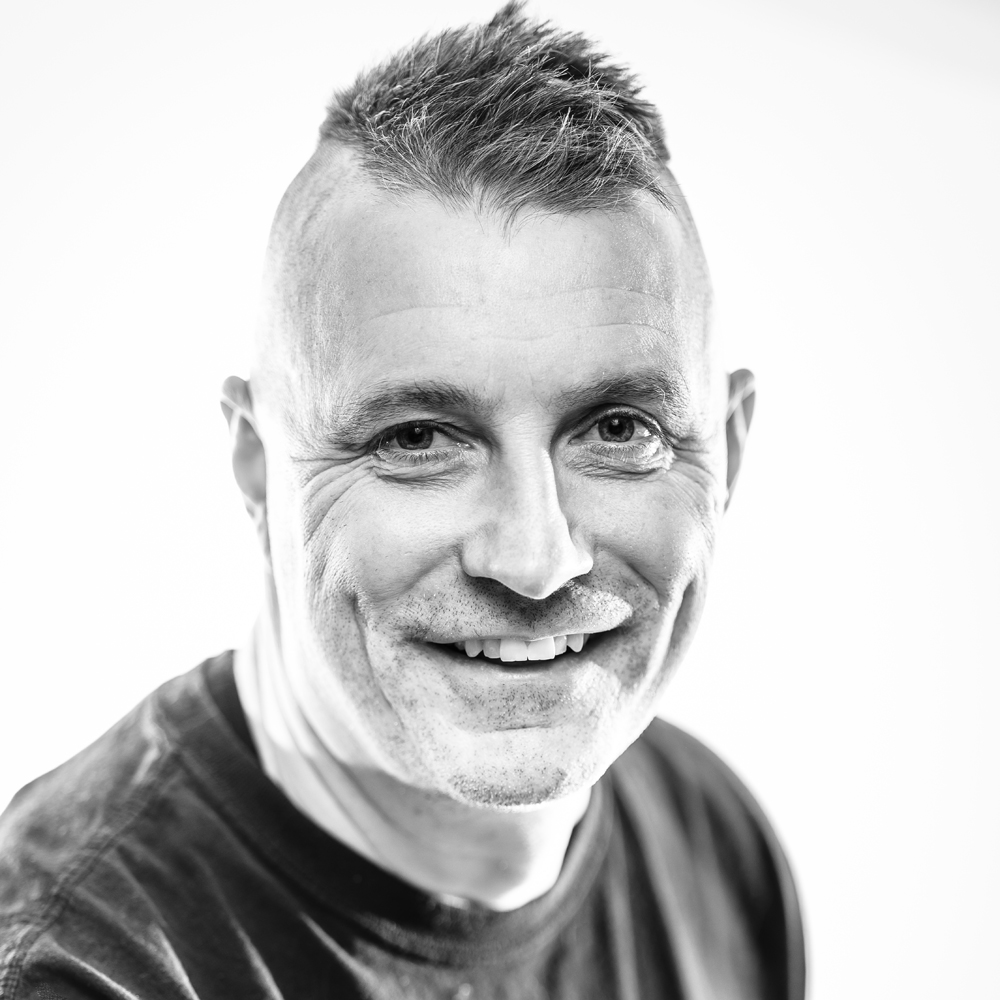 Peter Mather
Peter is a photojournalist and conservationist, using his photography to tell interesting and important stories. Peter strives to inspire people to be empathetic and compassionate for the natural world and the animals that share our planet.
Arctic Circle adventures
The landscape below is white. Cold white, with stunted black trees – the type of trees that are found north of the Arctic Circle. Beneath our little bush plane, a pair of wolves sprints towards what could loosely be called a forest. In the middle of the small lake below us is a red spot with a dozen ravens on it. A caribou kill. Our plane has interrupted the wolves' meal and even in this, one of the remotest places in North America, wolves know to be afraid of planes and people.
We are flying over Crow Flats, a massive wetlands complex in the North Western Corner of Canada. Two hundred kilometers from the nearest road and one thousand kilometers from the nearest city.
We're out to get a never before seen shot of the caribou migration. It's April 25th and it feels like spring is around the corner – but there is a very different reality on the ground below. It's definitely still winter down there.
We continue past the wolves, driving further into the wilderness when our pilot suddenly pipes up.
"You want to hear the bad news, Pete?"
"Not really" I reply.
"Too bad", he says, "there is something wrong with the intake. I can't get my RPMs up. We are going to have to drop you off here."
I have no idea what he is talking about, but this is a big problem for us – we're nowhere near our intended drop off. We circle one of the 10,000 small lakes that make up Crow Flats, searching for a safe landing spot on the ice. Sixty minutes later, the plane buzzes us and heads home.
We are left alone, with 700lbs of gear on a small desolate lake in a colorless landscape, 120km from our intended destination.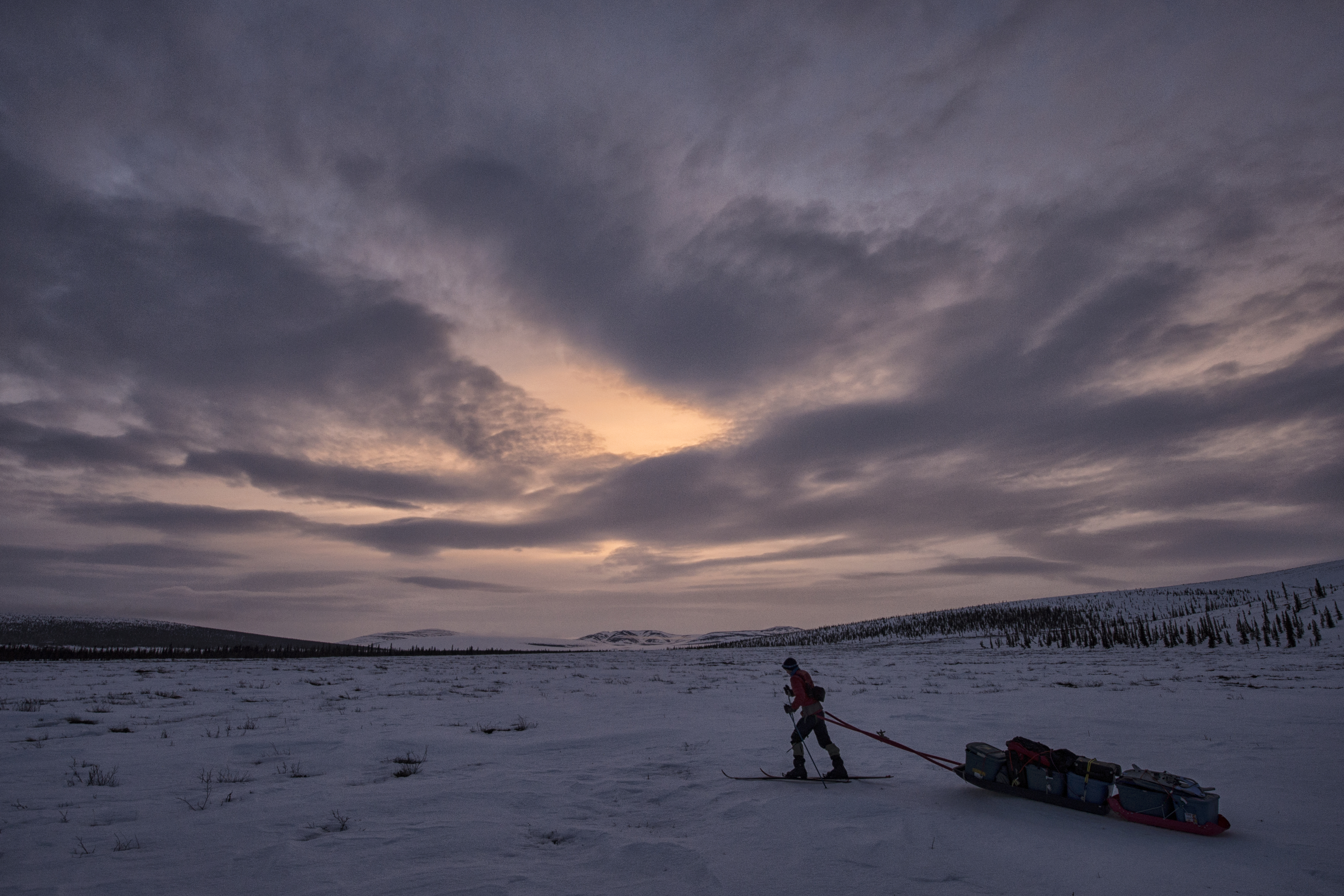 Margaret Lake in Ivvavik National Park
The plan was to drop filmmaker Marty O'Brien and myself at Margaret Lake in Ivvavik National Park, where we would set up a nice leisurely base camp and patiently wait for the 200,000 strong Porcupine Caribou herd to pass through our location on their annual migration to their calving grounds in ANWR. This photography expedition was the culmination of 3 years worth of work, photographing the caribou along with the Gwich'in people who depend on them. Our aim was to highlight the threats they face from oil and gas development happening in the herds' calving grounds in Alaska's Arctic Refuge. Something that myself and Marty, feel very passionate about.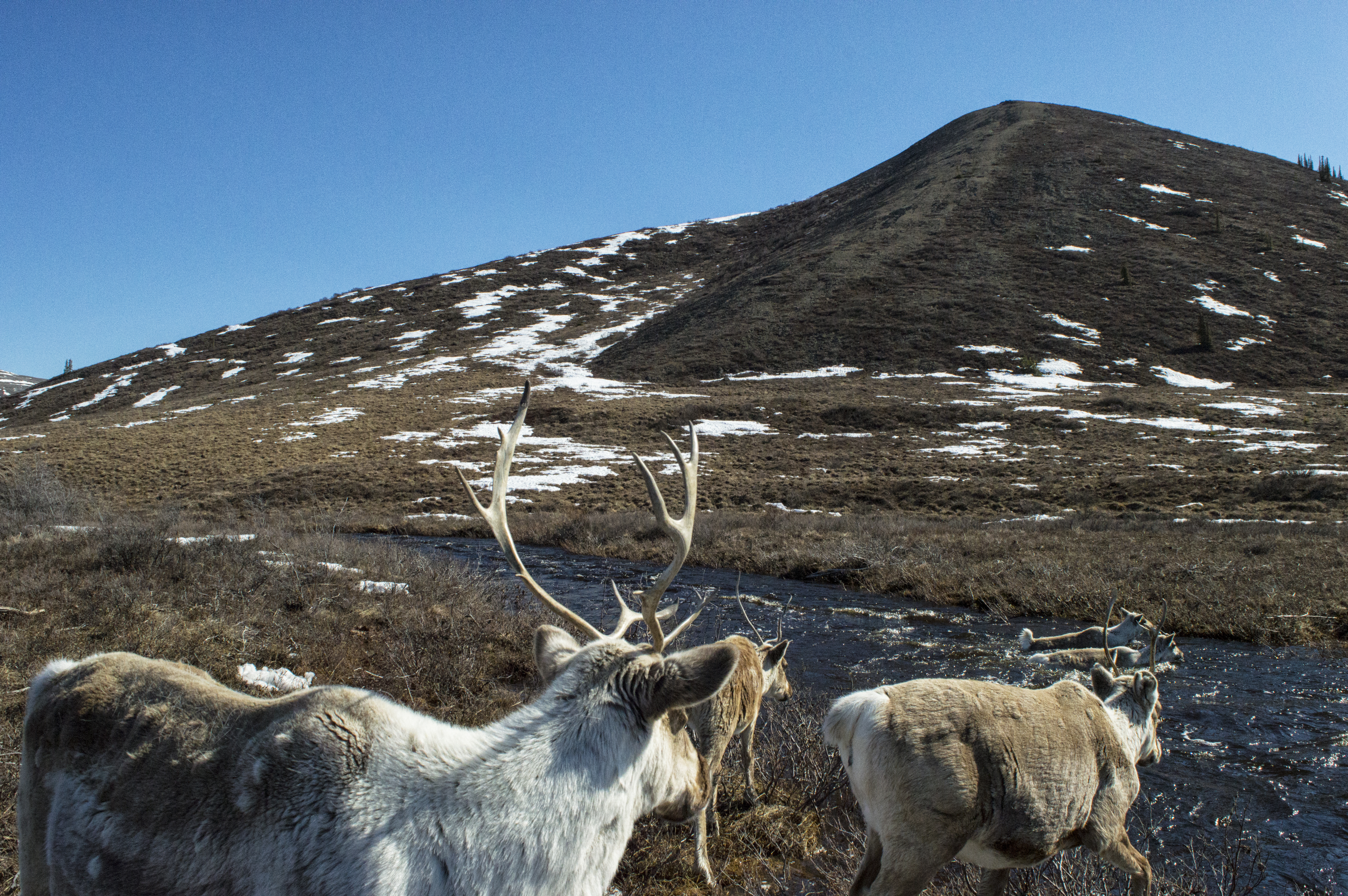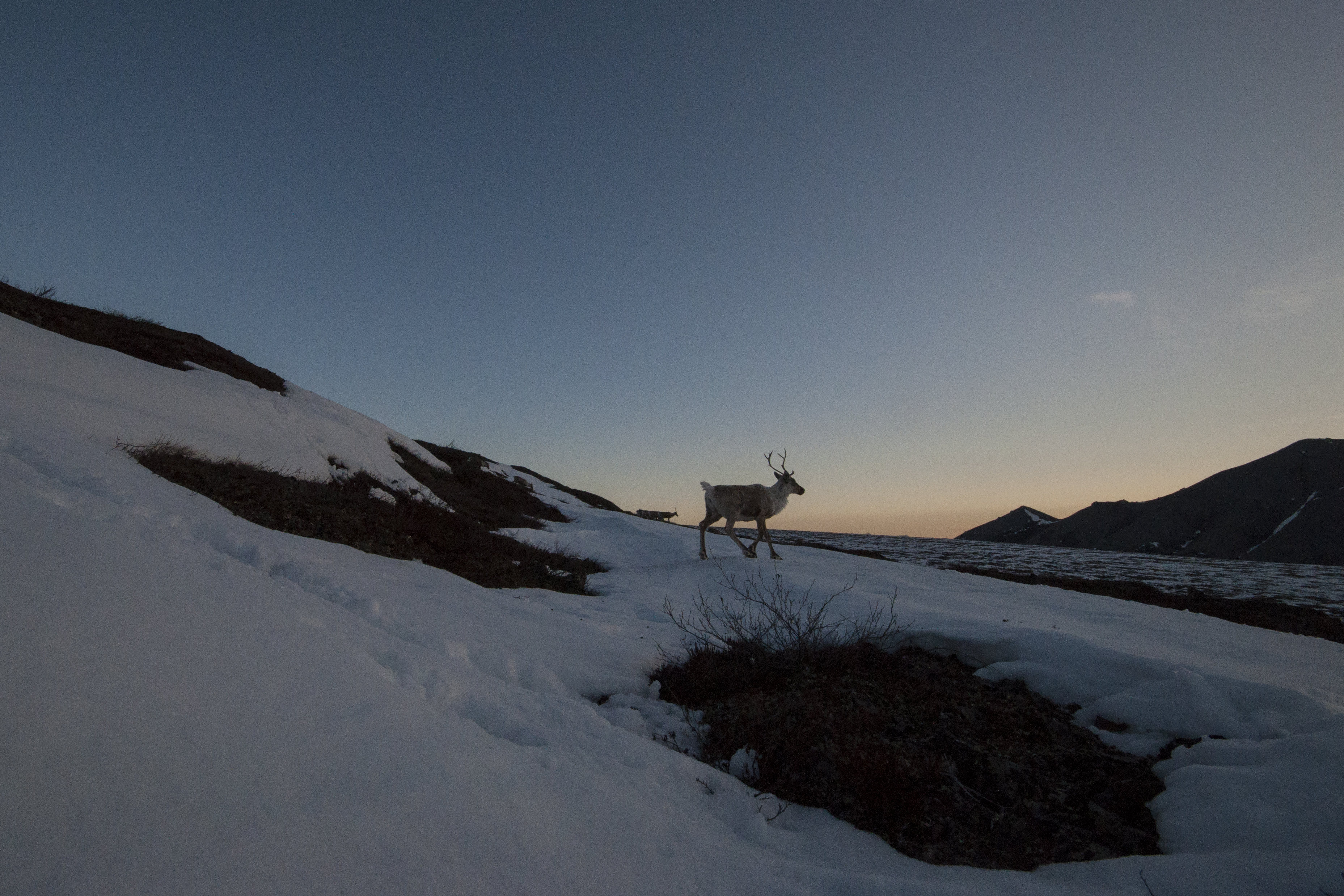 The image I'm chasing is an intimate image of the incredible migration the caribou take every year and I have to use remote, laser activated camera traps to get it. With the plane malfunction, we're now forced to ski 120 kilometers to Alligator Lake and we need to get there before the caribou, so we can set up camera traps. We're actively racing against the animals we're seeking.
A normal 120km ski trip wouldn't be that bad. But, we're are not properly prepared for a ski trip – physically or mentally. A normal ski expedition like this would have me towing 150lbs of gear – not 700. We have packed and prepared for a base camp situation, not a cross country expedition. It was going to be hard work physically, but I knew that it was going to be no mean feat mentally, either.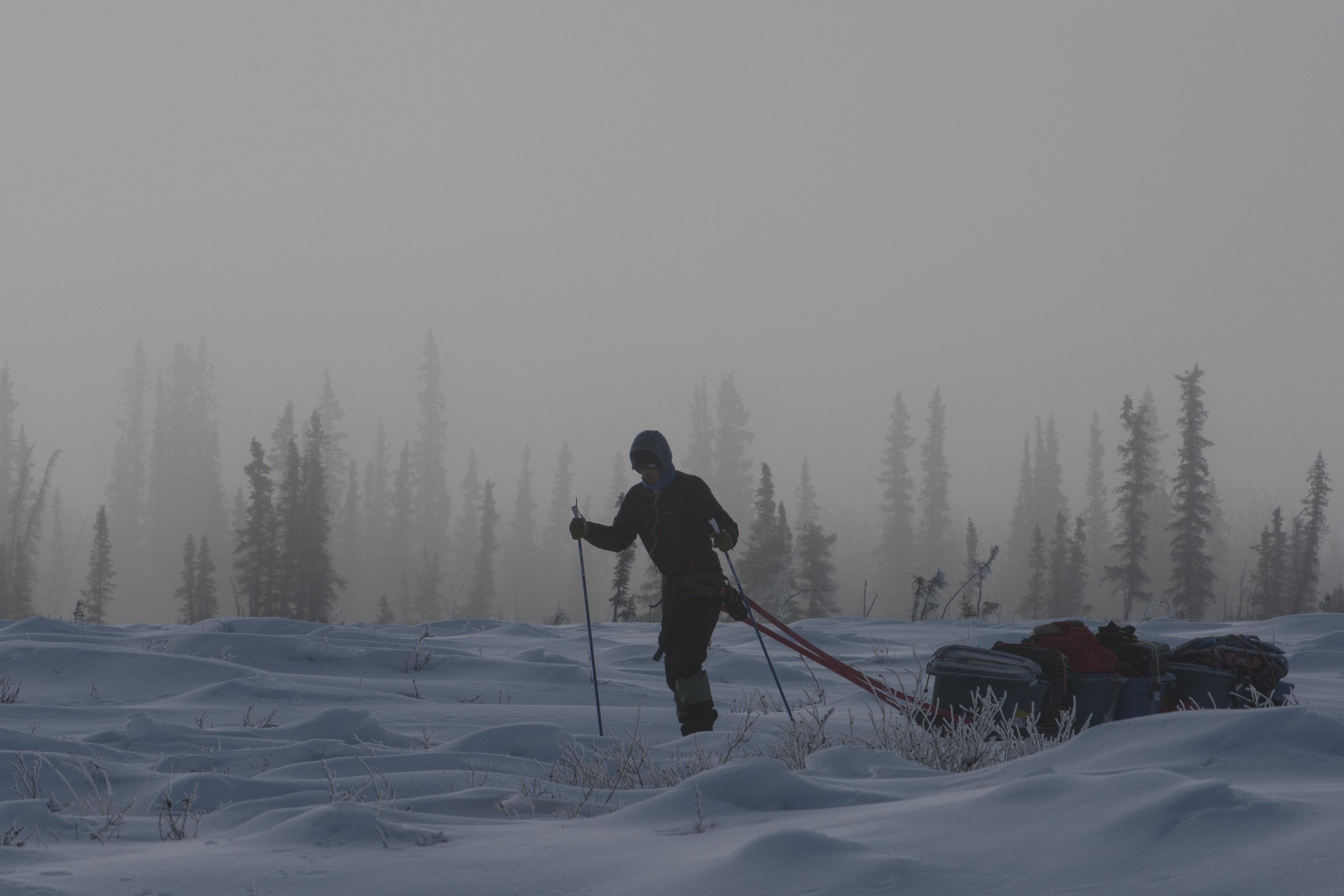 By the time, the plane has buzzed us, we are already packed and moving. The pressure is on and we can feel it. We have both invested more money and time than either of us really have in this expedition, so we have to get there. Despite our nerves, things begin perfectly, and we are flying across the frozen lake. The sleds slide across the ice like skates and within minutes we have skied half way across the kilometer-wide lake.
With a burst of enthusiasm, Marty says the fateful words he will shortly eat, "This is great Pete, we are flying. If we can keep this up, we will be there in no time."
I stay quiet and nod my head. I don't have the heart to tell the inexperienced, warm-blooded Australian what will happen when we are off the lake and hit the snow that covers the rest of the landscape.
My worst fears are realized minutes later, when we begin climbing a slight rise at the edge of the lake. After 45 minutes of pulling, pushing and swearing our asses off, we stand atop the hill, a good 40 feet from the lake. Marty crouches over exhausted, his head hanging between his legs. "Pete, we are never going to make it."
Again, I stay quiet. I try not to get too high or low. I know it's best just to keep it steady and just get it done. But I'm discouraged. Heartbroken. And it's hard not to be. We have too much gear and the snow is too soft. It seems impossible.
Challenges
We must move on, but our skis and sleds are constantly breaking through the upper crust of hard snow. Our frustration increases as we move, and after a long 8 hours of slugging through the slushy snow we have only made 3 kilometers. We are excited to be on an adventure, but we are both quietly wondering what is possible.
The next two days are more of the same. We manage to put in 12 hours and cover a total of 10 kilometers. We have over 100 kilometers to go, and at this rate, we won't arrive for 20 days and will miss the migrating caribou completely. To make matters worse, we have to deal with blisters. Marty's feet are essentially one large, swollen, and puss filled blister. We have to come to terms with the – quite literally – painful truth that he can't ski tomorrow. I don't show I'm quietly relived, as we have pushed our bodies and minds to the limit in the last three days and I'm too tired and afraid to ski tomorrow. We make the tough decision to rest for a full day.
We sleep and eat away our rest day, before Marty comes up with a new plan. "Maybe if we ski through the night, the cold night crust might just hold us up and we can make better time?"
"Shit man, if it means we can get an extra day of rest, let's do it." I reply.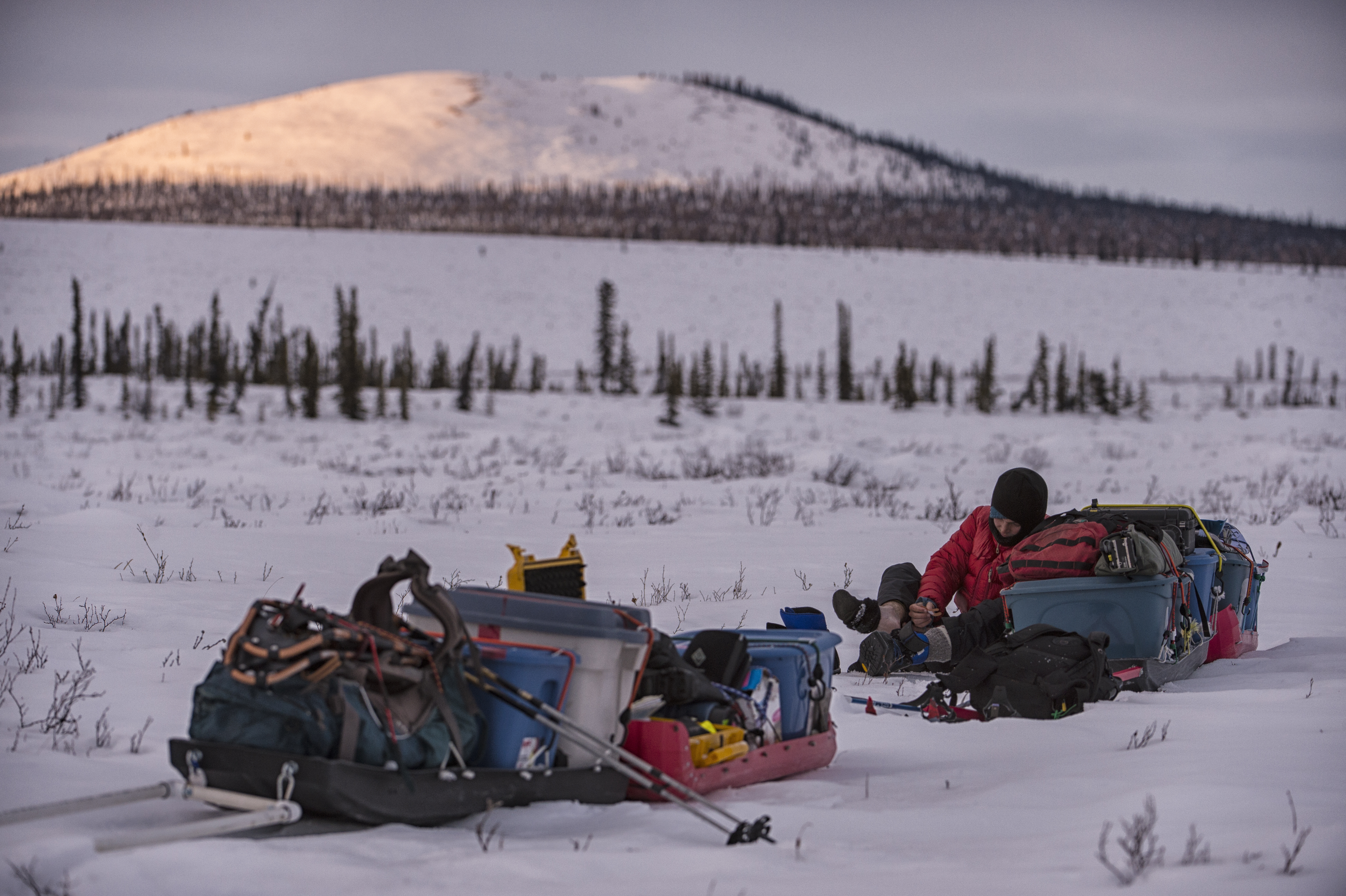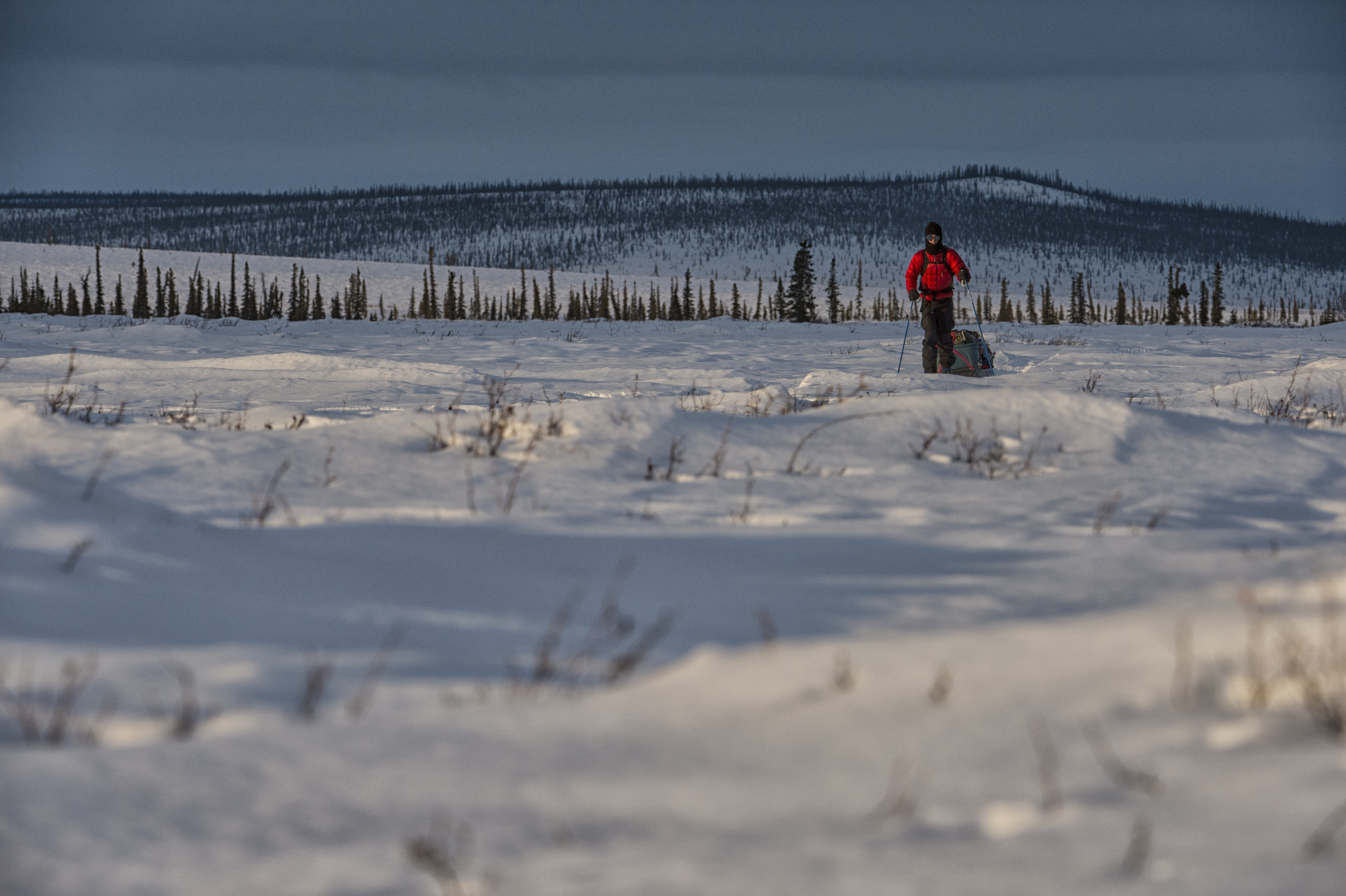 As night approaches after the second rest day, we turn our head lamps towards the metaphorical trail and begin our first night of skiing. The first signs are promising. We still break through the snow, sometimes breaking through every step for 50 metres but also managing to go 100 metres without breaking through. We're moving much faster. Our first night, we make 8 kilometers and are rewarded by crawling into our sleeping bags under the warmth of a mid-morning sun. We sleep outside without a tent, using minus 40 rated expedition sleeping bags.
Our nighttime skiing schedule is working great. We can consistently make 10 km a night if we really push ourselves, but it is still a battle. We are still breaking through the top crust of the snow at times, and the lead skier is doing 3 or 4 times more work than the follower.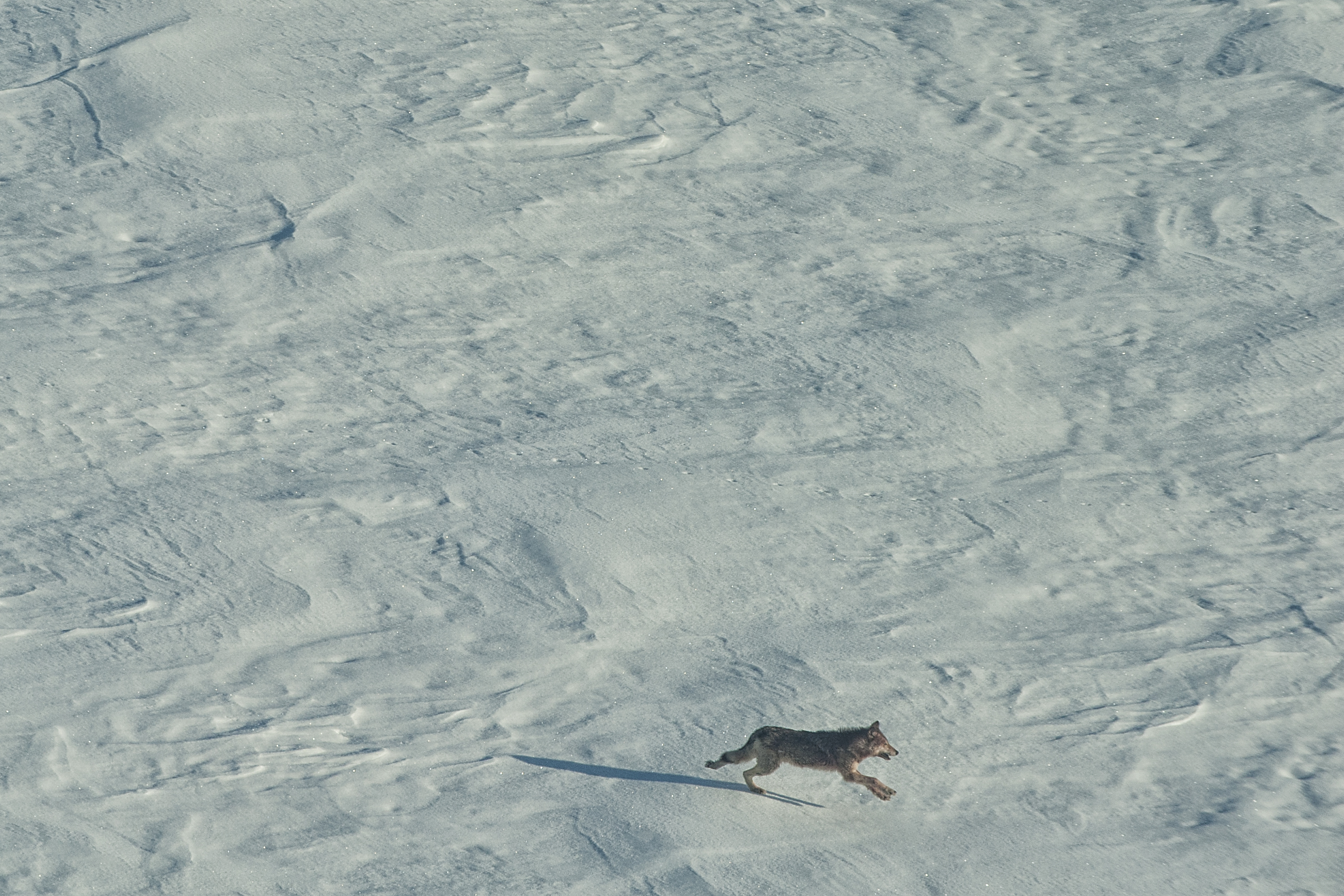 Highlights
When I'm in the lead, I push myself for hours, before breaking down mentally. I find myself inching along on a layer of strong crusted snow, praying that I won't break through, watching and listening intently until the snow cracks and I sink two feet down.
My heart sinks with my body and I'm ready to cry. We are a good team though and whenever I get to this point Marty pulls beside me, "I'm feeling good man, why don't I take the lead?" Then off he goes like a snow plow, leaving me a beautiful trail.
At the best of times we would get a half kilometer of hard flat snow, and we could ski side by side and chat under a brilliant dark blue sky. It was during these times, when I felt a kinship to the Gwich'in First Nations people who travelled this route for centuries.
The highlight of each day is the one hour we listen to the Game of Thrones audiobook on Marty's iPod. We would literally join Jon Snow and Samwell Tarly beyond the wall as they traversed that white, treeless landscape of the Whitewalkers and Wildlings. Really, we didn't feel that we were too far separated from them.
Muskeg Creek down to Alligator Lak
Day 10, we must summit the watershed we are traversing and follow Muskeg Creek down to Alligator Lake. Cresting the wind-blown summit, we are greeted by a beautiful rising 6 am sun. Once again, we are given respite at a low point. We push over the windy summit and keep going until the sun is warm enough to sleep under.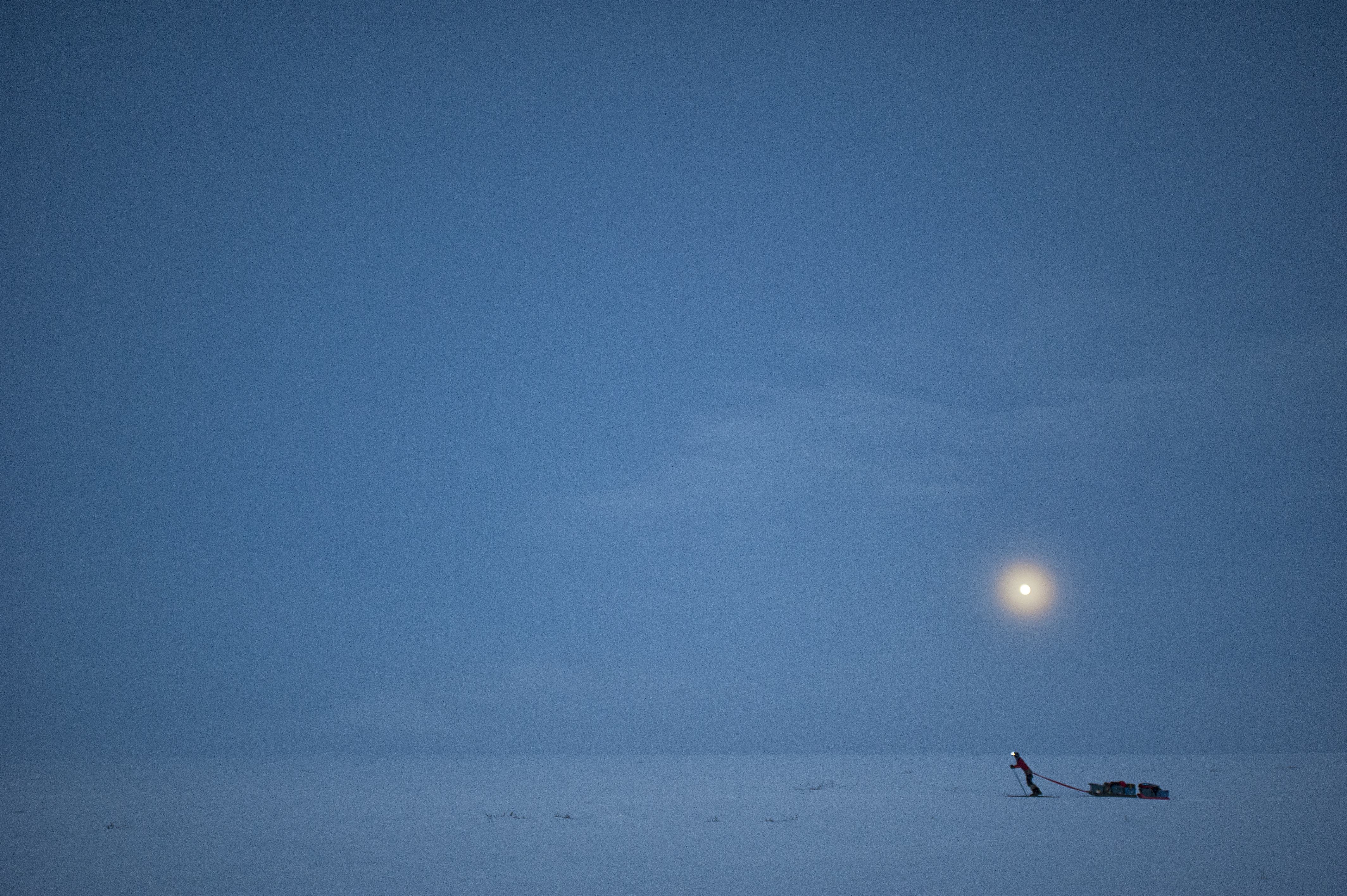 As we get lower into the valley, we find deeper, softer snow and have trouble floating on top. We are still 20 km from Margaret Lake and it is a cold, minus 20 morning, hoar frost covering all the trees with a beautiful layer of white shining crystals. A wind howls through the trees. We sit and marvel at it. It's the perfect photography location and on the expected path of the caribou. We discuss the possibility of making a base camp and when the howling wind stops, we realize that it wasn't wind at all and the howling was actually coming from a pack of wolves in the forest ahead. We see glimpses of them through the trees. The wolves are a sign that the caribou are near and we agree to set up here. We have finally made it.
We crack out the satellite phone and call the caribou biologist to get an update on the caribou herd location.
After the incredible push we did to get here, after testing ourselves physically and mentally, we learn that the caribou stopped migrating as soon as we were dropped off by the plane. They are still 150 kilometers away – roughly a week.
It was a bizarre feeling. Hilarity mixed with disappointment. All that stress and work for nothing. We'd have to wait anyway.
The photo I'm dreaming of is a picture from the top of a mountain looking down at a line caribou, stretching for a kilometer. Once the first group of caribou pass by, I'd planned to set up the camera trap on one of their trails. A laser across the trail, when tripped, would take a series of pictures, enabling to me to get unique image of a caribou from close up, with a line of caribou stretching behind it for kilometers.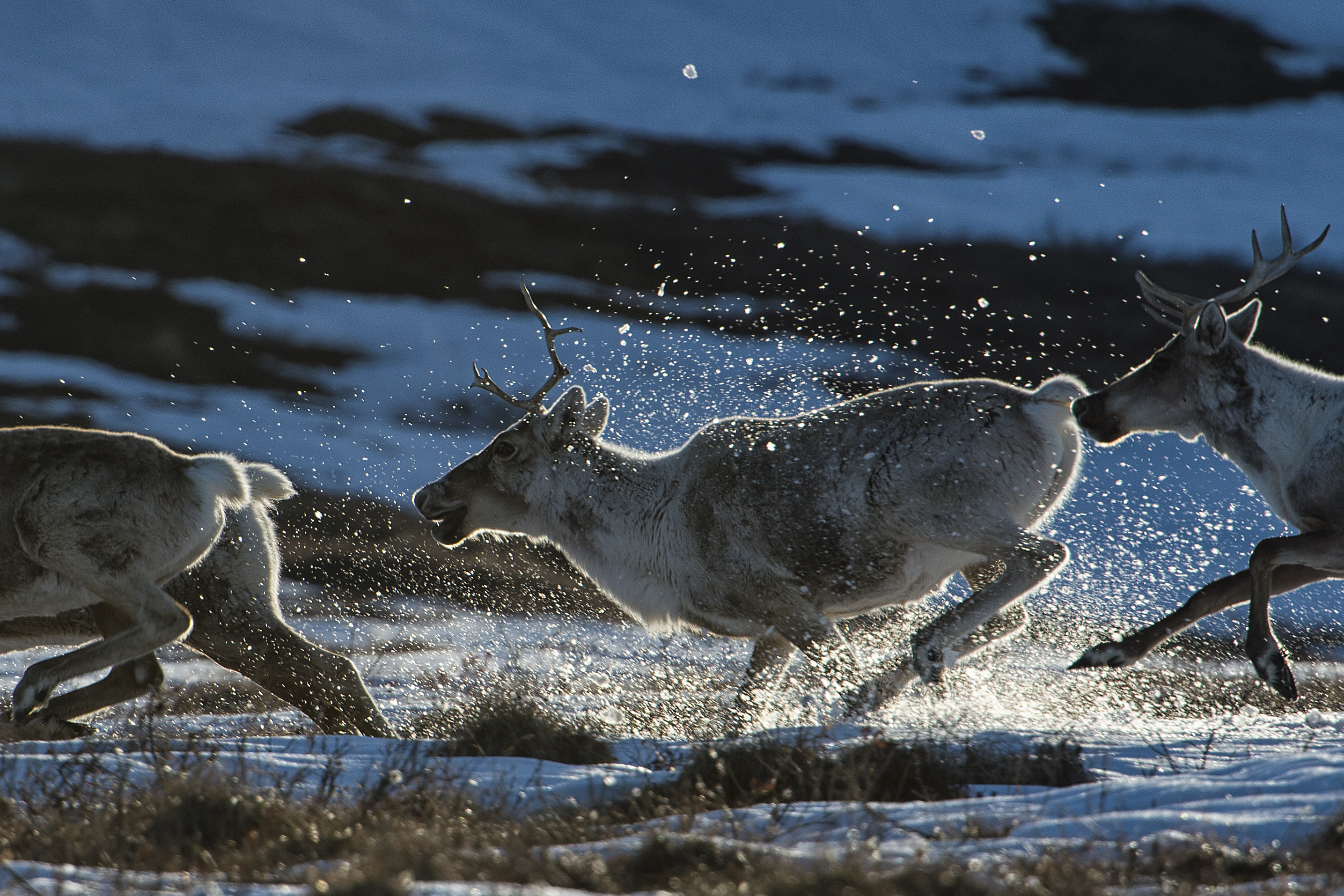 I'm excited. And really, I shouldn't have been surprised when mother nature threw us yet another curveball. Over the next week, the temperatures climb dramatically. After seven days the temperature has increased by 40 degrees and we are forced to move camp up a mountain. The snow has melted and the creek bottom is under 5 feet of water. When the caribou finally arrive, it is basically summer. The caribou are not travelling in lines or on trails, they pass through in loose groups of fifty, slowly grazing on grass. My plans for the perfect photo melt with the snow.
Before we are picked up by helicopter, Marty and I make a promise to each other, we agree to look back on this trip as a good experience. But we also make a pact to always remember the hell that it was, to ensure we never try something so stupid again.
Our pact doesn't last long though. The lure of the perfect photograph is just too much. We try again the next year, unsuccessfully again. We've not managed it yet but every time we meet for beers, we relive our adventure like it was the best time of our lives, despite the pain, the disappointment and the blisters. It seemed to be worth it and our longing to get the photograph always seems to take over. We're planning to return again: the chase continues.
Gallery