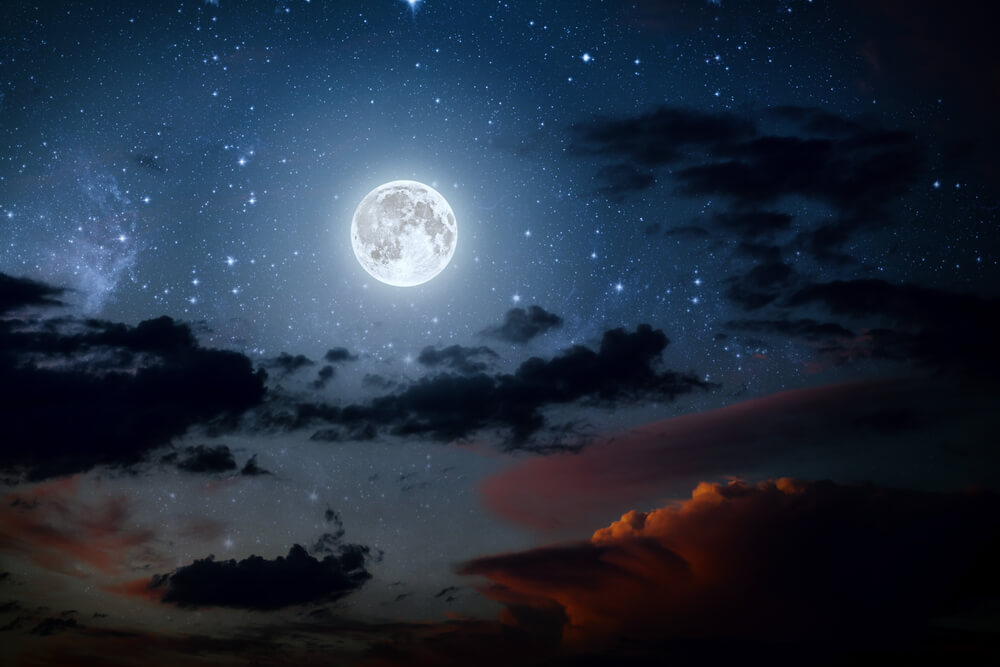 Adam Shore is an astronomer and astrophotographer based in the north east of England. Currently working at Kielder Observatory, located within the Northumberland International Dark Sky Park, his day-to-day job involves educating people of all ages about space and astronomy.
After finding an interest in space at an early age, Adam found himself studying for a degree in Astrophysics and continued to work in their Physics department after he graduated, running stargazing events to help more students fall in love with the stars above us. Now working at the Kielder Observatory, Adam tells us why lockdown was a great time to start looking at the stars and why the future is bright for space exploration.
Capturing startrail's
It's the middle of the night in the depths of winter. I'm sat sheltering from the chilling wind within the ruins of Rothley Castle, an 18th Century folly built to resemble a medieval fortress.
Here in the Northumberland countryside, far from the unwelcome intrusions of city lights, there are thousands of stars overhead. The temperature is in the minuses and my fingertips are frozen, but I couldn't be happier. Amidst the silence and serenity, the only noise I can hear is the periodic clicking of my camera shutter. Every 20 seconds, a new photo is taken of the castle with the dark skies above it. This will continue for an hour – producing over 180 images.
With my viewfinder set facing north, the aim is to capture a 'startrail', illustrating the movement of the stars over time in a single image. Sat in darkness as I wait for my camera to finish shooting, I'm able to reflect upon how I got to where I am now.
Space and Astronomy
Space is a topic that has always fascinated me. I can remember in science class always being disappointed by how little was covered on the topic. Now, as an adult working in this field, I see this as both a real problem and a great shame.
Space and Astronomy are areas that feed our innate curiosity. Where did we come from? Are we alone? Especially at a young age, space is a topic that can introduce an individual to the world of science in an amazing and exciting way. Look up at the sky from somewhere dark, and with just your naked eye, you can easily see other worlds within our solar system and even glimpse deeper into our galaxy.
However, with limited time devoted to the subject of space in the classroom, and an ever-increasing amount of light pollution in towns and cities, there's often little opportunity for young people to take part in their own astronomical journey.
Although I've been interested in space for as long as I can remember, my personal journey didn't begin until I got my first telescope at the age of 16. It was Christmas 2011 when I opened a large box to reveal a stunning orange telescope, eight inches in diameter and resting on a swanky motorised mount. I was overjoyed.
I can still remember those winter nights stood in my parents' back garden looking up at the night sky. With shivering hands trying to control the telescope, and the automatic house floodlights causing a nuisance, it was hardly the ideal astronomical site. But it was enough to get me hooked.
First attempt at astrophotography
My first attempt at astrophotography was with that telescope. Using just a smartphone pointing down the eyepiece of the telescope, I was blown away by the fact that I could actually take photos of the Moon. Nowadays, some smartphones are powerful enough to take detailed images of much fainter objects, and even capture the Milky Way without the need of a telescope.
These days I have more of a love-hate relationship with the Moon. I will never get bored of seeing close-up views of the cratered surface through a telescope, but at the same time it can negatively impact the rest of the sky.
There's no moon in the sky now on this cold night at Rothley Castle. This is intentional. Just like streetlights at home can ruin views of the night sky, a bright moon acts as a significant source of natural light pollution.
However, with no moon tonight, the darkness engulfs me. The only light I can see is the red flashing light of my busy camera, along with thousands of distant stars. As I look to the sky and soak in the view, occasionally I will see some appear to move.
During imaging sessions like this, it's normal to have the odd photobomber. Sometimes it may be the flashing light of a plane, other times it may be a satellite as it orbits Earth. But no flying saucers, unfortunately. Not yet, anyway.
We live in exciting times, astronomically
We live in exciting times, astronomically speaking. Our understanding of the universe grows every day, however there are still plenty of mysteries to be solved. The growing commercial space industry, with competing private companies such as SpaceX and Blue Origin, is bringing new opportunities for space exploration.
Although a holiday to Mars may still be quite far off, in recent years reusable rockets have greatly reduced the cost of going to space. This year has seen the first commercial rockets taking astronauts to the International Space Station (ISS). And this is just the beginning. But you don't need to be an astronaut to be part of this development.
Imagine a chain of 'stars' moving across the sky together at steady speed. Only in this case each 'star' is an individual satellite the size of a table, weighing 227kg, and travelling five miles a second as it orbits the earth
In the midst of a global pandemic that resulted in lockdowns, furloughed workers and school closures, the year of 2020 provided a lot of people with more spare time. Naturally, this drew a lot of eyes up to the night sky. And there was plenty to look out for. While life on Earth may have come to a standstill for many, life in orbit was only getting busier.
During the first national lockdown within the UK, there were several launches of SpaceX's Starlink satellites. Starlink is a planned constellation of 12,000 satellites intending to provide global high-speed internet.
Controversy in the astronomical community
It is controversial in the astronomical community due to concerns around potential light pollution. However, with 60 satellites being sent to space with each launch, the sight of a Starlink 'train' passing overhead is remarkable.
Imagine a chain of 'stars' moving across the sky together at a steady speed. Only in this case each 'star' is an individual satellite the size of a table, weighing 227kg, and travelling five miles a second as it orbits the Earth. With each orbit following the launch, the satellites get higher and spread out more. Sightings of these 'trains' have been reported across the globe, providing yet more reasons for people to look up to the sky in wonder.
First opportunity to share my passion for astronomy
The first opportunity that I had to share my passion for astronomy arose at university. Studying for a degree in Physics with Astrophysics, the observatory at the University of York – dubbed the 'Astrocampus' – contained a wide range of telescopes and astronomical equipment that students had unlimited access to. This was a dream to me, and an opportunity I wasn't going to waste.
I was heavily involved with the outreach work within the Physics department. We'd regularly run free events for the general public, school classes, scout groups or anyone else that wanted to learn about space. Our job as student volunteers was to provide the opportunity to gain insight into a world that ordinarily may not be accessible.
We were able to demonstrate that, even with the skies of a light-polluted city, astronomy was possible. Visitors would have the chance to see close-up views of the Moon, other planets, and even deep sky objects such as star clusters and galaxies.
Getting involved with the student astronomy society (AstroSoc) allowed me to take my hobby to the next level, using the university's high-quality equipment and learning from fellow students. Eventually, along with some close friends, I would come to lead the society and run the stargazing events. During my time with AstroSoc, we took scientific outreach to the next level – particularly with a couple of large projects.
To promote scientific research, we launched a rubber duck high into the stratosphere. During my final year in York, we built a scale model of the solar system across the university campuses. Each planet now remain as art installations on the campus, allowing the public to 'Walk the Solar System' and learn about the different planets along their way.
Once I graduated, I continued working within the Physics department for 12 months, continuing with the outreach work I loved. I ran stargazing events, visited schools with our inflatable planetarium, and got involved with any other educational work.
The undoubted highlight and most surreal experience was when I got to spend the day with British ESA astronaut Tim Peake. Between December 2015 and June 2016, Tim Peake spent six months living on the ISS. During his time there, and since his return to Earth, Tim has been a massive advocate for scientific outreach, particularly within an educational setting.
In November 2016, the University of York hosted a schools conference for over 600 young people to showcase their work and meet Tim. It was my job to accompany him all day, ensuring he was in the right place at the right time. At the time, I think I was just as excited as the children were to meet him.
I remain completely in awe by the impact he has had on the education of young people. Nowadays at Kielder, a lot of my work involves delivering sessions for schools and, even four years on, Tim Peake is a well-known and inspirational figure within the classroom.
It's approaching midnight at Rothley, and my time here is coming to an end now. I can't feel my toes and I approach my camera to end its imaging run. I have hundreds of images, with numerous satellites captured drifting overhead. Each one serves a purpose; however, they can be a nuisance to astrophotographers. Except for one satellite.
There's just something incredible to be able to see this bright dot drifting across the sky and knowing that humans are up there. As we're looking up, they may be looking down at earth.
The International Space Station
The International Space Station. It is the largest manmade object in space, approximately the size of a football field, and has acted as both a home and a laboratory to over 200 astronauts over the last 20 years – including Tim Peake. The ISS can often be seen in the sky, and due to its great size, it is unmissable.
I have witnessed the ISS dozens of times now, and on numerous occasions have specifically gone out to image it flying across the sky. At the observatory, it's always exciting for guests when the ISS is passing overhead. There's just something incredible to be able to see this bright dot drifting across the sky and knowing that humans are up there. As we're looking up, they may be looking down at Earth.
My current work at Kielder Observatory is split. Half the time, I'm up at the observatory running events with my colleagues. Situated within Kielder forest, outside the remotest village in England, we are able to provide the general public with extraordinary views of the night sky.
The rest of my time is then spent working on our education programme. Given its remote location, the number of school groups that can visit the observatory is limited. Instead, using our inflatable planetarium, we can bring Kielder's dark skies directly into a school hall.
Of all the work that I have done in this field, I find our education work the most rewarding. Those in school today are the generation of tomorrow. It is crucial for those interested in STEM subjects (science, technology, engineering, and mathematics) to be encouraged and supported. These are, after all, tomorrow's scientists. They will develop new technologies, make new discoveries and advance humanity. They are the future.
And the future is exciting. By 2024, NASA are aiming to have the first woman and the next man walking on the Moon as part of their Artemis program. This will involve establishing a space station in orbit around the Moon, and eventually a long-term base on the surface itself.
Within the next couple of decades, there are hopes for crewed missions to go even further. This could be to Mars, or even to asteroids within our solar system. Either way, we're getting slightly closer to making science fiction a reality.
In October 2021, the launch of the James Webb Space Telescope into space will provide us the most detailed views into our universe to date. By the early 2030s, NASA hope to have their 'Europa Clipper' mission visit Jupiter's icy moon, called Europa, to search for signs of life. In the mid-2030s, NASA's Dragonfly mission will be exploring Saturn's largest moon, Titan.
The Space Age
There is so much more of our solar system, and our universe as a whole, to explore. Within our lifetimes, the boundaries of space exploration will continue to be pushed further with both crewed and robotic missions, making new discoveries along the way.
We are in the Space Age, and still have a long way to go before we know everything. But exploration is the first step. As the American astronomer Carl Sagan said, "Somewhere, something incredible is waiting to be known."