It's mulled wine season! My exclamation mark suggests that I'm thrilled by this but, to be honest, I'm not that fussed. Heating the wine just seems to accelerate the hangover feelings for me. No one wants that. So, this year I shall be trying these three alternative festive drinks from around the world instead. Not all at once. If you're travelling this Christmas, make sure you don't forget your travel insurance.
Coquito | Puerto Rico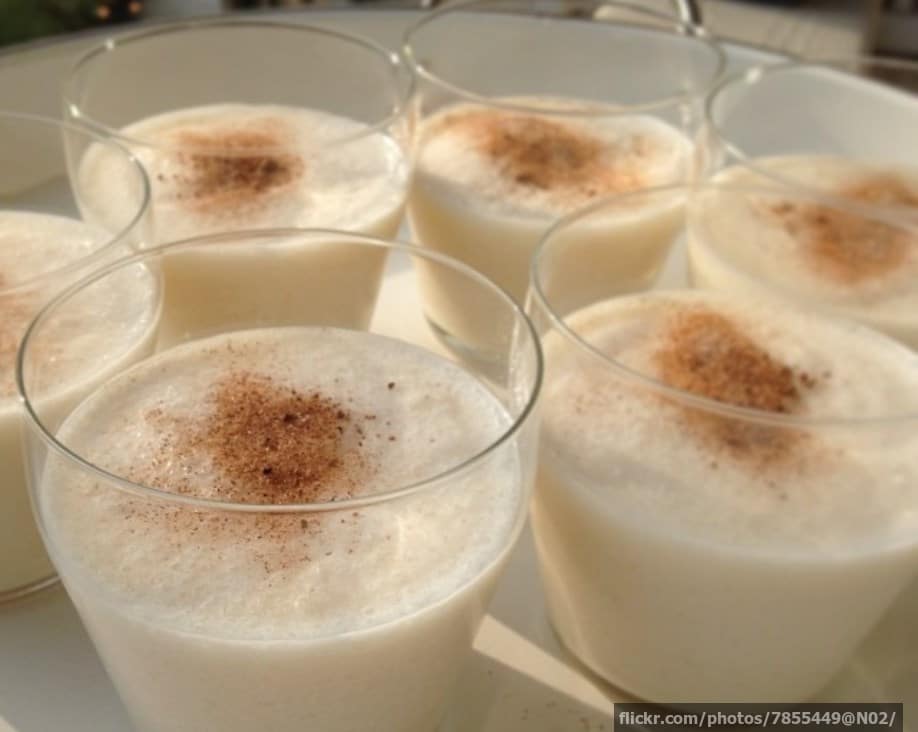 Meaning little coconut, coquito sounds amazing… I love coconuts, I love rum, I love spices. Thank you, Puerto Rico! It's been said this is a Puerto Rican version of eggnog, but it sounds so much better than that. It could be tempting to drink a pint of this at a time, but apparently it's supposed to be served in very small glasses. The recipe below serves 16 (we'll see about that).
You'll need
1 tin evaporated milk
1 tin sweetened condensed milk
1 tin sweetened cream of coconut
1 tin coconut milk
3 cups white rum
2 teaspoons vanilla extract
1 teaspoon ground cinnamon
2 cinnamon sticks
1 vanilla bean, split in half lengthwise
Combine the contents of the four tins together in a blender, or hand mix with your strong arm. Add the rum, vanilla, and ground cinnamon, and stir in. Pour into a jug, or some kind of receptacle, and add the cinnamon sticks and vanilla bean halves. Cover and chill in the fridge for a couple of hours.
Serve in small glasses garnished with a sprinkle of cinnamon and a cinnamon stick. If you have leftovers (I doubt it), they will keep for about a week.
Ponche Navideño | Mexico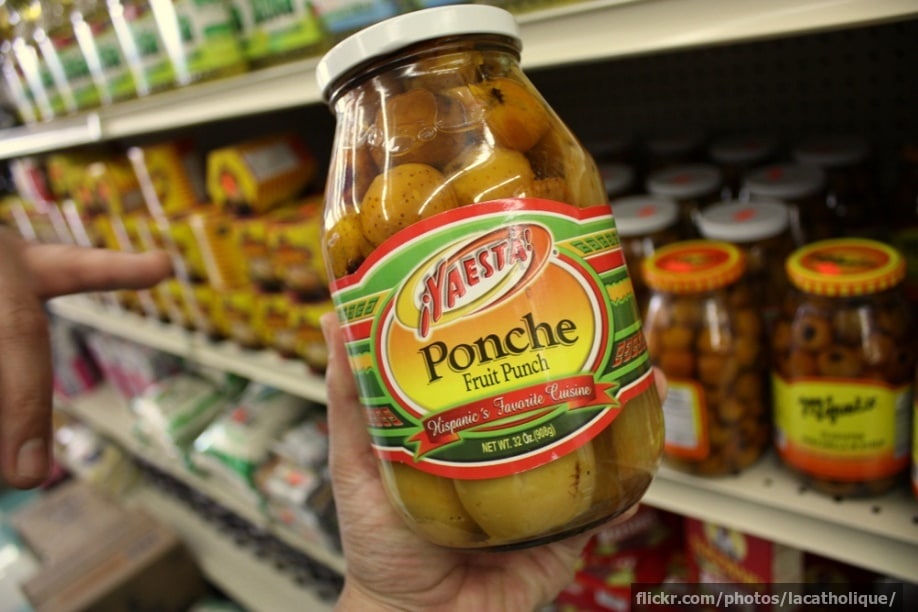 This hot fruit punch is served at Christmas time in Mexico, especially during Las Posadas, which is a traditional re-enactment of Mary and Joseph's trek to find refuge that takes place outside over nine nights. There are many variations of this drink but there are three things that are essential to making a ponche Navidad (unfortunately, the three things that make it mean it's very difficult to make in the UK):
Tejocotes – These are little apples that are native to Mexico, and are said to have the texture of an under-ripe apricot, with a sweet and sour flavour
Piloncillo – a hard molasses-flavoured sugar that comes in a cone shape
Canela – a type of cinnamon that's sweeter and more fragrant than the cinnamon we get in the UK
It all sounds a bit fiddly to make to me. Maybe I won't be trying this one, unless I go to Mexico. Apparently, it's sold on every street corner there!
To make around 30 servings, you will need
9 litres water
1 lb tejocotes
3 whole oranges
8 guavas
2 lbs sugar cane
1 lb pitted prunes
3 pears
10 grams raisins
6 oz walnuts, coarsely chopped
3 cinnamon sticks
5 grams whole cloves
21⁄2 lbs piloncillo
30 grams brandy or rum
In a saucepan, bring one around a litre of the water to a boil. Add the tejocotes, simmer for 6-8 minutes until they are soft, then remove, peel and cut away their hard ends.
Peel the sugar cane and slice it into rounds. Remove the stems and cores from the pears and cut into big chunks. Cut the guavas and prunes in half. Stud the oranges with the whole cloves and cut the cone of piloncillo into large sections.
In a very large pot (very large – preferably, some kind of caldron), bring the remaining water to a boil. Add all the fruits and nuts to your caldron and bring it back to a boil. Simmer for 30 minutes, stirring gently. Add the piloncillo and cinnamon and simmer for another half-hour.
To serve, ladle into cups making sure you get some fruit chunks in there and add your brandy or rum.
Cola de mono | Chile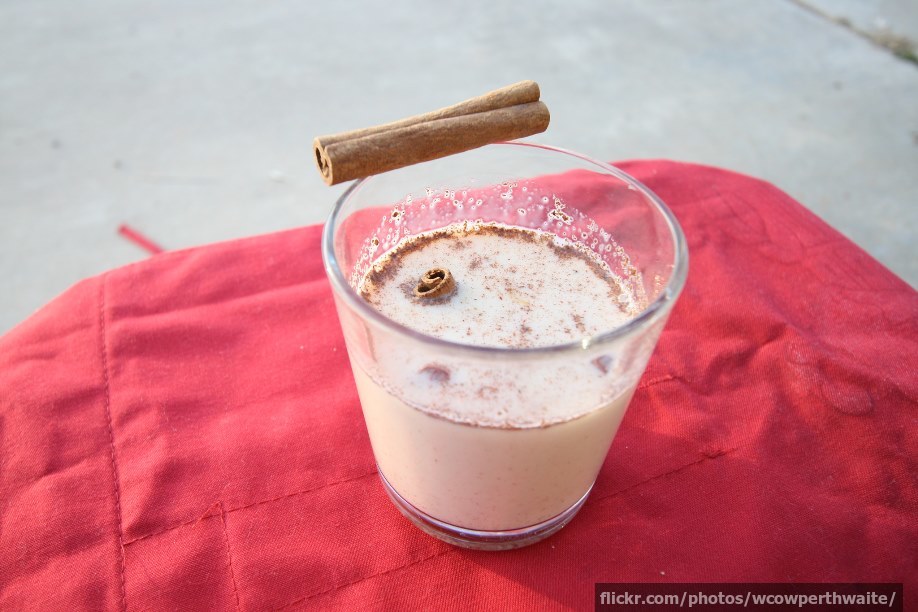 Apparently, this is another eggnog-y style drink, but I think anything that's creamy gets tarred with the eggnog brush at Christmas time. The name of this drink translates as "monkey's tail", but I'm not really sure why. It's supposed to be drunk cold. Very cold because Christmas is hot affair in Chile!
To make it properly, you're supposed to use a Chilean alcoholic drink called aguardiente – I'd never even heard of it! As far as I can gather, it's a bit like grappa. If you can't find it, you can use an alternative spirit of your choice. But it won't be the same. It'll probably be rubbish and Chileans around the world will be disappointed in you.
To make enough for 10 glasses, you need
1 can evaporated milk
18 ml water
57 grams sugar
3 whole cloves
1 cinnamon stick
1 tablespoon instant coffee
1 teaspoon vanilla extract
A pinch ground nutmeg
235 ml Chilean aguardiente
Combine the evaporated milk, water, sugar, cloves and cinnamon stick in a saucepan. Bring to the boil over a medium heat, stirring until the sugar dissolves. Add the coffee granules and stir until they dissolve. Add vanilla extract and nutmeg. Remove from heat and cool for around 20 minutes. Remove the cloves and cinnamon stick, add the aguardiente, and thoroughly chill. Serve with a cinnamon stick – classic Christmas serving, that.